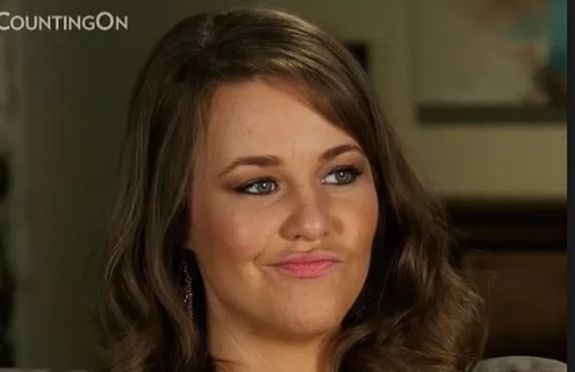 Weeks after she spoke out about being charged with Endangering the Welfare of a Minor, Jana Duggar has taken steps to put this incident behind her.
Court records indicate that, last month, the former Counting On star pleaded guilty to her charge, a Class A misdemeanor she received on September 10, one day after the incident took place. Back in September, Jana had previously pleaded not guilty, and was scheduled to appear in court for a bench trial on January 10.
Court records obtained by The Ashley show that Jana was fined $890 for the crime on December 15. However, as of press time, Jana is listed as "delinquent" due to non-payment.
According to the docket obtained by The Ashley, Jana was due to pay her full fine by December 31.
(It should be mentioned that there is a special notation on the record, stating that the court is requiring Jana to pay her full balance of $890 at once, "most likely due to not meeting previous payment deadlines.")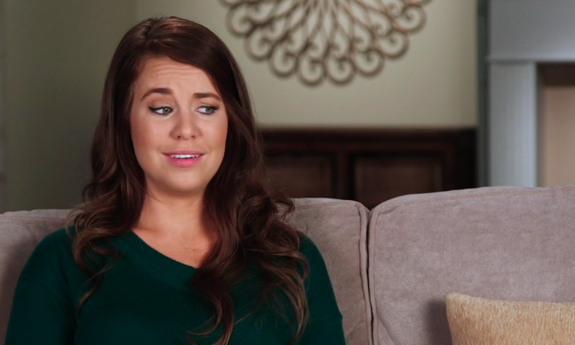 After news broke in December that Jana had been charged, the 'Counting On' star took to her Instagram Stories to discuss what happened. Jana made it clear that, although she was charged, she was never arrested and hauled off to jail…unlike her older brother, Josh, who is currently sitting behind bars after being convicted of receiving and possessing child sex abuse materials last month.
"I'm only sharing this because the media has been having a field day with it all," Jana's Instagram statement began. "I prefer a more private life, but I know my last name means that everything we do is open to public criticism and interest, especially during this time.
"I was babysitting a few months ago and one of the children wandered outside alone," she wrote. "A passerby who saw the child called the police. This resulted in a written citation, as well as a follow-up with child welfare who concluded that it was an accident and the child was unharmed.
"They recognized it was a case of a child slipping out of the house when you turn your back for a moment. It all happened so quickly and was scary."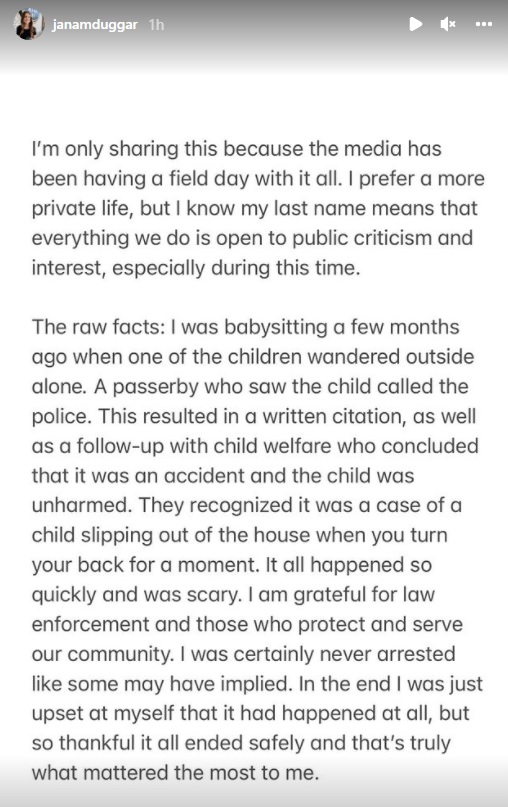 Jana went on to clarify that she was "certainly never arrested like some may have implied.
"In the end I was just upset at myself that it had happened at all, but thankful it all ended safely and that's truly what mattered the most to me," Jana wrote.
Online rumors have stated that the runaway child was one of Josh and his wife Anna's younger kids, but that has not been confirmed. As The Ashley previously reported, the citation Jana received stated that the child was found on Dowell Road (which is over half a mile away from the Duggar home!)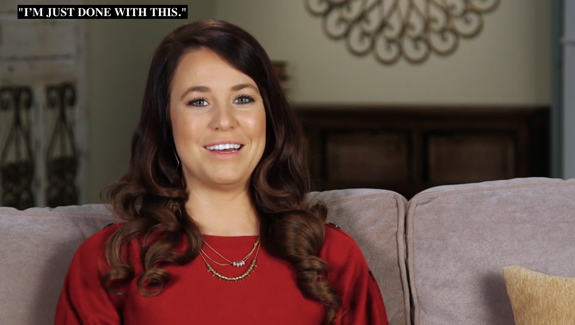 One day before Jana explained what happened on Instagram, her sister Jessa Seewald took to Instagram Stories to post a message of support to Jana, revealing a few of the details of what went down. (Other Duggar kids, including Jason and James Duggar, also rallied around Jana with support after the news broke.)
"Getting messages about headlines about Jana," Jessa wrote on Instagram Stories. "Bottom line– it was an innocent mistake. She was babysitting and one of the kids slipped out the door unnoticed, but it ended safely. Could've happened to anyone. The media is sensationalizing this because of other current family circumstances and it makes me so mad."
Jana does not have to do any community service or probation. It appears that once she pays her fine, the matter is considered settled. It is unknown if her previously scheduled hearing will go on as planned January 10, but it's unlikely.
RELATED STORY: Duggar Siblings & Spouses Continue to Release Statements Following Josh Duggar's Conviction: "For Josh, We Fear For His Soul"
(Photos: TLC; Instagram)