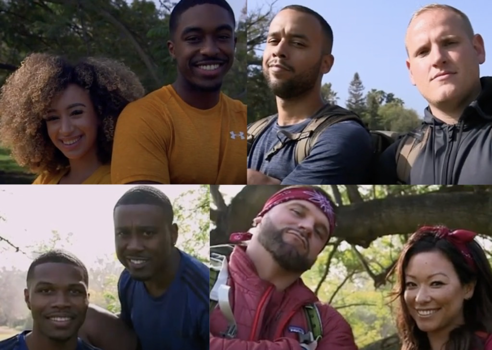 This week's episode of The Amazing Race picked up after a forced 19-month hiatus due to the pandemic; however, four of the original Season 33 pairs were not present for the long-awaited return.
While host Phil Keoghan didn't provide an explanation behind the teams' absences on Wednesday's episode, all four of the teams have now revealed why they were unable to continue competing for the Season 33 win.
On Thursday, Taylor Green-Jones, who began the race (pre-pandemic) with his husband and fellow YouTuber, Isaiah Green-Jones, said he and Isaiah actually returned to the series with the intention of resuming the race, but had to come back home due to a family tragedy.
"Now that the episode has aired, I'm able to share why we didn't return to the race after the 19- month hiatus," Taylor wrote on Instagram. "My big brother/protector Montrell 'Kirk' passed away from covid 2 days after we arrived for the restart of the race. As you can imagine this was devastating for our family, friends & loved ones. Without question we left the show to be back home and support our family."
Taylor went on to thank the show and CBS for "making it a priority for us to get home safe to our loved ones," as well as the other teams for their "encouraging words."
"And last but not least, thanks to all of you who were rooting for us this season, we could feel the love," he added. "Hopefully we can return to the race in the future and claim victory."
Taylor explained in a video posted to 'The Amazing Race' social media pages on Friday that he was informed of his brother's passing after one of the show's producers came to his hotel room to let him know his mom was on the phone and she "really needed" to talk to him.
"Upon talking to my mom, I realized that my big brother had passed from Covid," he said. "It was such a shock. My brother had Covid before we left to be on the show, but he seemed like he was doing a lot better. … So he passed a day and a half into us being there, so of course we dropped everything and flew out to support my family and support my mom."
Anthony Sadler and Spencer Stone were another team missing from Wednesday's episode, and while the pair "definitely wanted to return," it simply wasn't the right time.
"I had actually just started a career job … I kinda just got the position I had been wanting for a while and I couldn't, at that time in my life, I couldn't take that much time off," Anthony said, according to TooFab. " … It's just a timing thing, really."
Spencer added that he "had some school that was starting," which also made the return impossible.
"We're really bummed out that we couldn't make it back," Spencer said in Friday's video. "Every time I watch one of the episodes, it just makes me sad cause I know the end result, that we couldn't go back. I felt like we were doing really good in the race and I thought we had a really good chance of winning it."
Sam and Connie Grenier explained their absence in an interview with Season 33 contestants Lulu and Lala Gonzalez, revealing Connie was seven months pregnant when the show resumed, which prevented them from returning.
The couple shared their story with 'The Amazing Race' fans on Friday while holding their newborn baby boy– "the first born baby on 'The Amazing Race' during a pit-stop," Ray declared.
Meanwhile, Love Island couple Caro Viehweg and Ray Gantt were also missing from the starting line on Wednesday's episode, and though Caro reportedly revealed in July 2020 that she and Ray had broken up, neither mentioned their alleged split as the reason behind their absence.
In the update video, Caro claimed "the borders were closed for non-US citizens," noting she is German citizen, making her return impossible. Ray backed those claims, stating the Yellow Team was a no-show following the "pitstop" due to travel restrictions.
RELATED STORY: Cast & Premiere Date Announced for COVID-Impacted 33rd Season of 'The Amazing Race'; Cast to Feature 'Love Island' Couple, YouTube Stars Penn & Kim Holderness
(Photos: CBS; Instagram)