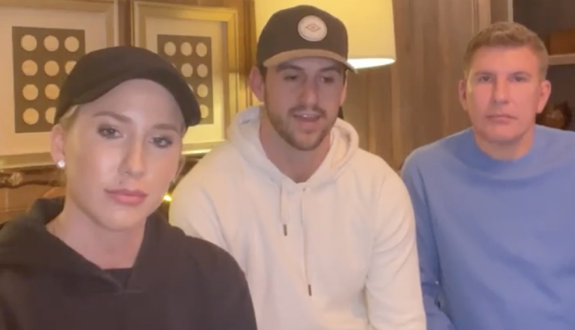 Trigger Warning: The article below contains mentions of suicidal thoughts.
Chrisley Knows Best star Savannah Chrisley is speaking out after news of her ex-fiancé Nic Kerdiles' suicide threat was been made public.
After reportedly learning yesterday that a story was set to be released by TMZ exposing Nic's suicide threat, Savannah, Nic and Todd took to Instagram Live to tell their side of the story. The trio posted a lengthy video to Instagram Live on Wednesday in which they addressed the incident and explained to fans what exactly happened.
As fans of 'Chrisley Knows Best' may remember, Nic and Savannah announced their engagement in April 2019, though Nic reportedly popped the question in December 2018 after the couple had been dating for more than a year. After deciding to postpone their nuptials and go back to dating, the two later confirmed their split in September 2020.
"This is OUR truth.. screw the tabloids that are threatening to release info," Savannah captioned the video– which was shared to Nic and Todd's Instagram pages as well. "It's been a long few days…but we are here. Mental health is real… this is our truth. I'm so proud of you Nic. Thanking God everyday that he's allowed us to keep you."
TMZ broke the story on Wednesday, posting audio of a 911 call made by a friend of Savannah's. The caller claimed that Nic was having a "psychotic break."
(The audio of the 911 call is posted below but, please be warned, it may disturb some readers.)
"She says he's suicidal and he's in the kitchen armed with a gun," the caller stated, later adding, "He had the gun under his chin but now he doesn't."
In the background of the call, a terrified Savannah can be heard screaming and begging Nic not to point the gun at himself. A man– who is most likely Todd— can be heard screaming, "Look at what you're doing to her!"
The caller than says that Savannah cut her hand when she broke a window to try to get into where Nic was. The caller reports that they had taken the gun from Nic and had put him in a car to wait for the authorities to arrive.
Nic and the Chrisleys were obviously unhappy that the story was posted, as they called out TMZ in a video Wednesday night.
In their video Savannah called their "truth," she begins the video by acknowledging that COVID has impacted everyone in some way or another, especially in terms of mental health. Todd adds at this point that everyone in the Chrisley family– as well as Nic– has had COVID at least once, and he, Savannah and Nic felt it was important to address the most recent way in which their family has been impacted by the virus.
" … in the last 48 hours, we have had some devastating…incidents that have occurred, and those involve our boy Nic," Todd says.
"I'm super grateful to be here today," Nic says. "As Todd and Savannah mentioned, I recently went through COVID as well, and now reading a lot more about it, I kind of understand why this situation might have happened that occurred the other night. Definitely not something that is easy to talk to, but I think that if I can share, it can help somebody else out there as well."
Nic goes on to explain that he has been on medication since his recent bout with COVID and he "decided to mix alcohol with it." He is then cut off by Todd who tells viewers Nic mixed the medication with "a lot of alcohol," which Nic admits to doing––so much that he doesn't remember what occurred Monday.
"I was in a full blackout," he said.
Nic said he fortunately had set up an appointment to have his hair cut by a good friend of his "and if he wasn't there, I don't know if I would still be here today, to be completely honest."
"I decided to, ya know, I had a gun by me and I don't know where I was at in my mental state, but between the depression, anxiety, the COVID effects, the medication, the alcohol, I did something that I never thought I would ever do … ," he continued.
Nic said if it weren't for Savannah, Todd and his friend–- the one who was supposed to cut his hair–- he doesn't know what would have happened, and while the incident isn't easy for him to talk about, he knew the story was going to come out in the news and he wanted to essentially get ahead of it and share his side.
(Todd explains later in the video that the Chrisleys received a call Wednesday from TMZ regarding the outlet's decision to run the story.)
"One of the biggest takeaways is that it's OK to not be OK," Savannah says. "And I feel like that's something that I've told Nic for a little while now, that it's OK to not be OK, it's OK to talk about your feelings, and it's OK to ask for help."
Todd told Nic that regardless of his relationship status with Savannah, he will always love him.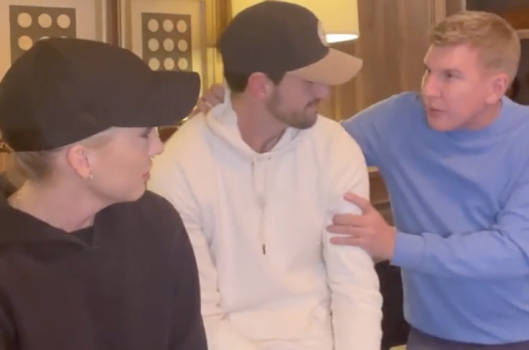 " … I love you to this day, and son, I will always love you," Todd said. "I don't care if you marry my daughter, I don't care if y'all date, if y'all are girlfriend and boyfriend, I love you for you, because you're a good kid with a great heart … you don't deserve the fishbowl lifestyle you've inherited because of us, so for that, I apologize.
" … Son, I am proud of you," Todd added later in the video. "There is no shame in this family for you. There is no shame, TMZ, that you think you've got power over us to run this story and shame a young man here who you forced to come out and tell his story, out of fear of what story you were going to create."
Todd went on to tell Nic that he loves him more today than he has ever loved him and it will never change.
" … I will be here for you until the day that the good Lord calls me home," he continued. "And once he calls me home– I hope that's before he calls you home and if I can't help you while I'm dead, my money will."
When talking about the "back and forth" of her and Nic's relationship, Savannah noted that no matter what, "you don't treat people like they're disposable."
"Having someone in your life for four years, it doesn't matter if you're still dating someone or not, you still be there for someone, you show compassion, you show love…"
Towards the end of the video, Savannah, Todd and Nic managed to find some lighter moments, with Todd revealing one of the medications Nic was taking was to prevent him from losing his hair– a medication he started taking at the recommendation of Todd.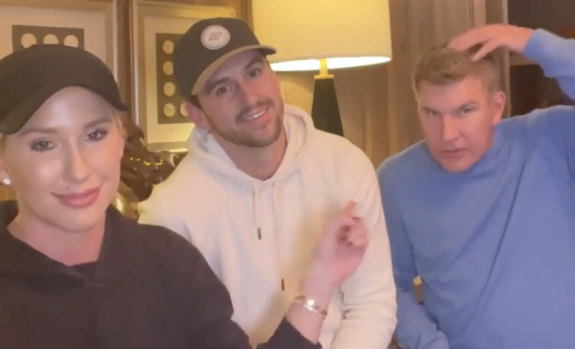 Todd said in the days since Nic's episode, they've learned that people are not supposed to consume alcohol while taking the medication– which Nic admitted to doing– and that the medication is also linked to depression and anxiety.
"Who the hell researches a medication that's supposed to keep you from going bald?" Todd asks. "I didn't! All I cared about was to make sure I didn't go bald!"
Nic said the lesson was to "really take care of yourself" and pay attention to what you're doing (and taking, medicinally speaking). Nic also revealed in the video that there was quite a lot of alcohol in his home at the time of his suicide threat, explaining that as a realtor, he often receives bottles of alcohol as gifts from his clients.
"When I got him to where he needed to get to, I took my happy a** back to his house and I took every bottle of liquor," Todd said.
" … So I just took that s**t and poured it out," Todd says. "Then I took all them bottles of expensive wine that his clients had given him, and guess what? I have donated that s**t. He ain't got none of it … ."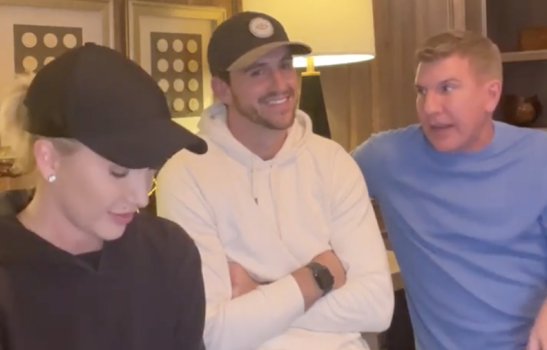 Nic said he was "happy" Todd cleared–- or "robbed," as Todd put it–- his house of all of the alcohol, though Todd also claimed to have "robbed" Nic of his Rolex and weed, too.
"Thank God we have the chance to laugh right now, cause we've had to keep ourselves from crying so many times," Savannah said. "But suicide is a real thing, depression is a real thing, anxiety is a real thing, and there are so many sources you can go to get help."
RELATED STORY: Todd Chrisley Speaks Out After Investigation Reveals He & Wife Julie Were "Unfairly Targeted" in Tax Evasion Case
(Photos: Instagram)