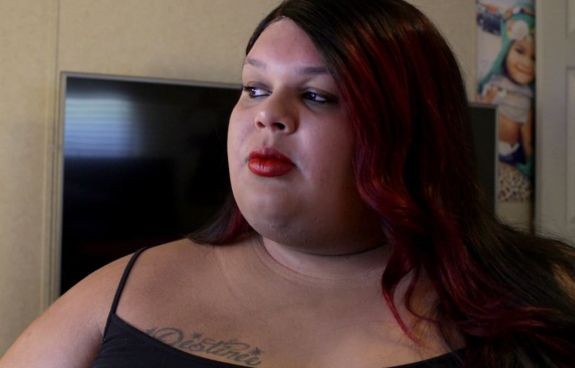 Note from The Ashley: The Ashley always tries to use proper pronouns, and, to The Ashley's knowledge, at the time of Matthew's death, he was mostly presenting male and using Matthew and "he/him" as his pronouns. However, during his time on 'My 600 lb. Life' he went by Destinee Lashee and used she/her pronouns. He would still sometimes present female and use Destinee, though.
Trigger Warning: This story is about suicide.
The life of yet another My 600 lb. Life star has come to a tragic end.
The Ashley can reveal that Matthew Ventress (who was known as Destinee LaShaee while on the show), has died. Matthew's death was confirmed by his brother Wayne Compton on Facebook on Tuesday.
"I'm sorry bro, I accept you for who you are, I accept every flaw that come with you, I'm sorry you felt alone, I'm sorry you felt you had nobody else to turn too, I'm sorry you felt you had no other option," Wayne wrote in a tribute to Matthew on Tuesday.
View this post on Instagram
Matthew– who was the first transgender person to appear on the TLC reality show— appears to have committed suicide, just one year to the day that his sister died. (His sister's name was Destiny as well, just FYI.)
In the days before his death, Matthew appeared to be struggling, writing several sad messages to Facebook.
"If I was surrounded by all my tears I'd be floating in the ocean," he wrote on Friday.
"To everyone who genuinely love and support me I love you and I'm grateful to have touched millions of lives and hearts around the world," he wrote on Saturday. "…Living my life with so much pain for so long I've come to realize that God makes no mistakes. I'm grateful for my journey and all I've been through. I don't regret a single moment. Love you all."
Matthew's story was shown on Season 7 of "My 600 Lb. Life," which first aired in 2019. During the episode, Matthew— then known as Destinee and presenting as a woman—weighed 669 pounds.
"I'm just 27. I have so much that I want to do and need to do. I can't believe this is my life now. Where I lay here all day and wait for food," Destinee told the cameras during her episode. ""I feel like all I'm constantly doing is trying to escape my depression and pain at this point. Food is the only thing I can turn to to do that. I can feel it killing me. There is no way I'm going to survive for much longer."
After appearing on "My 600 Lb. Life," Matthew– who was still using the name Destinee— joined a lawsuit with other people who had appeared on the show. In legal documents filed in 2020, Matthew accused Megalomedia— the production company behind the show— of negligence, intentional infliction of emotional distress, fraud and more.
Matthew claimed the show's producers took advantage of him, stating that they demanded he shave his face on-camera.
"The filming of her shaving was so painful that it was not made part of the show," the court documents alleged. "The stress led Plaintiff to have a breakdown in which she kicked the producers out of her home and threatened to kill them and herself."
In his lawsuit, Matthew claimed that Megalomedia had promised to pay for mental health counseling, but failed to do so.
Matthew ended up losing nearly 500 lbs. after appearing on the show.
View this post on Instagram
Sadly, Matthew is the 11th person to die after appearing on the show. In August 2021, Gina Krasley— who was involved in the same lawsuit as Matthew– passed away at the age of 30. Ashley Randall of Season 1 died in October 2021.
(Photos: TLC; Instagram)