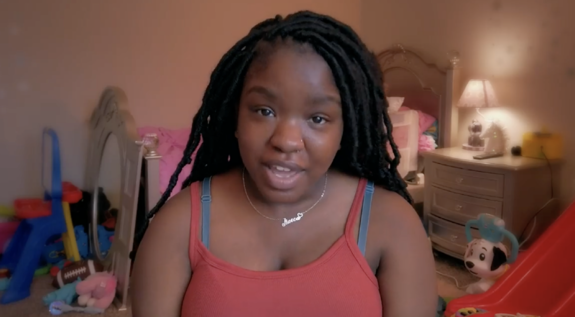 Kayla Jones is once again 'Young and Pregnant.'
Kayla— who appeared last season on Teen Mom: Young & Pregnant but was recently let go from the show— has revealed she is pregnant with her second child.
Kayla announced the news on Instagram Live after a follower asked her about her Valentine's Day plans.
"Did I do anything for Valentine's Day? Yes, I found out the gender of my baby," Kayla says in the video reposted by the TeenMomChatter on Instagram.
This marked the first time that Kayla admitted she is pregnant again.
On Tuesday, Kayla posted an Instagram video from her gender reveal photoshoot. Kayla is seen popping a balloon that bursts to reveal pink confetti. Kayla—who is already a mom to two-year-old daughter Mecca— appears to be thrilled to be having another girl.
"The day I waited so incredibly long for…21 weeks 5 days 12 hours," Kayla captioned the video. "From the moment I knew you would be arriving I was in complete awe, couldn't believe it and battled within. So many thoughts of reactions, opinions, and judgements crossed my mind at the thought of keeping you. My first experience was filled with defensiveness and unpleasant emotions up until arrival and I just knew that's not what I wanted to experience AGAIN.
"Then, I realized this would be my second chance to enjoy and bask in the experience once more .. 4 years later of what was supposed to be happiness and joy of a new life being brought into the world. So I kept you quiet.. I knew I wanted you but instead this time I surrounded myself with love and peace as long as I felt comfortable too.
"I already enjoy being a mom no matter how hard it may get and now I have the chance to add another little princess, my second princess into the world with nothing but love," Kayla wrote. "I've known forever I didn't want to leave Mecca alone in this world and I knew my baby would be ecstatic to be a big sister especially since she thinks she's someone's mom/boss at the moment but now she gets to be a big sister with her own lifelong best friend! Its been peaceful, breathtaking and an incredibly great feeling to enjoy your arrival myself but now, .. my little princess is revealed "
As fans of 'Young & Pregnant' know, Kayla shares Mecca with Makel Kennedy. While Makel and Kayla are reportedly co-parenting their daughter together, the identity of Kayla's second child father has not been confirmed.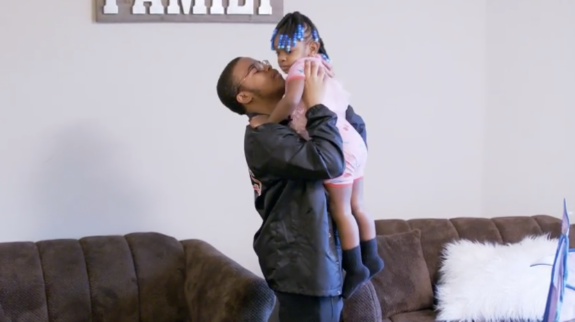 As The Ashley– who no longer breaks pregnancy news– exclusively revealed earlier this month, Kayla had been dropped from the 'Young and Pregnant' cast. The Ashley's source confirmed the firing, stating that it was surprising, given the fact that Kayla "has so much happening in her life right now that would be good to film."
Despite not being on the show any longer, Kayla received plenty of congratulatory wishes from her former 'Young & Pregnant' co-stars and producers.
"Congrats boo!" Kiaya Elliott wrote. "I've been waiting for you to announce!"
"Congratulations! So happy for you," Madisen Paige wrote.
RELATED STORY: 'Teen Mom' Star Amber Portwood Slams Jenelle Evans After Jenelle Claims Amber is Scared of Her: "Hillbilly Trash!"
(Photos: MTV; Instagram)