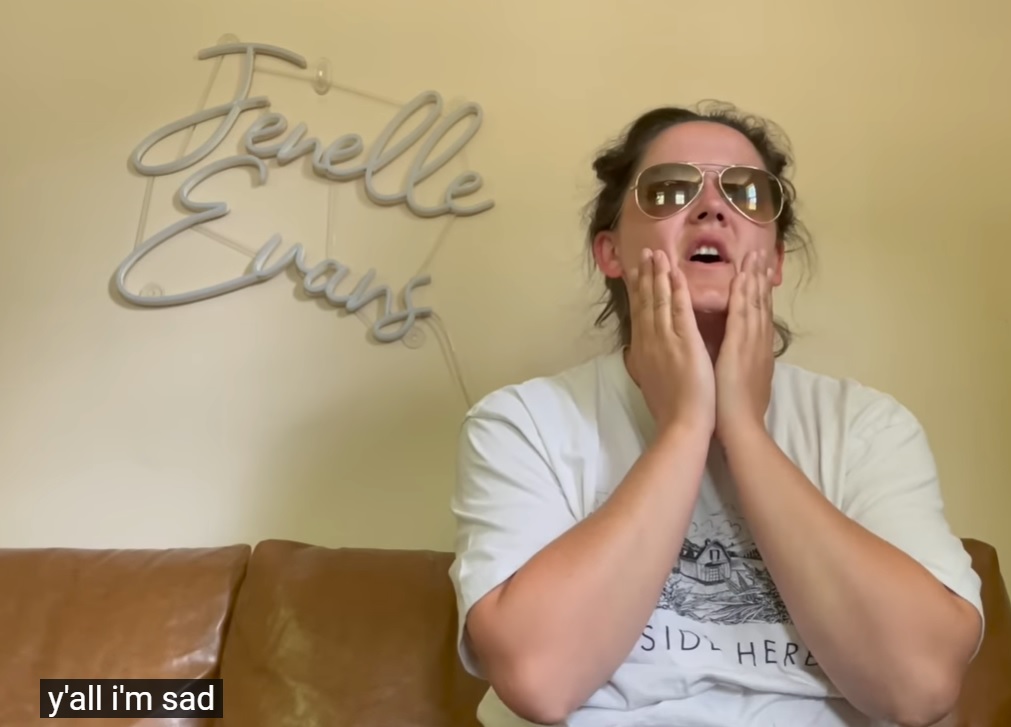 Earlier this week, Jenelle Evans posted a series of Instagram Stories, letting her fans know that "she's been very upset," due to her haters having "a huge deal cancel on me."
Jenelle went on to say that it was worth a lot of money and would have been "security" for her family, which, as Teen Mom 2 fans know, includes her employment-challenged husband David Eason, daughter Ensley and son Kaiser, who all dwell on The Land with Jenelle.
Jenelle did not go into specifics on the deal in question, but The Ashley can reveal that it was Jenelle's months-long deal with the cell phone case company Casetify. The company works with "Influencers" to create special cases for their fans, customized to the influencers' fan bases and tastes, and had planned an extensive campaign with Jenelle.
Jenelle did one video to promote the company about a week ago, but the company has since erased any and all references to Jenelle on their social media and website. (Several of their other influencers with case lines remain on the website, though.)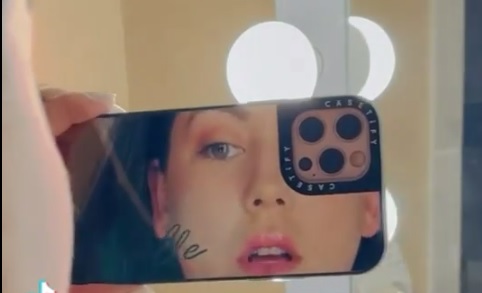 "This was one of the biggest deals Jenelle had gotten in a long time," one source tells The Ashley. "It was worth a lot of money, and it was going to be consistent money, because they had ordered a consistent stream of videos from Jenelle that would have paid out for months. They cancelled it all after Jenelle's first video caused them to get so much hate online. They even unfollowed her on Instagram because they don't want to have association with her.
"She will get paid for that video but will not be getting any future work with the company," the source added.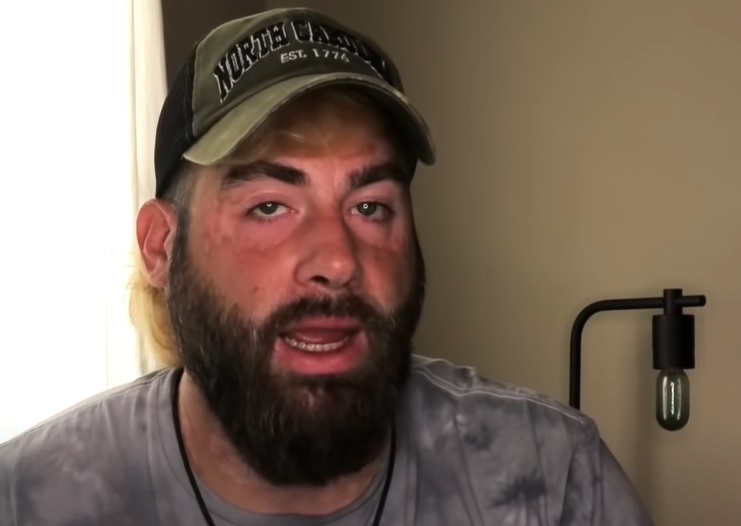 Jenelle posted a short video to her YouTube channel, griping and groaning about those damn haters who she says ruin every attempt she makes to become a social media influencer.
The Ashley will go ahead and recap that knee-slapper of a video now…
Jenelle's latest video– simply titled "depressed"— starts out in Jenelle's She-Shed 'o' Horrors. A rough-looking Jenelle is sitting there like Linus after he missed The Great Pumpkin, in front of a neon sign of her name… as you do. She's wearing large sunglasses, despite the fact that she's inside.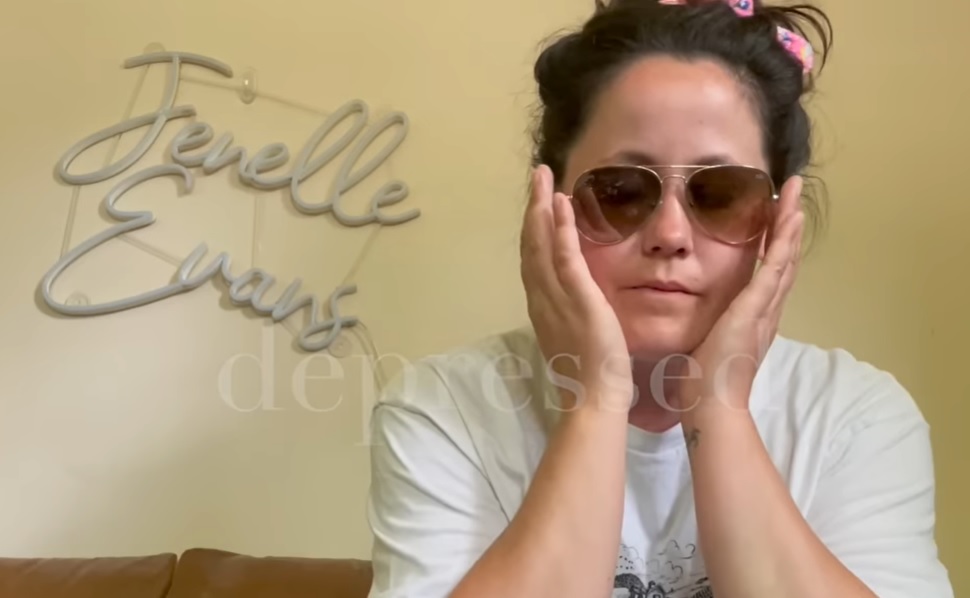 Jenelle makes sure to tell us that there's a reason she's wearing her Terminator sunglasses.
"Sorry, I have my sunglasses on because I've been crying," Jenelle tells us, being careful to add a few strategically timed sniffles for good measure.
"I don't want anyone to see my tears," Jenelle— who literally chose to make a video and post it while she was crying– says, acknowledging that if she were to go sunglasses-less, her haters would probably just turn her into a crying meme.
Well, I mean…yeah, that's fair…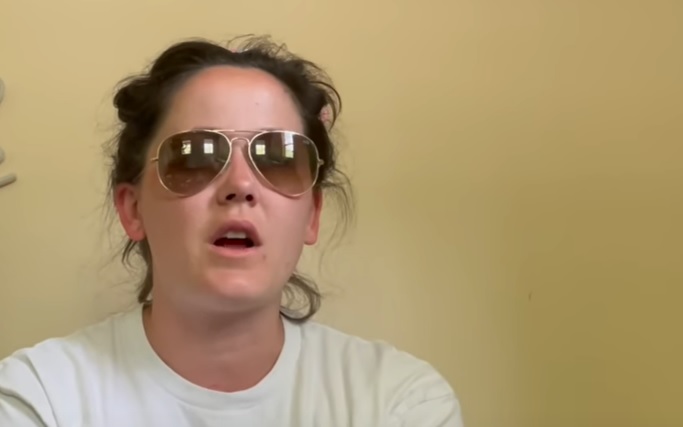 Jenelle launches into a tirade about why she's so sad, telling us that, once again, it's those pesky haters that keep messing up her life (and definitely not her unemployed, racially insensitive, uneducated swamp dweller of a husband…definitely not…)
"I'm trying to, like, move on and, like, focus on the positive in life and not focus on the negative," Jenelle says.
Jenelle says that there's a "group of haters" that have a "hate campaign" against her. Jenelle says that every time she manages to find a company who hires her, this gaggle of career-crushing haters ruins it for her.
Jenelle then breaks down in tears as she says she can't make money anymore by modeling period blood panties or weird weight loss belts or whatever the hell she was hocking in order to save herself from having to get a real job.
"It was really nice to get that security," Jenelle says of the recent promo deal gone bad.
Jenelle assures us, though, that there are still some companies who will still work with her.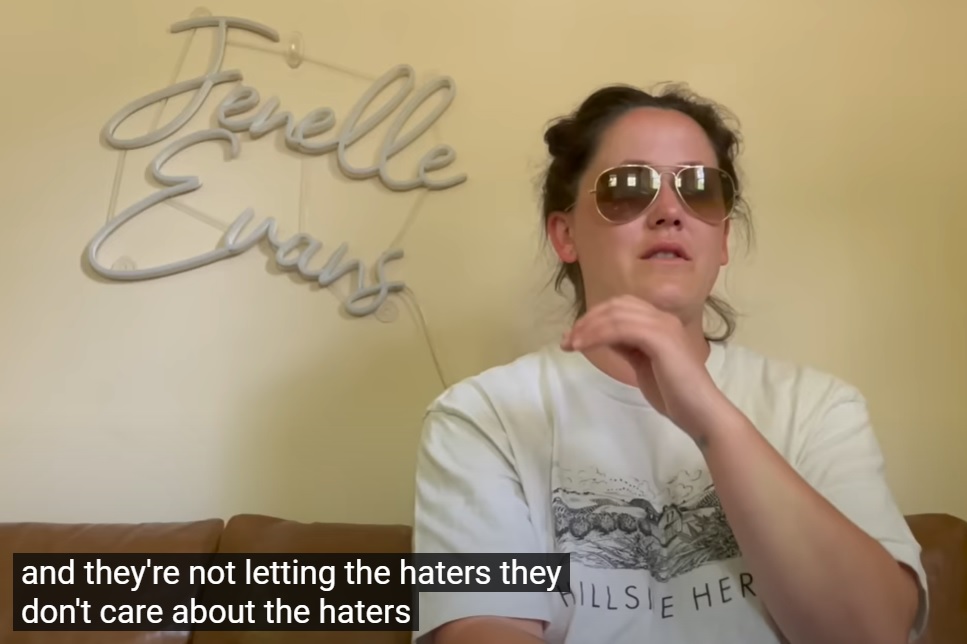 "They don't care about the haters, which is awesome," Jenelle says.
(We have no idea where David is during this confessional, but we can assume he's out skinning roadkill or driving his riding lawnmower to the local bar or something.)
Jenelle tearfully declares that she wants to succeed in life and do "bigger and better things"… and stuff.
A few days later, Jenelle is out of her shanty town shed. Oddly, she is not wearing her cool shades, despite the fact that she's actually outside in the fresh swamp air now. (She is, however, wearing the same T-shirt as the footage filmed days before.)
She says that she was so upset she can't "even describe the feeling." I know if I found out that my days of pitching period panties were limited, I'd be upset too.
Jenelle then explains her version of what happened with the company, which, as The Ashley stated, is Casetify.
"I was workin' with a big brand, and we both agreed upon like a six-month brand deal and I worked sooo hard on the first video and posted it," Jenelle— who hasn't worked "so hard" on anything since she was expelling The Spawn 'o' David from her loins— said.
Here's the video that was "worked sooo hard on," by the way…
Unfortunately, after Jenelle posted it, that ding-dang cornucopia of haters went to work, getting the company to drop Jenelle from the deal.
"That was job security and security for my family and income," Jenelle says.
Well…thank goodness they have David's income to fall back on!
Oh…wait.
Jenelle then gives us some of that "Jenelle Speak" that surely makes her irresistible to future employers.
"It was another side income that was promised upon for the next six months!" Jenelle— who probably won't be purchasing any "dramastic" or "electronical" items now.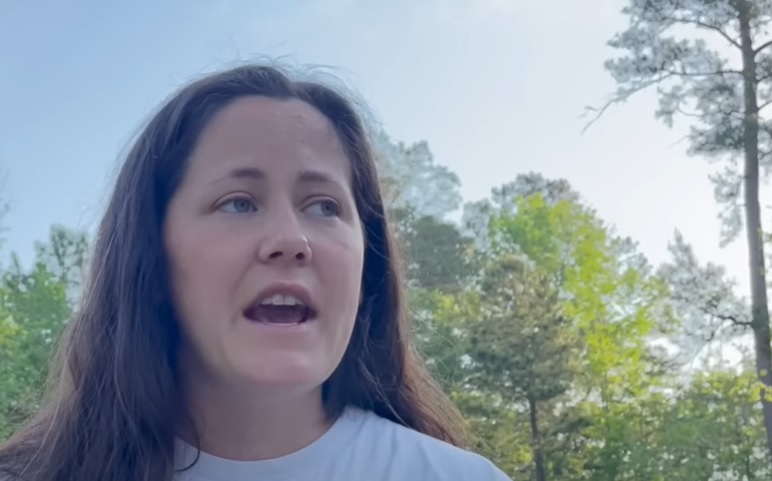 Jenelle says it's no fair that she keeps getting cancelled because she's not the same person she used to be and she's way better now…and stuff. She says she's been keeping to herself, staying in her swamp and hasn't even had any mugshots in a long time!
"When things like this happen, my mind gets so clouded," she says.
She says the company still has to shell out for her first video, but they've cancelled all of the other videos she was going to do for them. Jenelle assures us again, though, that she has "other brand deals" in the pipeline.
"So that's not a problem," she says.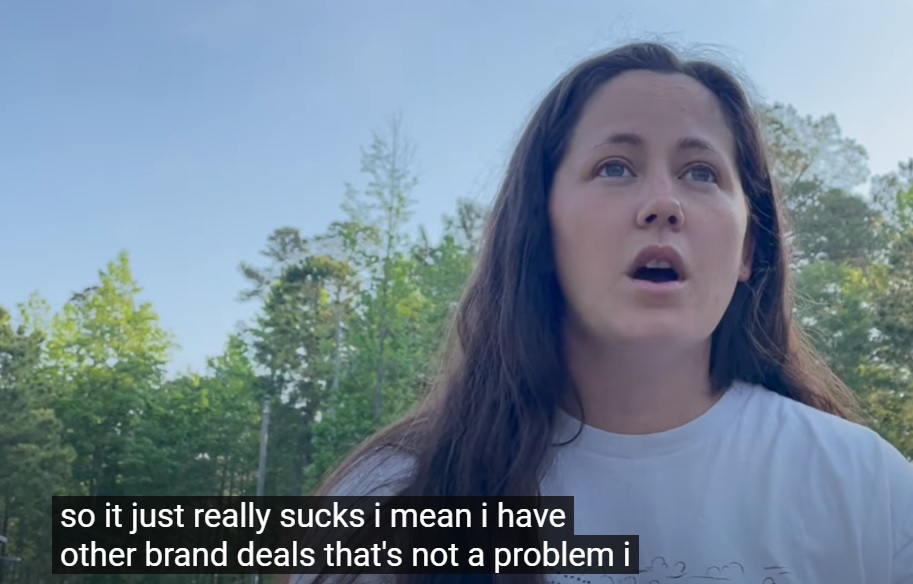 Jenelle says that, for some reasons, other brands and the general public just don't take her seriously. (I mean, the fact that she's been legit wearing the same oversized pot dispensary T-shirt for the last three days may be a good reason…)
Jenelle says that her name has "been so tarnished from being on MTV."
Um…….?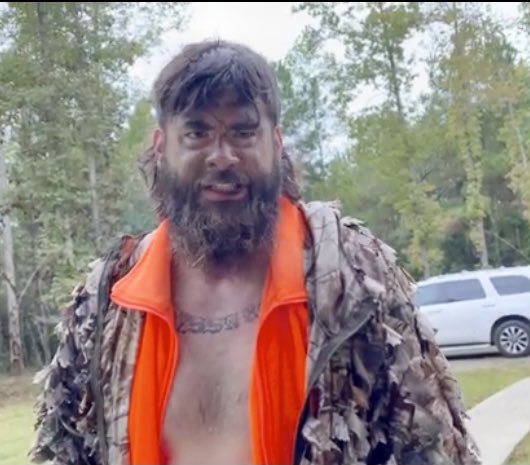 Jenelle claims that MTV dropped her at her "lowest point" when her CPS investigation was going on. Jenelle seems shocked that MTV didn't film her CPS investigation (even though they had fired her before it).
Jenelle says that now everyone thinks that she had her kids taken away for "the most horrible things."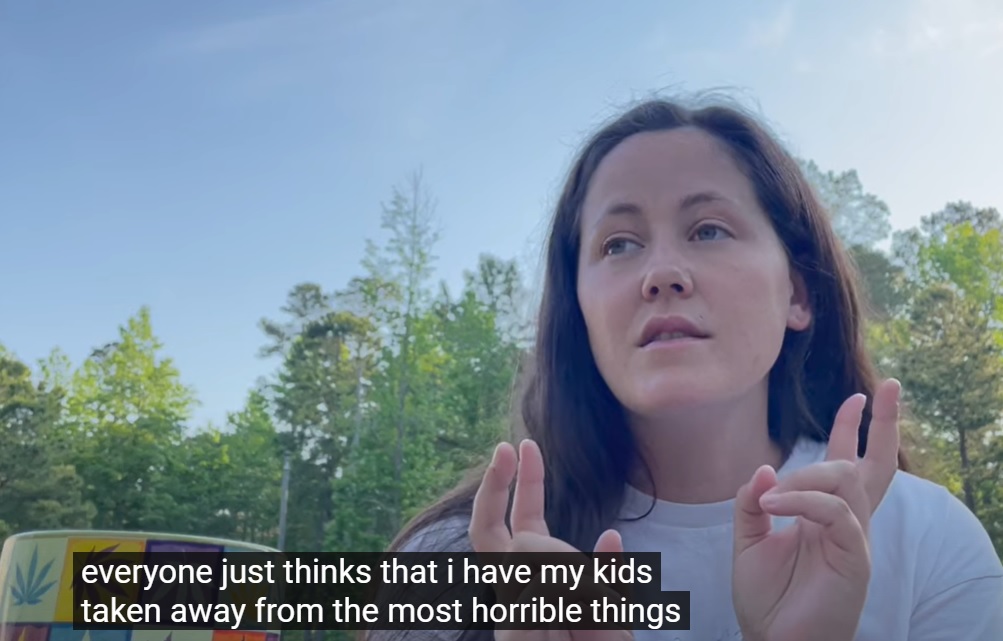 Jenelle insists that "all of it were allegations."
She claims the haters are now using the pesky dog shooting and CPS hearings against her, running and telling the companies she's trying to work with about Jenelle's past. She says it was "literally 10 years ago or more."
(Just FYI– the dog shooting occurred less than three years ago, as did the CPS hearings.)
Jenelle tells us that it's not about the money; it's about her reputation.
No, seriously…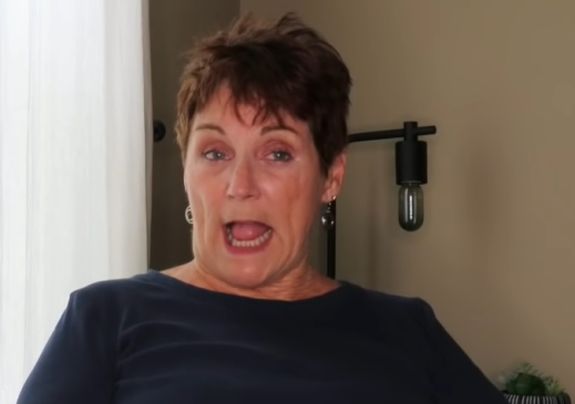 Jenelle says that having early 'Teen Mom 2' episodes airing on Netflix has really hurt her, because she's being forced to face consequences for her awful actions and words from years ago.
She also says that Kail Lowry— her former co-star and constant nemesis— and her old producer are "begging" her to go on Kail's podcast. (This statement is actually pretty close to the truth, though. Jenelle has been asked several times and has always turned the offer down.)
Jenelle then confirms The Ashley's recent report that she was invited to Bri's "Petty Party" next week, to celebrate beating Kail in her lawsuit. Jenelle says she wants to go but she's worried that MTV might be there and "try to weasel me into their filming."
(There's no word if David and his supply of party balloon-slashing knives would also be invited, but I pray to the Baby Jesus God Leah he is.)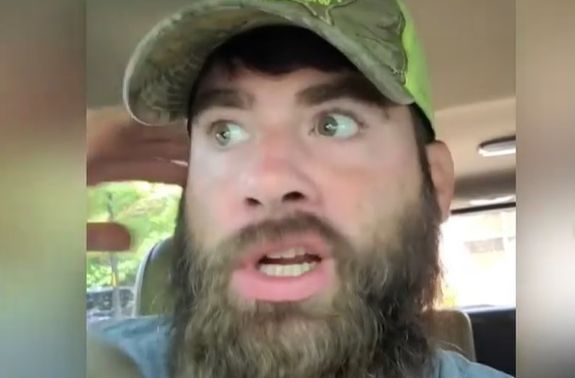 Jenelle then gets angry, stating she is mad she can't use her name in a "professional way." That "Eason" name just doesn't carry the way it used to, guys. (Except maybe in the possum racing community, of course…)
Naturally, the sullying of Jenelle's pristine name and reputation goes back to MTV…and definitely not her own poor decisions and actions…or David….
"They only want to use me to their benefit if I'm on drugs or f**ked up!" Jenelle says.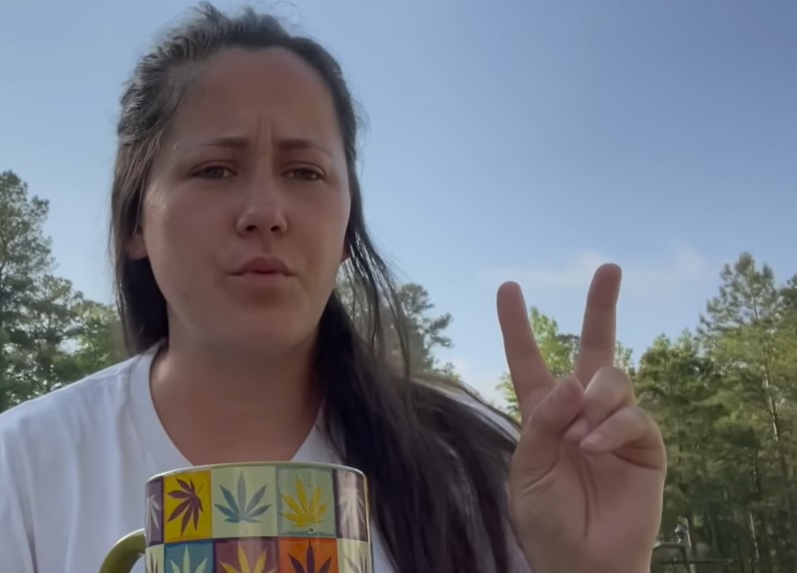 Jenelle says that she gave it her all when she was on 'Teen Mom 2,' openly showing how much of a blazing dumpster fire her life has been since the beginning. She declares that people either "really love me or really hate me" and there's no in between.
She then goes over all of the other projects that her Band 'o' Haters have cancelled, including her workout clothing brand. She says she wants to expand her career goals (?), as Ensley is seen stomping through the swamp weeds in the background.
She recruits her youngin to help her peel algae out of her pool. She says it's good to keep busy; otherwise she gets "depressed again" and will have to go back into her She Shed 'o' Horrors and put her shades on again.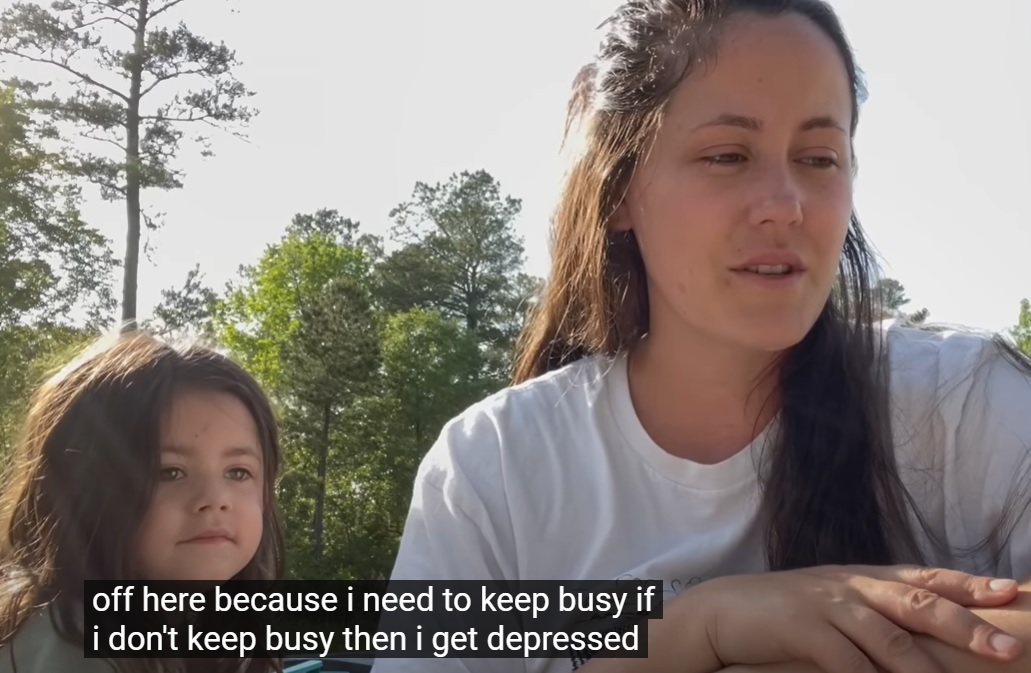 Jenelle ends the video by thanking all of the people who don't chase down any company that hires her.
If you'd like to read more of The Ashley's 'Teen Mom 2' recaps, click here!
(Photos: YouTube, MTV)