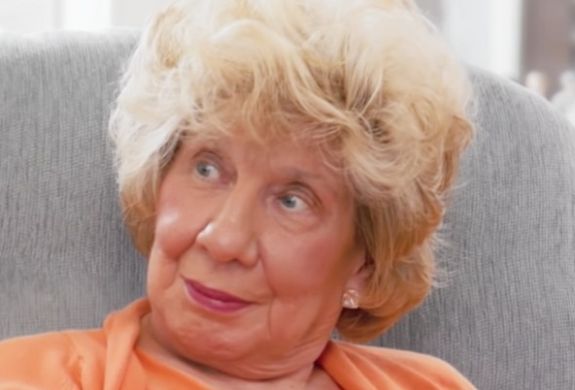 Todd and Julie Chrisley have confirmed that Todd's mother, Elizabeth "Nanny Faye" Chrisley, is currently battling cancer.
In their first Chrisley Confessions podcast episode released since they were convicted on federal fraud charges, Todd and Julie discussed a variety of topics, including the rumors surrounding Nanny Faye's health.
"My mother was diagnosed with bladder cancer," Todd stated, adding that she is undergoing weekly treatments.
"We are struggling to get through that, and we're asking for God to lift her up and keep a healing hand on her, and to help us help her get through this," he said.
Julie confirmed that Nanny Faye was diagnosed last fall, but did not want the public to know about her diagnosis.
"We've kept it private because she wanted it to be private," Todd added. "But because of the court case, that came out and a lot of people have picked up on it, and a lot of people have bombarded us."
Todd said that, due to his and Julie's trial, the press has been overwhelming his family, including Nanny Faye.
We've had the press outside of our door, sitting at the end of our street with long lens cameras, trying to get photographs of us… and showing up at my mother's home."
"I would ask that the people that are doing this respect that she is 77 years old, and that she is in a battle for her life," he added. "We're struggling with that, and doing the treatments and being optimistic, and placing her in God's hands. I pray multiple times a day that God keep a healing hand on her."
Nanny Faye was recently called to testify during Todd and Julie's trial. At one point, she stated that she often forgets things.
"I've got a lot of age on me, a lot of water under the bridge," she said, according to Insider's coverage of the trial. "So I don't remember some things."
As The Ashley previously reported, Todd and Julie were on trial after being charged with conspiracy to commit bank fraud, bank fraud, conspiracy to defraud the United States and tax fraud. (Julie was also charged with wire fraud and obstruction of justice.) The Chrisley Knows Best stars were found guilty on all charges on June 7.
Todd and Julie each face up to 30 years in prison for their crimes. Their lawyer has stated that the Chrisleys plan to appeal the conviction.
RELATED STORY: Savannah Chrisley Breaks Her Silence After Her Parents Are Convicted of Fraud Crimes; Says She Feels "Let Down By God" After Verdict
(Photos: USA Network; Instagram)