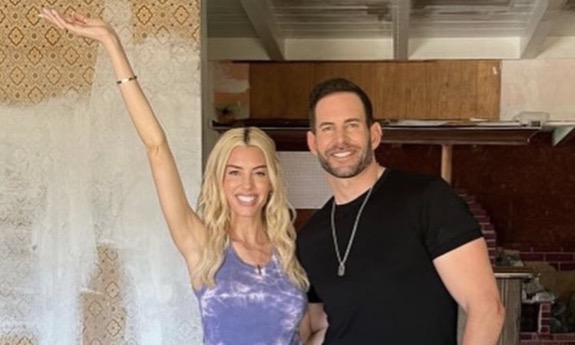 The El Moussas are multiplying.
HGTV star Tarek El Moussa and wife Heather Rae Young of Netflix's Selling Sunset are expecting their first child together–- a surprise to the couple, who were in the middle of in vitro fertilization treatments with plans to implant an embryo next fall when they found out they were expecting, People reports.
"It was a huge shock," Heather said. "We just weren't expecting this. We had just gone through IVF. We had embryos on ice. We had a plan … I think when you least expect it and there's no stress in your life, the world just brought us what was meant to be. I'm so excited it happened like this."
As fans of Tarek and Heather may recall, the couple tied the knot in October after announcing their engagement in July 2020.
While Tarek and Heather were planning to have a baby in the near future, have a child of their own wasn't always the plan, as Heather was fulfilled being a "bonus mom" to the two children Tarek shares with ex-wife and former Flip or Flop co-star, Christina Haack.
"I really love being a bonus mom to Taylor and Brayden," Heather said. "They're such incredible kids and I love them so much."
According to Heather, she and Tarek went into their relationship three years ago never planning to make more mini El Moussas together, but as their love grew, she began picturing herself having a child with Tarek.
"I started thinking I just wanted to create something with the man that I'm in love with," she said.
Heather said watching Tarek be "such a doting, amazing dad" to Taylor and Brayden was another reason why she wanted to make an El Moussa baby with him.
"I'm just obsessed with my kids," Tarek added. "They're my everything, so having another one is just icing on the cake. I'm so excited."
So excited, in fact, that Tarek was the one who "had a weird feeling" his wife was pregnant, and informed her "she needs to take a pregnancy test right away." Heather's first two tests came out "undetected," but her third test said "full-on pregnant."
"I took two more tests," she said. "Right away, [they said] pregnant."
Baby El Moussa is due to arrive in early 2023, and though Heather and Tarek have already done the test to find out the sex of their baby, they are waiting a few weeks to find out the results at a reveal party.
"I'd be happy with either," Heather said, adding, "But I secretly want a little mini Heather."
In June, Mr. and Mrs. El Moussa 2.0 revealed they are getting their own show on HGTV.
The eight-episode docuseries, The Flipping El Moussas (working title), was green-lit by the network just three months after the 'Flip or Flop' series finale. The pair are currently in the middle of filming, so Heather's pregnancy will almost certainly be included in the show.
RELATED STORY: HGTV Announces New Show 'The Flipping El Moussas' Starring Tarek El Moussa & Wife Heather Rae Young
(Photos: HGTV; Instagram)