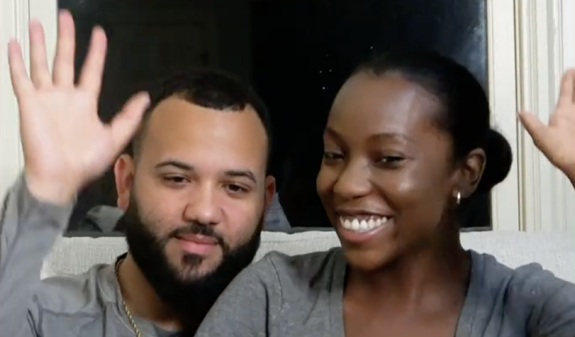 Another Married at First Sight baby is on the way!
A rep for cast members Briana Myles and Vincent Morales confirmed to People Wednesday that the Season 12 couple are expecting their first child together.
"I'm beyond grateful and excited for my new title, Mommy!" Briana told the magazine. "The fact that God chose me to be a parent is remarkable.
"Although I'm scared as heck to give birth and constantly think about the 'what ifs' due to health issues, I'm overly excited to bring new life into the world," she added.
Briana is also excited to see Vincent take on the dad role, which she believes "will be the highlight of his life." Vincent said he's looking forward to it, too.
"I can't wait to see my child and hold him or her in my arms," he said.
Vincent compared the upcoming parenthood journey to the feeling he had after finding out he was going to be on 'MAFS.'
" … I had no idea who I would meet at the altar, but I knew that I would fall in love as soon as I set eyes on my wife," he explained. "It's the same type of happy-nervous feeling. It's a lot of emotions running through me, but I can't wait until my baby gets here and I can overwhelm my child with love."
Briana and Vincent took to social media Wednesday to share their baby news with identical posts debuting Briana's baby bump.
"The Sweetest Love," the caption read. "We can't wait to meet you little one!"
Briana and Vincent are the only couple from Season 12 of 'MAFS' who are still married today.
As fans of the show may remember, the season wrapped with three couples choosing to remain hitched on Decision Day. However, two of the three couples ended up splitting afterward. Erik Lake and Virginia Coombs' divorce was finalized June 29, 2021, and Ryan Oubre and Clara Berghaus announced the following month that they too had decided to split.
RELATED STORY: Former 'Married At First Sight' Star Matthew Gwynne Arrested After Allegedly Breaking Into Ex-Girlfriend's Home
(Photos: Instagram)