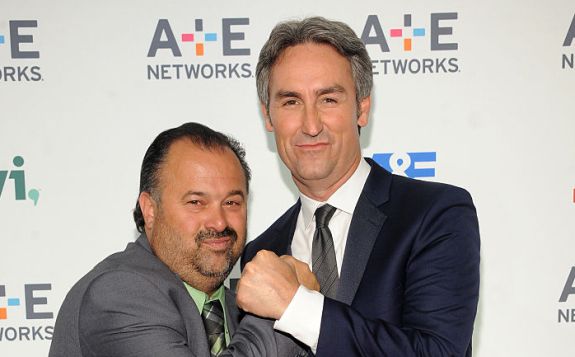 A health crisis may end the feud between American Pickers' two biggest stars.
Mike Wolfe informed his Instagram followers on Thursday that his former co-star, Frank Fritz has suffered a stroke and is currently in the hospital. He acknowledged that he and Frank have had a strained relationship over the past few years, but stated that this is not the time to deal with that situation.
Instead, he asked for prayers and well wishes for his friend of more than 40 years.
"I have been very private in the past year in regards to Franks life and the journey he's been on," Mike stated. "There has been lots of opinions in regards to mine and Frank's friendship and the show but now is not the time to set the record straight. Now is the time to pray for my friend.
"Frank has suffered a stroke and is in the hospital. Please keep him in your hearts and thoughts. Frank, I pray more than anything that you make it through this okay. I love you buddy."
As The Ashley previously reported, it was announced last year that Frank would no longer be on 'American Pickers.' (He mysteriously disappeared from the show in March 2020, with Mike giving a vague explanation for his absence, stating that it was due to Frank having back surgery.) In a series of interviews given in July 2021, Frank spoke out, stating that he and Mike hadn't talked in two years and that the show was "tilted" so that Mike would be the star. He also insinuated that Mike had become arrogant over the 22 seasons.
"I don't know why he's behaving like that towards me," Frank said last year.
In response, Mike confirmed on his Instagram that Frank would no longer be on 'American Pickers' but stated that he wished him the best.
"I have known Frank for as long as I can remember, he's been like a brother to me," Mike wrote in July 2021. "The journey that Frank, Dani [Colbi] and I started back in 2009, like all of life, has come with its highs and lows, blessings and challenges, but it has also been the most rewarding…I will miss Frank, just like all of you, and I pray for the very best and all good things for him on the next part of his journey."
Anyway, there has been no update on Frank's condition since Mike's post on Thursday. However, Mike's Instagram followers encouraged Mike to make things right with his longtime friend.
"Mike please go see him. Your friend needs you now more than ever…" one person wrote in the comment section.
"Make amends Mike, now's the time," another person wrote.
The Ashley will update this story when more information is available.
(Photos: Brad Barket/Getty Images; Instagram)