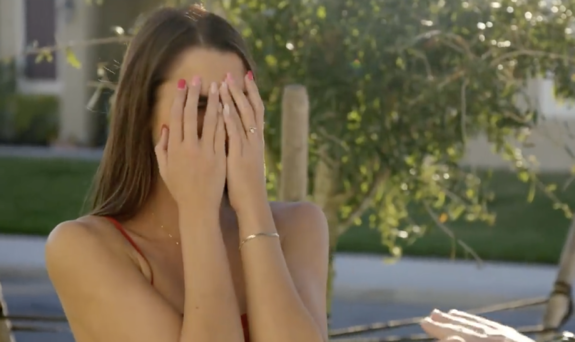 The sun has set for one of the Siesta Key OGs, as Kelsey Owens revealed Friday that she was cut from the show "with absolutely no warning."
Before revealing what exactly went down, Kelsey took to her Instagram Story to share a message directed at 'Siesta Key,' letting followers know something was definitely amiss.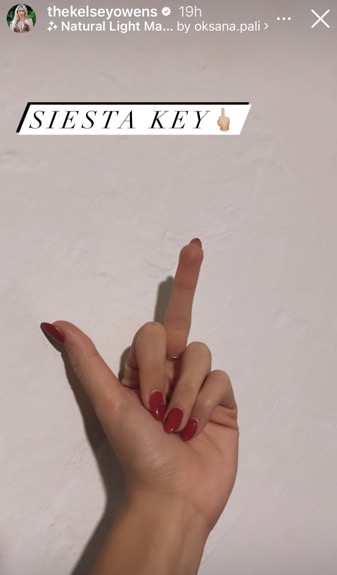 Kelsey went on to explain why she was giving 'Siesta Key' the middle finger, revealing in a lengthy Instagram post that while walking in to film a scene at a strip club the previous night, she was told she would be cut from the MTV series moving forward. Kelsey claimed the news came without any warning, calling it "mind-blowing" and "truly disgusting" that the call would be made so abruptly "in such a disrespectful manner."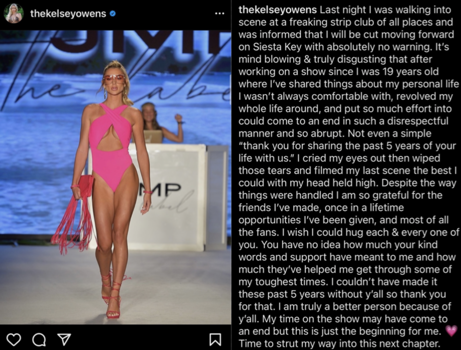 "Not even a single 'thank you for sharing the past 5 years of your life with us,'" she continued. "I cried my eyes out then wiped those tears and filmed my last scene the best I could with my head held high."
Despite the way in which she was informed of her 'Siesta Key' exit, Kelsey said she is "so grateful" for the friends she made on the show, as well as the opportunities she's been given.
"My time on the show may have come to an end but this is just the beginning for me," she concluded. "Time to strut my way into this next chapter."
Kelsey's forced farewell was met with many supportive comments from fans, friends and former co-stars, including Madisson Haus and Chloe Trautman– the latter of whom announced her exit from 'Siesta Key' last year, only to ultimately return to the reality series.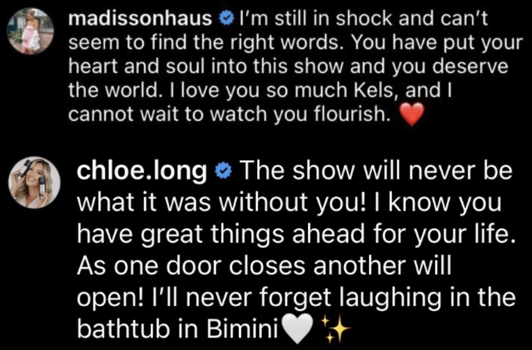 "I'm still in shock and can't seem to find the right words," Madisson wrote. "You have put your heart and soul into this show and you deserve the world. I love you so much Kels, and and I cannot wait to watch you flourish."
"The show will never be what it was without you!" Chloe commented. "I know you have great things ahead for your life. As one door closes another will open! I'll never forget laughing in the bathtub in Bimini."
Kelsey boyfriend Max Strong, who has appeared on 'Siesta Key' with her, also commented on Kelsey's post, assuring his girlfriend she is "an incredible person," and that the blame lies on the show's producers and show runners, who "just aren't good people."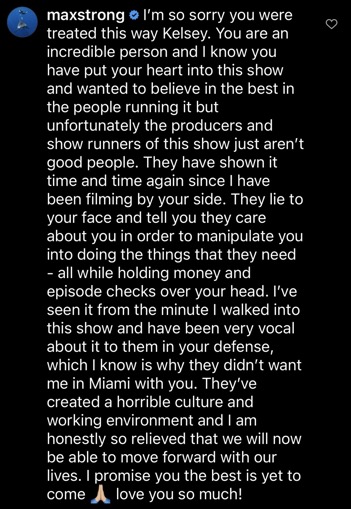 "They have shown it time and time again since I have been filming by your side," Max continued. "They lie to your face and tell you they care about you in order to manipulate you into doing the things that they need– all while holding money and episode checks over your head."
Max also accused producers of creating a "horrible culture and working environment," noting he's relieved that he and Kelsey will now be able to "move forward with our lives."
Later on Friday, Kelsey met up with friends and (now) former co-stars, to share a toast "to the next chapter."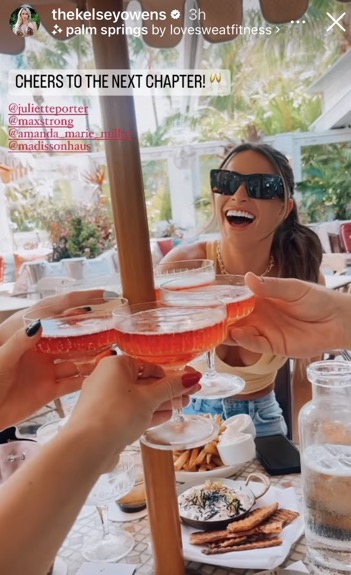 She also thanked those who reached out to her with "kind messages" after she got the shaft from 'Siesta Key.'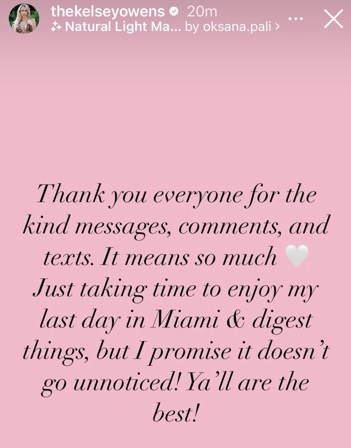 "Just taking my time to enjoy my last day in Miami & digest things, but I promise it doesn't go unnoticed!" Kelsey wrote. "Y'all are the best!"
RELATED STORY: Chloe Trautman Says She's Leaving 'Siesta Key' Because Filming the Show "Became Extremely Toxic"
(Photos: MTV; Instagram)