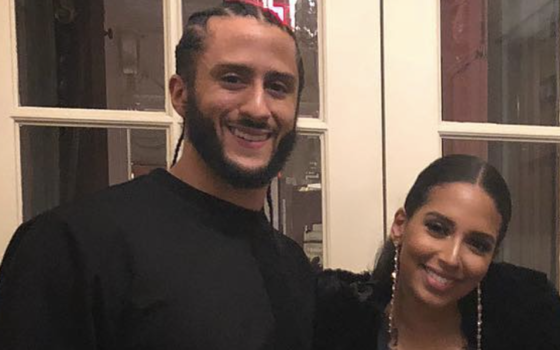 Nessa Diab is officially a teen mom!
The TV and radio personality, who co-hosts the Teen Mom reunion shows with Dr. Drew Pinsky, announced on Sunday that she and her partner, former NFL player Colin Kaepernick, have welcomed their first child together.
Nessa did not reveal the baby's name, gender or actual date of birth, but stated that it had been "a few weeks" since their child was born. Nessa and Colin had never mentioned publicly that Nessa was pregnant.
" … Colin and I welcomed our amazing baby to the world a few weeks ago and we are over the moon with our growing family," Nessa captioned a photo of herself and Colin with their new baby. "Recovering after delivery has been a journey (more on that later) and honestly I wasn't going to share anything because this is sooooo personal to us and I realized that I'm a complete mama bear! Colin is the most amazing dad and I'm soooo grateful that he is by our side for every moment of this journey.
"I know sharing this allows me to connect with you in different ways that I never imagined," she continued. "My conversations and life experiences have already changed. And my world has gotten that much bigger thanks to our sweet little baby who has shown me how to love in ways I never knew."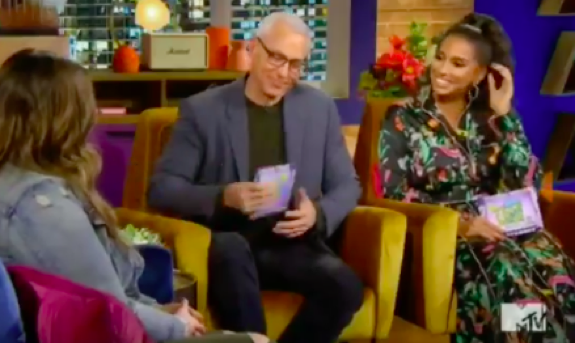 Nessa— who appeared on the red carpet and pre-show of the 2022 MTV VMAs on Sunday night— stated that she chose Sunday to announce her baby news because it was her first day back at work.
"I thought long and hard about sharing our life-changing news today," Nessa wrote. "I decided to do so because today is the first day in a few weeks where I stepped out for work with a new life title– MOM!"
Nessa shared a photo of herself on social media in full glam leading up to the event. In the caption of her post, she thanked her glam team, MTV and the VMAs for supporting her in "this new chapter" of her life, before signing off as "mom."
Nessa's baby news was met with many congratulations on Sunday, including quite a few from members of the 'Teen Mom' family.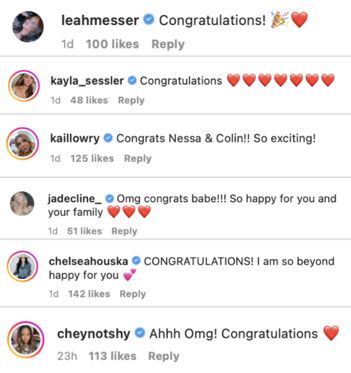 Teen Mom 2 star Leah Messer and Teen Mom: Young and Pregnant star Kayla Sessler sent their congratulations to Nessa and her growing family, as did former 'Teen Mom 2' star Kail Lowry, who added, "So exciting!"
"Omg congrats babe!!!" Jade Cline of 'Teen Mom 2' wrote. "So happy for you and your family."
"CONGRATULATIONS!" former 'Teen Mom 2' star Chelsea Houska wrote. "I am so beyond happy for you."
"Ahh Omg!" Cheyenne Floyd of 'Teen Mom OG' added. Congratulations!"
One 'Teen Mom' star who did not congratulate Nessa was Jenelle Evans. During a 2019 'Teen Mom 2' Reunion episode, Nessa confronted Jenelle on-stage for posts Jenelle made to Facebook in which she slammed Colin for his protesting during the national anthem while he was playing football for the San Francisco 49ers. During her on-camera confrontation with Jenelle, Nessa explained that Colin had been protesting police brutality and racial injustice, but Jenelle denied ever making the posts and ended up leaving the stage in tears.
You can relive that Nessa moment by watching the video below.
To be continued… #TeenMom2 pic.twitter.com/HEv7bF0M5k

— Teen Mom (@TeenMom) May 21, 2019
RELATED STORY: Mackenzie McKee Says Her Divorce From Josh Is "Close To Being Done & Finalized"; Former 'Teen Mom OG' Star Gives Update On Their Living Situation
(Photos: Instagram; MTV)