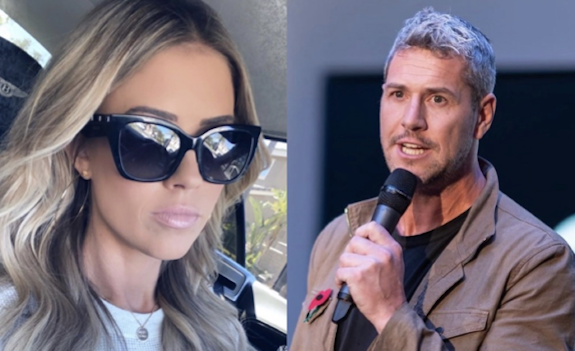 A number of Christina Hall's loyal fans took to the comment section of Ant Anstead's latest social media post on Sunday to defend the HGTV star after Ant accused her of "exploiting" their three-year-old son Hudson. Their comments came after the Flip or Flop star took to her Instagram to respond to Ant's claims, and to announce that Hudson would no longer appear on her social media pages.
Ant and Christina– who divorced in 2020 after less than two years of marriage– have been involved in an ongoing custody battle since their split, with Ant voicing concerns back in May regarding their son Hudson's image being used on TV and in Christina's paid social media gigs.
It was revealed last week that things between Ant and Christina remain unresolved, as Ant filed a declaration claiming he was concerned about Hudson's image and likeness being used in commercials or on one of Christina's reality TV shows.
In the court documents, Ant accused his ex-wife of exploiting Hudson on social media, which prompted the Christina On The Coast star to post a lengthy response on Instagram.
"I am mentally exhausted over the recent false accusations against me. Hudson's father has made attempts to turn my family, friends and fans against me through manipulation tactics and false information," Christina wrote. "This has had great impact on me and my household. Because of this, I have made the decision to no longer feature Hudson on Instagram, my tv shows or any social platforms until he is old enough to make this decision for himself."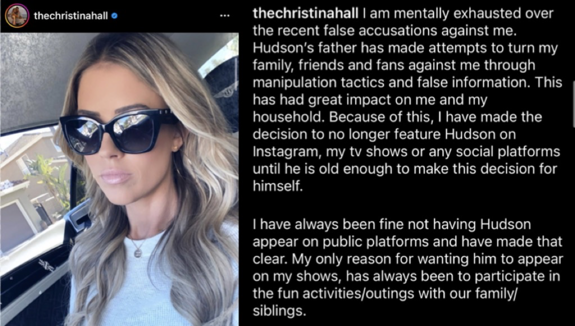 Christina claims that, while she has always been fine with Hudson not appearing on public platforms, she wanted him to appear on her TV shows "to participate in the fun activities/outings with our family/siblings."
The former Flip or Flop star went on to accuse Ant of "using Instagram to rate the kind of parent I am," which she claimed has been the case since July 2020–- right around the time their custody battle began.
"This is unnecessary pressure for a platform that is supposed to be used to share moments chosen, rather than a judgement tool… especially since this is a very small fraction of my personal life as the rest is kept between me and my family," she continued.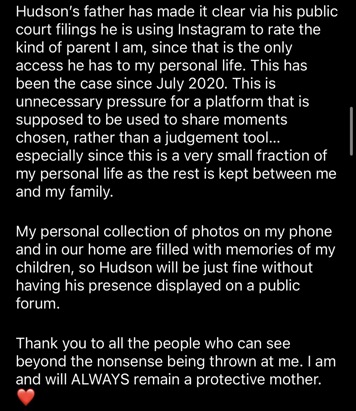 "My personal collection of photos on my phone and in our home are filled with memories of my children, so Hudson will be just fine without having his presence displayed on a public forum," Christina added.
Christina ended her post by thanking those "who can see beyond the nonsense being thrown" at her, claiming she will always be a protective mother.
Shortly after Christina posted her statement, a few of her fans took it upon themselves to defend the HGTV star in the comment section of Ant's latest Instagram post. (That post was unrelated to Christina or Hudson, though.)
"Ant, please don't be mean to Christina," one person commented. "She's a good mother and I'm sure you're a good father, but please don't be mean to her."
"Boycott anything Ant does on here," another wrote. "He keeps posting pictures of Hudson on his page. That's a nono Ant."
Other comments called out Ant for being a hypocrite, while another flat-out demanded he "Leave Christina alone."
Ant has yet to respond to the negative comments on his post, while Christina has limited the comments on her latest post– after (seemingly) receiving many supportive comments from fans.
RELATED STORY: Ant Anstead Claims Ex Christina Haack Has "Already Exploited" Their Son On Social Media & Fears Toddler Will Be "Forced" To Be On TV; Christina Responds
(Photos: Instagram)