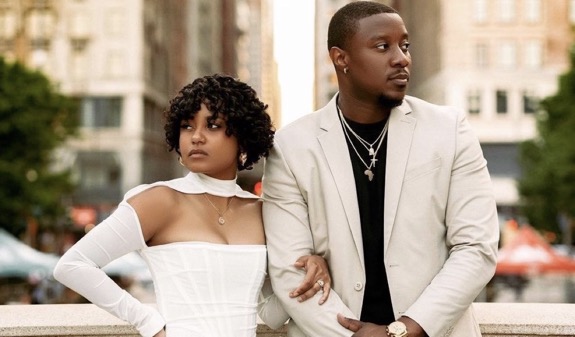 Two months after revealing they had separated, Love Is Blind Season 2 couple Iyanna McNeely and Jarrette Jones are officially ending their marriage.
According to TMZ, Iyanna has filed for divorce, citing irreconcilable differences. The couple have already reportedly agreed to a "global settlement," which covers details including support and asset allocation, so Iyanna is requesting the judge enforce that agreement.
Iyanna changed her last name to Jones after tying the knot, and she has yet to comment on whether she will revert to using her maiden name after the divorce. (She is currently still using her married name on social media.)
While Iyanna and Jarrette shared in matching social media statements in August that they had separated and were planning to end their marriage, Iyanna's filing makes the split official. The pair previously claimed that although they have love for each other, their "lives are going in separate directions"– something viewers saw the pair struggle with on the show, with Iyanna being more of a homebody and Jarrette still enjoying the nightlife.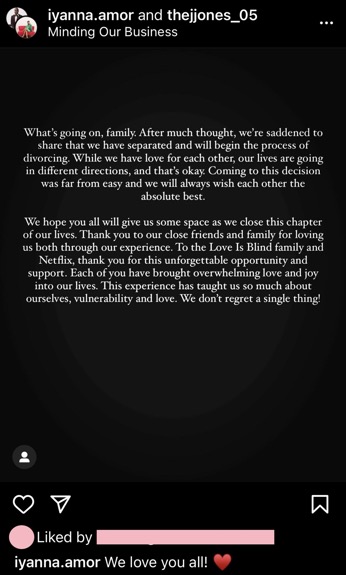 "This experience has taught us so much about ourselves, vulnerability and love," Iyanna and Jarrette stated in their separation announcement. "We don't regret a single thing!"
Iyanna shared a message on social media last month following the release of the 'Love Is Blind' Season 2 update– Love Is Blind: After the Altar– referring to the official end of Season 2 as "The final chapter." In her post, Iyanna thanked fans of the show, as well as her cast mates, while giving Jarrette his own mention.
"To Jarrette, I'm glad it was you and I look forward to watching where life takes you," she wrote.
"Thank you for embarking on this journey with me!" Jarrette replied in the comments. "I pray for your continued growth and happiness."
Two weeks after Iyanna and Jarrette revealed they had separated, their Season 2 co-stars Danielle Ruhl and Nick Thompson announced they were ending their marriage.
Danielle reportedly filed for divorce from Nick just a few weeks after their one-year wedding anniversary. Nick and Danielle were one of only two couples to make it down the aisle at the end of 'Love Is Blind' Season 2, with Iyanna and Jarrette being the other.
Despite there being just two married couples remaining in the 'Love Is Blind' franchise– Season 1 pairings Lauren Speed and Cameron Hamilton, and Amber Pike and Matthew Barnett– Netflix plans to open up the pods in four additional cities and has already begun looking for "brave, open-minded" singles who are "ready for a committed relationship."
After previously filming in Atlanta, Georgia; and Chicago, Illinois; Kinetic Content has set it sights on additional US cities, and is currently casting single men and women in Charlotte, North Carolina; Tampa, Florida; Detroit, Michigan; and Washington, DC.
RELATED STORY: 'Love Is Blind' Star Danielle Ruhl Files For Divorce From Nick Thompson, Less Than a Week After Another Season 2 Couple's Marriage Ended
(Photos: Netflix; Instagram)