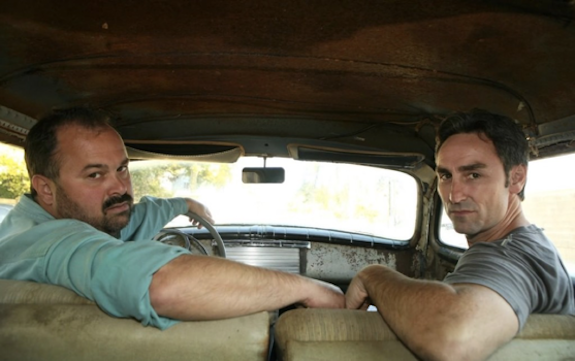 An Iowa court has approved a guardian and conservator request for Frank Fritz as a July stroke has reportedly left the American Pickers star "unable to care for himself"; however, Frank's former co-star and BFF Mike Wolfe has no involvement in the role, despite his and Frank's decades-long friendship.
While Mike has expressed his concern for Frank's health, The Sun confirmed that Mike he isn't involved in his former friend's conservatorship or temporary guardianship.
As The Ashley previously told you, Frank mysteriously disappeared from the History Channel show in 2020, with Mike claiming his co-star was away undergoing back surgery. Frank went on to deny Mike's explanation the following year, while also revealing he and Mike hadn't spoken in two years.
Mike later announced on social media that Frank would no longer be on 'American Pickers' but stated that he wished him the best "on the next part of his journey."
While the feud between the former co-stars has been ongoing, Mike shared the news of Frank's stroke back in July on Instagram, stating that, although his friendship with Frank has been strained in recent years, "now is not the time to set the record straight."
"Now is the time to pray for my friend," he added. " … Frank, I pray more than anything that you make it through this okay."
Another friend of Frank's reportedly filed an emergency appointment of temporary guardian and conservator for the 58-year-old on August 18–- a month after Frank was hospitalized after suffering a stroke. The former 'American Pickers' co-host remained hospitalized for a month following the incident and was reportedly set to be released to a nursing facility August 19.
A second "longtime friend" who has allegedly "been assisting [Frank] in decision-making since the stroke" has been approved by the court to be Frank's guardian. (Mike is not one of the two friends listed in court documents, The Sun has confirmed.)
"Decisions must be made for Mr. Fritz's care and placement while he continues to recover and receive treatment for his injuries," the court documents obtained by the site state. "Appointment of a guardian and conservator is necessary to avoid immediate harm to him."
It will be Frank's friend's job to pay for Frank's care, as well as control his business dealings and companies, and pay the mortgage on Frank's home. In addition, the conservator will be in charge of ensuring Frank is transported to medical appointments and has his living expenses taken care of, among other responsibilities.
Meanwhile, a bank will be the conservator responsible for handling Frank's financial affairs as Frank continues to recover and receive treatment.
Mike has not publicly commented on Frank since his post in July.
RELATED STORY: Frank Fritz's Friend Files For Emergency Conservatorship After Stroke Leaves Former 'American Pickers' Co-Host "Unable To Care For Himself"
(Photos: History Channel; Instagram)