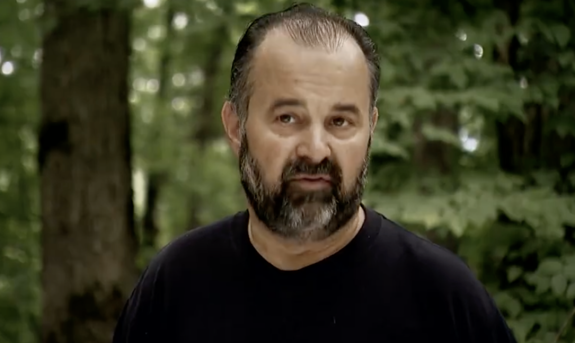 A friend of Frank Fritz has filed for an emergency conservatorship of the American Pickers star, claiming that Frank's July 2022 stroke has left the former co-host "unable to care for himself."
According to The Sun, Frank's friend filed an emergency appointment of temporary guardian and conservator for the 58-year-old on August 18, a month after Frank was hospitalized after suffering a stroke. Frank remained hospitalized for a month following the incident and was reportedly set to be released to a nursing facility August 19.
In documents filed in Iowa, Frank's "longtime friend" claimed the stroke has impaired Frank's "decision-making capacity" to the point where the History Channel star is no longer able to care for his own safety or provide necessities such as food, shelter, clothing or medical care.
"[Frank's] decision-making capacity is so impaired that he is unable to make, communicate, or carry out important decisions concerning his own financial affairs," the documents continue.
A doctor reportedly confirmed in the court documents that Frank "does not have decisional capacity," with the file noting that decisions need to be made for Frank "while he continues to recover and receive treatment for his injuries."
While it is being requested that a separate "longtime friend" be Frank's guardian, a bank would be named the conservator and handle Frank's financial affairs. Financial obligations include paying for Frank's residential facility, control of business interests, mortgage, everyday living expenses, transportation to medical appointments and more.
As fans of 'American Pickers' may recall, Frank mysteriously disappeared from the History Channel series in 2020, with his co-host Mike Wolfe providing a vague explanation for his absence, stating it was due to Frank having back surgery. Frank revealed in an interview the following year that he and Mike hadn't spoken in two years. Frank also accused 'American Pickers' of being "tilted" to make Mike the star and insinuated that Mike had become arrogant over the show's 22 seasons.
In response, Mike confirmed on social media that Frank would no longer be on 'American Pickers' but stated that he wished him the best.
"I have known Frank for as long as I can remember, he has been like a brother to me," Mike wrote in July 2021. "The journey that Frank, Dani [Colbi] and I started back in 2009, like all of life, has come with its highs and lows, blessings and challenges, but it has also been the most rewarding…I will miss Frank, just like all of you, and I pray for the very best and all good things for him on the next part of his journey."
Despite their feud, Mike shared the news of Frank's stroke back in July on social media, noting that although he and Frank's friendship has been strained in recent years, Frank's recovery is far more important.
"I have been very private in the past year in regards to Frank's life and the journey he's been on," Mike wrote. "There has been lots of opinions in regards to mine and Frank's friendship and the show but now is not the time to set the record straight. Now is the time to pray for my friend."
Mike went on to tell his social media followers that his former co-star had suffered a stroke and was in the hospital, asking that they keep Frank in their "hearts and thoughts."
"Frank, I pray more than anything that you make it through this okay," he added. "I love you buddy."
UPDATE! According to court documents obtained by The Sun, Mike is not on of the two close friends who has filed for the conservatorship to help Frank. Click here for more details!
RELATED STORY: 'American Pickers' Star Frank Fritz Suffers A Stroke; Estranged Former Co-Host Mike Wolfe Asks Fans For Their Prayers
(Photos: History Channel; Instagram)