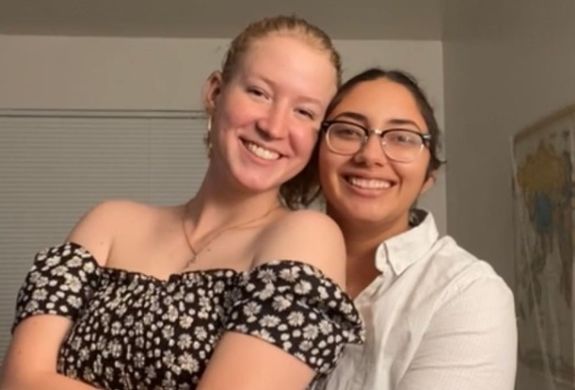 Another Brown Family offspring is preparing to get hitched!
Sister Wives star Gwendlyn Brown— who is the daughter of Kody Brown and his ex-wife Christine— announced on Wednesday that she recently got engaged to her girlfriend, Beatriz Queiroz.
"I'm engaged!!" Gwendlyn wrote in the caption of several photos posted to Instagram of the proposal.
In the photos posted to Instagram (as well as additional videos posted to Gwendlyn's Patreon account), Beatriz can be seen surprising Gwendlyn with a candlelit picnic— and a ring with a square-shaped green stone.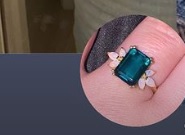 Gwendlyn– who is 21 years old— has been dating Beatriz for about eight months. The couple moved in together in August. (They currently live near Flagstaff, Arizona, where Kody and some of his family reside.)
During an October episode of 'Sister Wives,' Gwendlyn revealed that she's bisexual.
"I'm not only attracted to women. I'm also attracted to men and people that fall into other gender spectrum," Gwendlyn stated.
During the same episode, Christine stated that she realized Gwendlyn was likely part of the LGBTQ community when Kody's and Meri's child Leon (then known as Mariah, before they came out as transgender in June) revealed on the show that they were gay.
"When Mariah told us that she was gay, immediately I thought, 'Oh, so is Gwendlyn.' I knew immediately," Christine said.
Gwendlyn is the sixth of Kody's 18 children to get engaged. Her sisters Maddie, Aspyn and Mykelti are all married, as his her eldest brother Logan (who got hitched last month). Leon is currently engaged to Audrey Kriss.
Gwen and Beatrice were congratulated by some of Gwen's family members.
"Congratulations cuties!" Audrey wrote in the comment section of Gwendlyn's post. "So so so excited for you both."
"Yessss cuties!" Michelle wrote. "So excited for you."
RELATED STORY: Gwendlyn Brown Spills 'Sister Wives' Tea: Says She Dislikes Robyn; Seemingly Confirms Janelle Has Left Kody & Says Kody Is "Nicer On the Show" Than In Real Life
(Photos: Instagram)