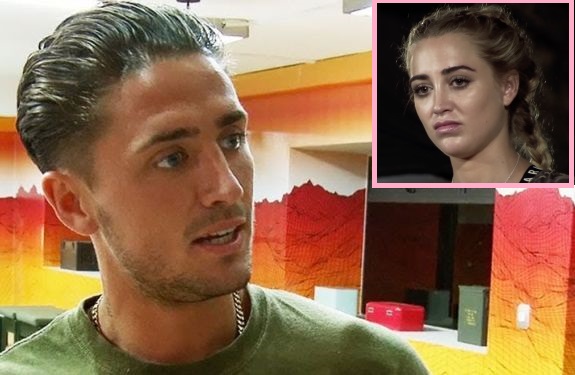 The revenge p0rn trial for Stephen Bear is officially underway.
The proceedings began December 6 at Chelmsford Crown Court in the U.K. As Essex Live reported, the former Ex on the Beach UK and The Challenge star arrived at the courthouse wearing a pink suit, black sunglasses, and a black fur coat. He was accompanied by his girlfriend Jessica Smith.
As The Ashley previously reported, Bear was officially charged with voyeurism; disclosing private sexual photographs and films with intent to cause distress; and harassment without violence. These charges stem from the allegations his 'Challenge' co-star Georgia Harrison made against him in December 2020, claiming he filmed and shared an intimate video of her without her consent. She also claimed that Bear shared the video on his OnlyFans page without her knowledge or consent.
At the time, Bear denied the allegations. (You can read all about their back-and-forth conversation on social media at the time by clicking here.)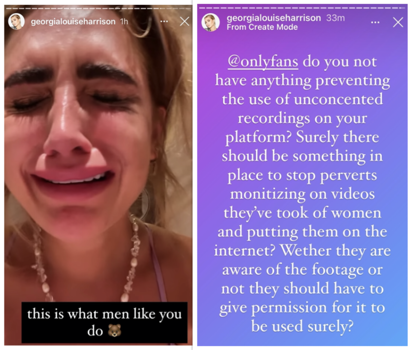 Bear was arrested for the offense in January 2021. In February 2021, Bear accused police of "dragging out" the case against him. That same month, he left a pig stuffed animal at the entrance of the Harlow Police Station.
On Tuesday, Prosecutor Jacqueline Carey began the trial by describing how Bear and plaintiff Georgia Harrison met up in August 2020 for drinks.
The former stars of 'The Challenge' then went back to Bear's house where they had consensual sex in his garden.
"What she didn't know he did was he had CCTV in this garden which recorded them having sex," Jacqueline stated. Bear later told Georgia that he had filmed them having sex, which she instructed him to never show anyone.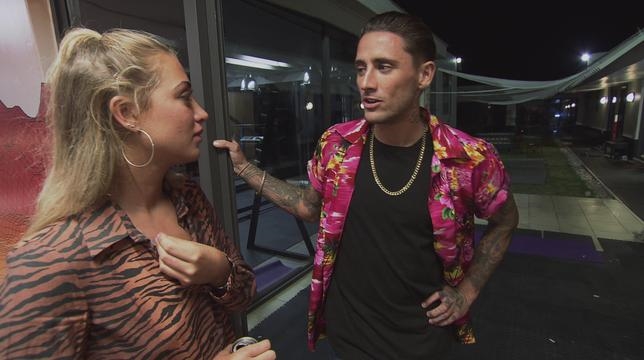 The prosecution went on to say that Georgia saw Bear share the video with somebody on WhatsApp. Georgia immediately told him to unsend the message and she left his house the following day, repeating her instructions not to share the sex tape.
During the following months, Georgia discovered the video on OnlyFans along with an advertisement from Bear that told his followers, "can't wait for you to see me f**king in my garden, will be dropping the video later tonight."
Jacqueline told the court, "The defendant was effectively selling the footage to make money."
Jacqueline then read messages sent from Bear to Georgia in which he denied any wrongdoing and accused her of "making up full-blown lies" and told her to "stay off the drugs." He stated that he didn't share the video on any adult sites, nor did he share it on WhatsApp.
However, Jacqueline pointed out that around the time the video was on OnlyFans, Bear's subscription fee was changed from $50 to $20.
"If Mr. Bear wasn't behind his footage, if it wasn't one of those two, what are you left with? Some unidentified person has hacked into his OnlyFans, uploaded it to his subscribers, and shared it. All for the benefit of Mr. Bear."
Georgia then took the stand and recounted her experience with Stephen the night they had sex. She claimed she didn't know she was being filmed and stated, "In hindsight it was a lot more exciting and a lot more dramatic than usual. More positions and more effort. I never knew it was going to be recorded."
Bear later told her that they might have been recorded "accidentally."
Georgia later warned Bear that if he shared the video, he could be arrested for "revenge p0rn." She told the court that Bear told her that he "would never do that to her."
When she saw the video, she claimed that Bear denied it was her with him in the video.
"It's definitely me but for a while he was trying to say it was someone else. I was really emotional and infuriated," Georgia stated in court. "What happened to me was completely wrong and I wanted to find some justice for it…I've lost a lot from my career and just in general. Really I feel I should be getting some form of compensation from what Bear's done."
Authorities were unable to obtain evidence of Stephen's alleged sex tape release when they arrested him at Heathrow Airport in January 2021 as he was coming back from a trip to Dubai. When they searched his body, his phone wasn't on him, although they did find a SIM key.
However, according to the prosecution, at least 273 people watched the footage in question on OnlyFans, including Georgia's mother, who subscribed to Bear's OnlyFans account in order to look for footage from the incident. She allegedly found a post from November 2020 featuring a screenshot from the footage of Georgia.
According to Metro, the trial is expected to last around four days. (Revenge p0rn has been illegal in the United Kingdom since October 2015, according to the BBC.)
Keeping it low key 😛🐾 @Jessica_Smithxo pic.twitter.com/se1orac4rV

— Stephen Bear (@stephen__bear) December 6, 2022
To date, Bear has appeared on three seasons of 'The Challenge': 2019's 'War of the Worlds' and 'War of the Worlds II,' and 2020's 'Total Madness.' Georgia also starred on the 'War of the Worlds' and 'War of the Worlds II' seasons.
(Photos: MTV; Instagram)