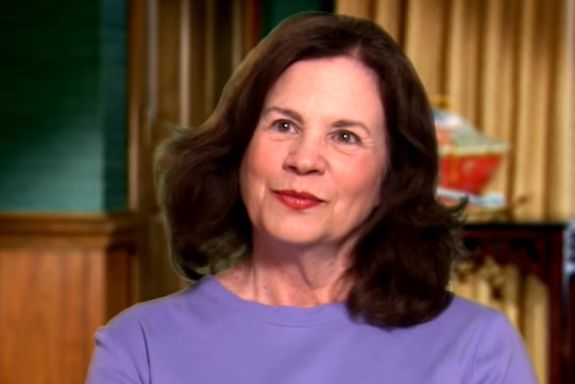 Barbara Thore— mother of Whitney Way Thore and a co-star on Whitney's reality show My Big Fat Fabulous Life— has died. She was 76.
Whitney announced the sad news via an Instagram post on Thursday, letting fans know that her mom "Babs" died on Wednesday, December 7.
"Rest in Peace, Sweet Mommy," Whitney began her post, later describing her mom's final moments.
"My mother died last night just as the credits rolled on her favorite movie," Whitney wrote. "Dad, [my brother] Hunter and I held her as she took her last breaths. It was 10:32 p.m., the same exact time she brought me into this world almost 40 years ago."
As fans of 'My Big Fat Fabulous Life' know, Babs suffered several strokes in recent years, with the most-recent one being in December 2021. The medical emergency was covered on 'MBFFL' and Babs' health was a main topic of discussion during the most-recent season.
View this post on Instagram
In Whitney's Instagram post, she explained some of the medical challenges her mother faced, including a stroke last month.
"My mom had cerebral amyloid angiopathy, which is an untreatable progressive condition caused by proteins in the blood vessels of the brain that can cause dementia, seizures or, like in my mom's case, brain bleeding (hemorrhagic strokes).
"When mom had her first stroke in 2017, we were told of this and we knew that more strokes would eventually be inevitable," Whitney continued. "Mom's second stroke was December 28, 2021 and her last was November 13, 2022."
Whitney also described how much Babs enjoyed being on 'My Big Fat Fabulous Life,' writing that her mom "delighted in her newfound television career more than we can describe!"
View this post on Instagram
"The support from all of you made her feel so loved and encouraged," Whitney wrote. "We are unbelievably thankful that we've been able to share her with you and it is our hope that her memory will continue to be a source of comfort and happiness for the rest of your lives, just as it will be for ours. I love you, Mommy."
Barbara appeared on all 10 seasons of 'My Big Fat Fabulous Life'." In addition to her children, she is survived by her husband of over 40 years, Glenn.
TLC— the network that airs 'MBFFL' posted a social media tribute to Babs on Thursday.
"We are devastated by the loss of Barbara Thore," the network wrote in a statement. "She was a beloved member of the TLC family whose kind and generous spirit will never be forgotten and forever cherished. Our hearts and deepest condolences go out to Glenn, Whitney, Hunter, her entire family and friends during this difficult time. Babs will be greatly missed by all of those that knew her."
(Photos: TLC; Instagram)