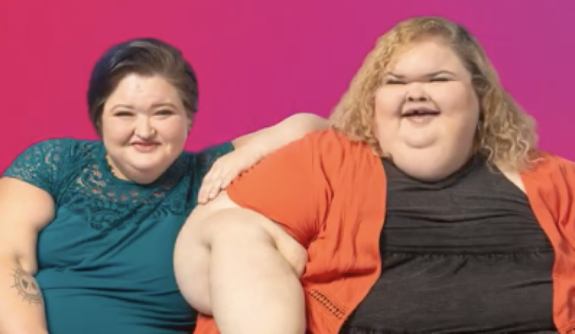 Tammy and Amy Slaton are back for an action-packed season of medical scares, family drama, a pregnancy announcement, a "b*tchorcist" and more!
TLC released a sneak peek this week of the upcoming season of 1000-Lb. Sisters, giving fans an idea of what's to come for the Slaton sisters.
The clip kicks off with an update on Tammy's health, as voiceovers from her family members reveal that Tammy's body was "shutting down" and that she "quit breathing" prior to her checking into a treatment facility at the end of 2021. (As The Ashley has reported, Tammy has been in the facility for nearly a year now and is reportedly due to check out soon.)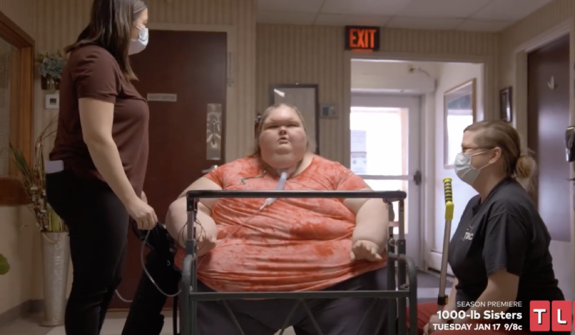 Despite the close call and many concerns from her family (and doctor), Tammy later gives an enthusiastic health update to the camera.
"I'm still here, bitches!" Tammy says from inside the treatment facility.
While Season 4 will presumably document the progress Tammy has been making during her time at the facility, fans will also see her deal with homesickness due to the facility being in Ohio and her family being back home in Kentucky.
"I'm struggling with just being so far away from family," she says in the clip.
Tammy's struggles continue during an angry phone conversation with her brother, Chris Combs, during which Tammy can be heard yelling. In response to the interaction, Amy jokes that her sister is in need of a "b*tchorcist."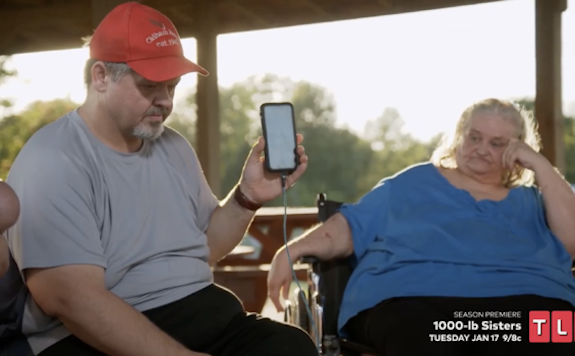 "We need somebody to exorcise the bitch out of Tammy," Amy says.
Aside from planning an attitude exorcism for her sister, Amy and husband Mike Halterman are busy planning to expand their family.
"We're expecting another child," Mike says in the clip, with Amy adding, "Baby number two, y'all!"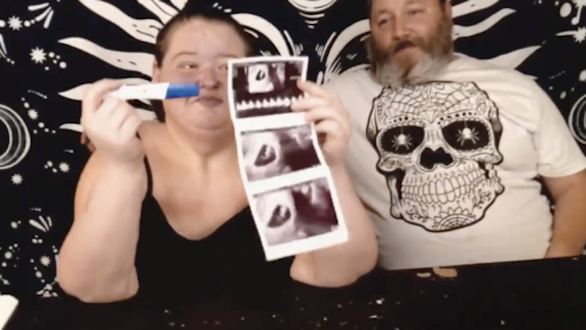 Amy and Mike's excitement is soon put on pause when Amy reveals there are complications with her pregnancy.
"The doctor has concerns with this baby because I'm still in a lot of pain," she says. Amy tears up later in the clip as she tells the camera that "things took a turn for the worse."
(As fans of "1000-Lb. Sisters" may recall, Amy and Mike welcomed baby number two –a son named Glenn Allen—in July of this year. At the time of the delivery, Amy called it a "huge success" and did not indicate that Glenn has any health issues.)
While the sneak peek provides little information about Tammy's weight loss surgery, the possibility of her undergoing the procedure is mentioned in the clip and Tammy is seen being placed into the back of an ambulance.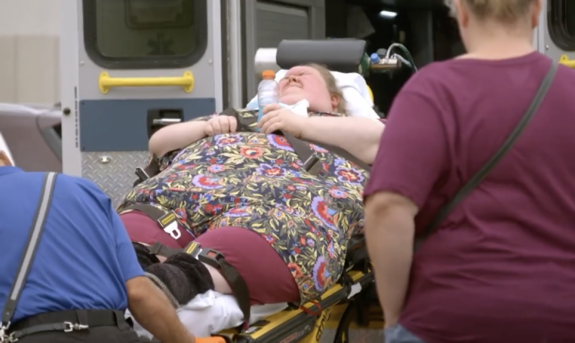 As of last month, Tammy was reportedly still recovering after undergoing bariatric surgery at the end of the summer. Following her surgery, she returned to the Ohio rehabilitation center, where medical staff continue to monitor her health and ensure that she is staying on her diet post-surgery.
As The Ashley told you last month, Tammy got hitched a few weeks ago inside the rehabilitation center, which happens to be where she met her husband, Caleb Willingham. Though Tammy and Caleb's nuptials were not mentioned in the sneak peek, TLC has promised fans the upcoming season will document Tammy's "road to the ring."
The new season of "1000-Lb. Sisters" premieres January 17 on TLC. Check out a sneak peek below.
RELATED STORY: "1000-Lb. Sisters" Star Tammy Slaton Is Married: See Photos From Her Wedding Day & Meet Her Husband Caleb Willingham
(Photos: TLC; Instagram)