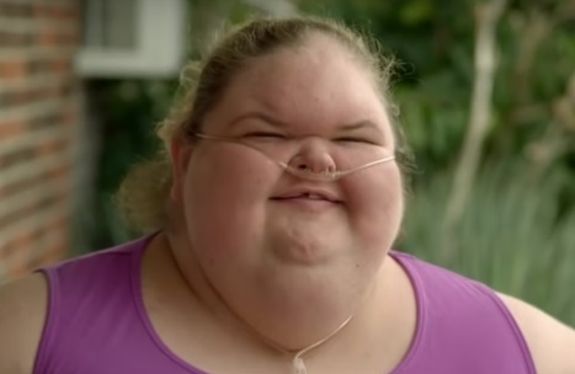 Wedding bells are ringing for Tammy Slaton!
According to People magazine, the 1000-Lb. Sisters star tied the knot on Saturday, November 19 in a small ceremony held inside the Ohio rehabilitation center where she met her husband, Caleb Willingham.
As The Ashley previously reported, the reality star— who has been in the treatment facility for nearly a year-– accepted a proposal from Caleb last month. The pair met at the weight loss treatment center (where they are both patients) and got engaged in the parking lot of the facility.
Tammy's sister and "1000-Lb. Sisters" co-star Amy Slaton was present at the nuptials, despite reports that she was not planning to attend. In photos posted by People magazine, Amy is shown posing with Tammy in what appears to be a bridesmaid dress for the fall-themed wedding.
Tammy Slaton is now a married woman!

The 1000 Lb. Sisters star tied the knot with husband Caleb Willingham on Saturday at Windsor Lane Rehabilitation Center in Gibsonburg, Ohio, PEOPLE can exclusively reveal.

More details here: https://t.co/qXtVBWheWt pic.twitter.com/zTRKjy79l5

— People (@people) November 20, 2022
In another photo, Tammy—wearing a white wedding dress along with a crown and veil–shows off her wedding band alongside Caleb.
About 30 guests were present to watch Tammy and Caleb say "I do.
"You all knew me as Tammy Slaton, but now you'll all know me as Mrs. Tammy Willingham," Tammy told People. "I'm married now!"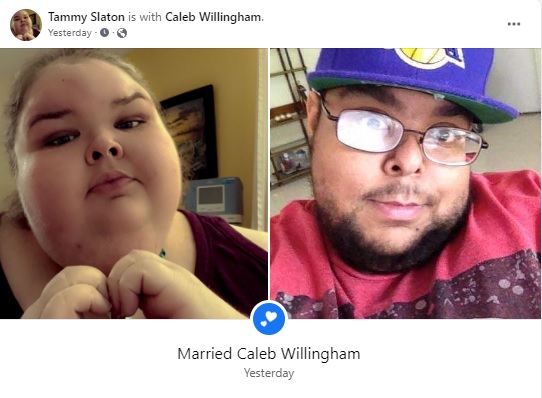 Tammy is currently recovering after having undergoing bariatric surgery at the end of the summer. After surgery was complete, Tammy returned to the weight loss center in Ohio, where medical staff continue to monitor her health and ensure that she is staying on her diet post-surgery. Nurses are also continuing to monitor Tammy's trach. (Tammy previously underwent surgery to shrink the size of her tracheostomy tube.)
Tammy was slated to return home for a month after her surgery, and at one point, her release date was planned for September 1; however, the date kept getting pushed back. Tammy is now expected to be released at the end of 2022. While Caleb's release day is unknown, he will reportedly be moving into Tammy's Kentucky apartment when that time comes.
Like Tammy, it appears that Caleb has struggled with health problems for years due to his weight. Caleb— who hails from Indiana— spent the majority of 2021 hospitalized. In December 2021, he posted a message about his health to Facebook.
"First post in a while. It's not your regular "New Year, New Me" post. Because after spending 11/2-2 months in the hospital I've realized it's New me or no me," Caleb wrote. " My life is on the line. I love you all. And if you ever had any kinda love for me let's reconnect. I'm not giving up by any means but I know God can take any of us at any time."
In September of last year, he revealed that, at one point, he had reached a weight of more than 650 lbs. but was steadily losing weight.
"Some of y'all may not know but through a series of bad choices in my life I ended up over 650 lbs…. After a lot of hard work I am proud to say I am now at 599.3 thanks to God and EXTREMELY supportive friends and loved ones I am continuing my journey. I will climb out of this situation and be victorious."
According to People, Tammy and Caleb's relationship (and wedding) will be a main topic of the upcoming new season of "1000-Lb. Sisters," which is set to premiere on TLC on January 17.
Check out more photos of the wedding below!
View this post on Instagram
RELATED STORY: Engaged! "1000 Lb. Sisters" Star Tammy Slaton Accepts Proposal From Boyfriend Caleb While At Rehab Facility; Plans To Get Married This Month
(Photos: Twitter; TLC)