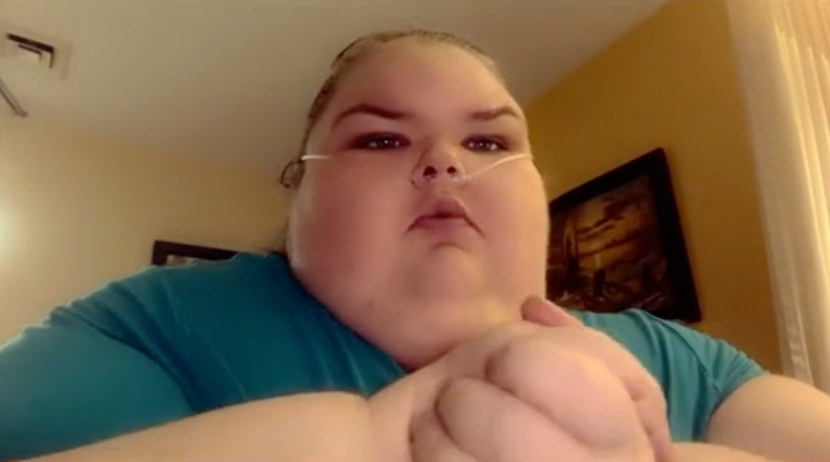 Tammy Slaton of TLC's 1000-Lb Sisters remains at the rehabilitation center she checked into in late 2021, where she has reportedly been able to quit smoking cigarettes, drinking alcohol and eating junk food.
While Tammy's Instagram activity has seemingly stopped in recent months, The Sun reports that Tammy has been using a secret Instagram account after getting locked out of her original account, though she is doing well and hopes to complete her stint at the treatment center earlier than her doctors anticipated.
Tammy's friend told The Sun that Tammy's progress can be credited to Tammy giving up smoking and drinking and "exceeding all expectations." Tammy has also reportedly undergone an operation that allows her to have a smaller breathing tube, which she now wears "part-time."
As The Ashley told you in January, Tammy checked into the Ohio treatment center before the holidays with plans to stay until this summer. Prior to leaving to seek treatment, Tammy's family voiced concern for her health due to her weight, as well as her display of allegedly "reckless" behavior and Tammy admitting herself on the show that she was drinking excessively and smoking to cope with her mental health issues.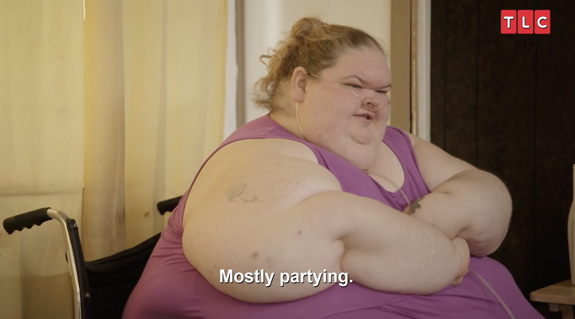 Tammy took to TikTok in March to address a question from a viewer about "1000-Lb Sisters," revealing that filming for a new season had yet to begin.
"We haven't started filming for Season 4 yet," Tammy said on TikTok. "It's gonna be quite a while before it airs."
Tammy's sister and co-star, Amy Slaton Halterman, previously told The Sun if producers didn't cut her filming hours going forward, she planned to leave the show in order to be more attentive to her one-year-old son Gage (as well as the second child she and husband, Mike Halterman, are expecting).
She said at the time that she was not contracted for Season 4 of the TLC show and was waiting for the network to get in touch with her to begin negotiations.
Meanwhile, Tammy is reportedly planning to write a book after completing her time at the Ohio rehabilitation center that will talk about her journey while also raising awareness about body positivity. Tammy's friend told The Sun she feels Tammy could keep the TLC show rolling solo in the event that Amy decides not to return.
"There are so many options for Tammy even if Amy did quit the show," she added.
RELATED STORY: "1000-Lb Sisters" Star Chris Combs Reveals Weight Loss on Social Media: "This Has Been the Hardest But Most Rewarding Journey"
(Photos: TikTok; TLC; Instagram)