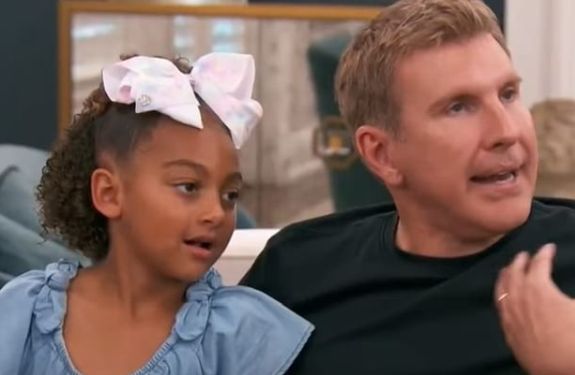 Todd and Julie Chrisley are firing back at recent claims that Chloe Chrisley's biological mother, Angela Johnson, is planning to fight for custody of the 10-year-old. The legally challenged couple released a statement on Wednesday, calling an interview that Angela recently did about trying to regain custody of Chloe "unfortunate" and "misleading."
Todd and Julie– who will be heading off to prison next month–- have had full custody of Chloe since 2016.
As The Ashley has previously reported, Angela recently revealed to TMZ that she plans to try to regain custody of Chloe and that she is not OK with the Chrisleys' plan of allowing their daughter Savannah Chrisley to take custody of the 10-year-old while Todd and Julie are behind bars. She also claims she has been working for years to regain custody of her daughter, and that she was "pushed out" of Chloe's life by the Chrisleys.
(While Chloe is the biological daughter of Todd's eldest son, Kyle Chrisley, she is often referred to as Todd and Julie's daughter and could be heard calling the two "mom and dad" on the family's now-cancelled reality series, Chrisley Knows Best.)
❤️ my Chloe pic.twitter.com/yupTkiHwuF

— angela johnson (@angej201211) March 31, 2016
Todd and Julie responded to Angela's statements with a statement of their own.
"Todd and Julie are saddened by the unfortunate and misleading narrative currently being portrayed in the media regarding Chloe," the couple told People.
Furthermore, Jessica Doyle, the family attorney Todd and Julie used during Chloe's adoption process, told the outlet Angela's statements are "simply not legally correct or even valid."
"I handled the formal adoption of Chloe by Todd and Julie Chrisley," Jessica said. "Angela Johnson's parental rights were terminated when she voluntarily surrendered her parental rights to Todd and Julie Chrisley on March 24, 2017. She has had no contact with the minor child since 2015."
Makes me wanna cry to see how big she is getting I love my baby pic.twitter.com/Ag65IhND1k

— angela johnson (@angej201211) March 13, 2014
For those in need of a refresher on the Chloe Chrisley custody situation, Kyle lost custody of his daughter in 2013 after he was arrested and charged with assault. (He was also struggling with addiction at the time.) Angela lost her rights to Chloe after she was arrested in 2016 for Medicaid and food stamps fraud. (Last week Angela denied that committed these crimes, claiming she has proof of her innocence.)
Todd and Julie's family attorney says the Chrisleys not only have custody of Chloe, but they are legally her parents by way of adoption.
"I have reviewed the public statements made by Angela Johnson," she added. "They are simply not legally correct or even valid."
Savannah is reportedly being tapped to take custody of Chloe (and Todd and Julie's 16-year-old son, Grayson) while her parents serve their respective prison sentences. The 25-year-old confirmed on a recent episode of her Unlocked podcast that Chloe has a grasp on "all of the legal issues" the Chrisley family has going on, though she didn't expound on whether that meant just Todd and Julie's legal issues, or the custody situation involving her biological mother, as well.
During the pre-recorded episode, Savannah told her mom that Chloe "listens more than you think."
"She'll put on her headphones and act like she is listening to something when in reality, nothing's on … so you think she's listening [to something else]," Savannah said.
"When really she's just listening to the conversation," Julie added.
Savannah went on to say that Chloe has "heard about" what's going on, "and she's dealing with it in her own way."
Chloe's father Kyle has yet to comment publicly on the situation with Angela.
RELATED STORY: Biological Mom of Chloe Chrisley Says She Plans to Fight For Custody of Daughter As Todd & Julie Chrisley Head to Prison: "I Was Cut Out Of Her Life"
(Photos: USA Network; Instagram; Twitter)