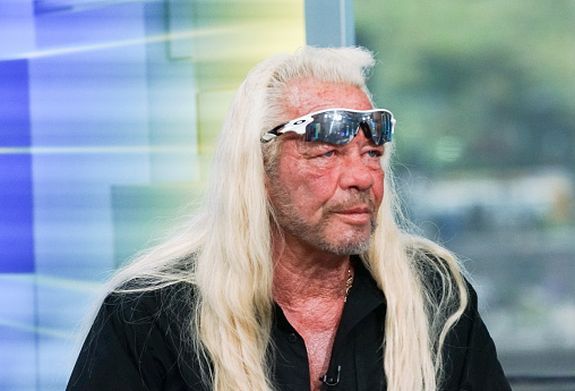 Duane "Dog" Chapman is used to chasing fugitives, but now the former reality TV show star is the one being chased— by Uncle Sam!
According to The Sun, the Dog the Bounty Hunter star owes over $1.6 million in taxes, and has been hit with tax liens in multiple states and counties!
The bounty hunter, whose real name is Duane Chapman, currently has tax liens in Douglas County, Colorado, totaling $799,975 for the tax years 2014-2019. Dog was hit with another lien for $20,147 for the 2020 tax year.
He has another lien in Jefferson County, Colorado, for $800,087.
Dog also reportedly owes $72,229 to the state of Hawaii for his income from the tax years 2014 and 2019.
Amid his financial troubles, Dog sold his Colorado mansion for $1.59 million earlier this week, New York Post reported. The home was originally purchased in 2009 for $750,000 by Dog and his late wife, Beth Chapman.
The six-bedroom, five-bathroom estate was featured on various shows, including 'Dog the Bounty Hunter,' Dog and Beth: On the Hunt, and Dog's Most Wanted. (Dog and his current wife, Francie Frane, are now living in Florida.)
In a statement to The Sun, the former reality TV star claims that he is trying to get his tax problems taken care of.
"I've been working diligently to satisfy these outstanding debts and look forward to putting this behind us," he said.
Dog's financial issues aren't the only troubles he's faced over the last few years. After an embarrassing failed attempt at finding fugitive Brian Laundrie (who was on the run after being accused of killing his girlfriend Gabby Petito) in 2021, Dog was hit with a lawsuit over his canceled–before-it-premiered show, Dog Unleashed.
In October 2021, Dog was sued for $1.3 million after his alleged racist & homophobic behavior contributed to 'Dog Unleashed' getting pulled before it made it to the air.
As The Ashley previously reported, the show was canceled weeks before its scheduled premiere in April 2021, and according to statements made by Unleashed Entertainment President and CEO Michael Donovan at the time, the show was pulled because of "actions taken by Mr. Chapman during the show's production that breach contractual agreements."
He cited Dog's numerous Twitter exchanges and rants in 2021 as being part of the issue.
"Duane Chapman's social media meltdown – which involves outrageous, false personal attacks – seems to be an attempt to distract attention from his contractual and ethical failures that led to the cancellation of 'Dog Unleashed,'" Mike stated.
"Our internal investigation confirmed racist and homophobic comments from Mr. Chapman, as well as illegal activity during filming, which Unleashed Entertainment cannot and will not tolerate. These actions forced us to cancel production of the show, and unfortunately, Chapman is now viciously taking out his anger on our employees."
Although 'Dog Unleashed' was canceled last year, Dog made his way back to reality TV in 2022. He appeared in six episode of FOX's The Masked Singer, in which he was disguised as "The Armadillo."
(Photos: Photo by Bennett Raglin/Getty Images; Instagram)