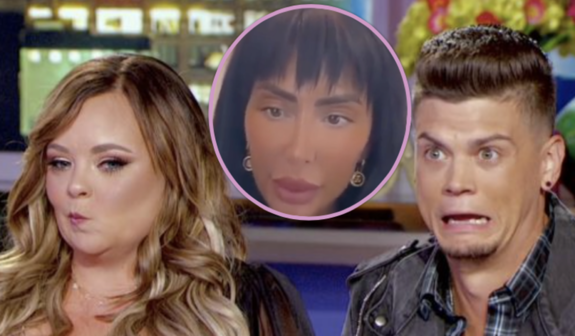 Teen Mom: The Next Chapter stars Catelynn Lowell and Tyler Baltierra recently called out their former Teen Mom co-star Farrah Abraham for having a bad attitude and an even worse appearance.
While recently on TikTok Live to field some fan questions/incessantly talk over one another, a viewer asked the couple if they missed Farrah. (The question was likely asked given that Season 2 of Teen Mom Family Reunion is currently airing, and Farrah infamously made a surprise appearance during Season 1.)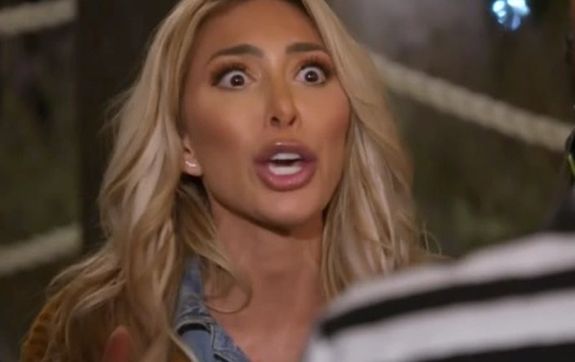 Cate and Ty made their feelings about Farrah very clear.
"Do we miss Farrah? No," Cate says in the clip.
As the video continues, Tyler reads a viewer comment aloud that states, "Farrah looks unrecognizable." In response Cate says, "I know, and she was pretty." When (for some reason) Tyler appears confused by his wife's statement, Cate explains, "She's just gotten a lot of plastic surgery."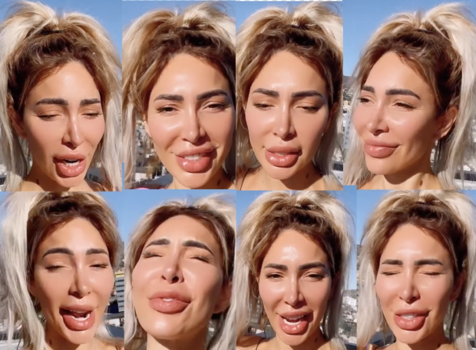 Tyler says he thought Farrah had already gotten quite a lot of plastic surgery in the past, while reiterating that both he and Cate used to think Farrah was "so pretty."
"I understand why she wanted a nose job, I totally get that," Cate says. "Like, ya know, she wanted a nose job from the beginning and she should've just stopped … ."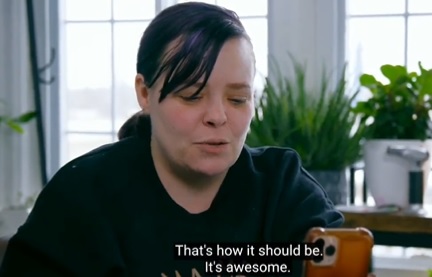 Once again, Tyler seems unfamiliar with Farrah's current face, but Cate assures him that Farrah "looks way different." She also agrees with someone in the comments who says Farrah's ever-changing appearance is the result of low self-esteem.
"No, you're right, she probably, sadly, doesn't have any self-esteem and that's sad," Cate says.
" … Well, ya gotta find it, ya gotta get it, ya gotta gain it," Tyler adds.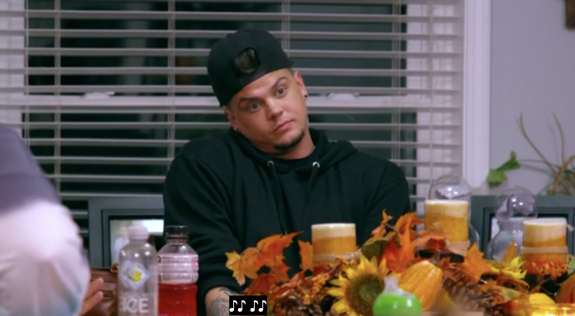 Cate and Tyler–- who, mind you, have been completely slamming Farrah's appearance during the last minute or so of this TikTok Live–- change the subject to remind people that Farrah is terrible on the inside, too.
"She's just sadly a mean person," Cate says.
"But haven't we said though, we've actually never met anyone like her in [our lives]," Tyler says. "I thought people like her are only in movies."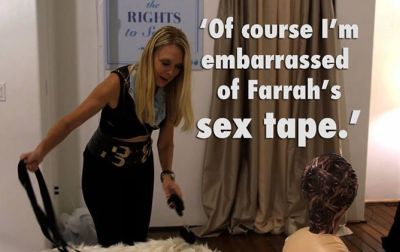 "Yeah, she's a mean girl," Cate says again.
"Like, it's crazy, bro," Tyler continues, telling his TikTok Live viewers what it's like to meet Farrah in person.
" … It's interesting, man," he says.
Farrah has yet to respond to Catelynn and Tyler's slam sesh, though she did speak out on Instagram Live in November to respond to the criticism she had received about her appearance from random people online. After posting a video that resulted in a plethora of comments deeming the former 'Teen Mom' star "unrecognizable," Farrah insisted she was showing off her "natural" face– free of filters, makeup and injections.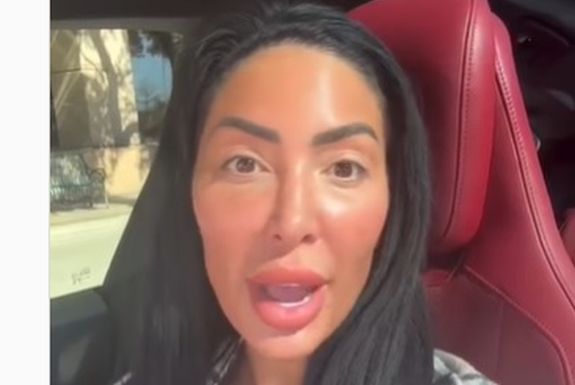 "I have to say, I look freaking amazing!" Farrah said. "And this is me natural so that means injections [have] worn off. That means nothing else. The end."
Farrah went on to accuse those shaming her of committing emotional abuse.
You can watch the Reddit clip of Catelynn and Tyler's TikTok Live below. (The Farrah remarks begin around the 1:13 mark.)
Catie and Tyler talking about Farrah being a mean girl and her plastic surgery 👀👀 from TeenMomOGandTeenMom2
RELATED STORY: 'Teen Mom' Star Cory Wharton Gives Update Following Infant Daughter Maya's Heart Surgery: "This Has Been The Worst Experience of My Life"
(Photos: MTV; Instagram; VH1; Reddit)