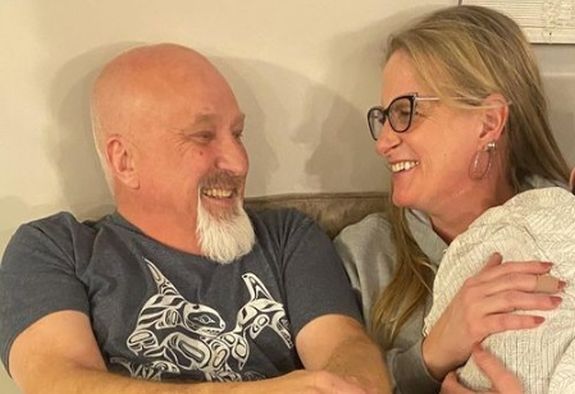 Christine Brown has the stamp of approval from her boyfriend David Woolley's daughter Kati Charlene.
As The Ashley told you earlier this week, the ex-wife of Kody Brown celebrated Valentine's Day by going Instagram official with the new man in her life, just a week after announcing that she was "exclusively dating" someone.
David, a 59-year-old widower who owns a drywall company, is a father of eight adult children. Earlier this week, David's daughter Kati took to TikTok to reveal how she feels about the Sister Wives star dating her father, who she called "the best dad in the whole world."
"I have a thousand stories of all the times he's shown up for me in my life and how amazing he's always been," Kati said of her father. "He seriously is incredible."
According to Starcasm, Kati lives about 12 hours away from her father, though the married mom of three has still been able to get to know Christine and had nothing but positive things to say about her. Kati told followers that she's "the luckiest" person for getting to have Christine as a "second mom," and also shared that she loves the mom of six and appreciates that she has been so welcoming of David's children.
"Christine has found a way to make all my siblings feel loved and she's amazing," Kati said in one of her videos.
Christine left a comment on one of Kati's videos, writing that David's kind parenting is one of the things she likes best about him.
"One of the biggest reasons I fell in love with him is because he's an amazing Dad! Really! He's phenomenal! He's the best!" Christine wrote.
"He says one of the reasons he fell in love with you was because how amazing of a mom and grandma you are!" Kati wrote back.
Last week, Christine also described David as "wonderful, and romantic and so kind."
"He is everything I've been looking for," she added.
'Sister Wives' viewers will likely get to see to see more of Christine and David's relationship on the upcoming season of the TLC reality series, as members of the film crew were seen in the background of one of the photos Christine posted with David.
While some fans have expressed their worry that David is not with Christine for the right reasons, Kati assured them that is not the case.
"I was so worried for Christine that whomever she ended up with would be after her money/fame or have bad intentions…" one person wrote in the comment section of one of Kati's posts about David and Christine.
"Trust me, he was not after any of those things. He never has been," Kati replied. "He just loves Christine."
RELATED STORY: 'Sister Wives' Star Christine Brown Goes Public with Her Boyfriend David Woolley: "I Finally Found the Love of My Life"
(Photos: Instagram; TikTok)