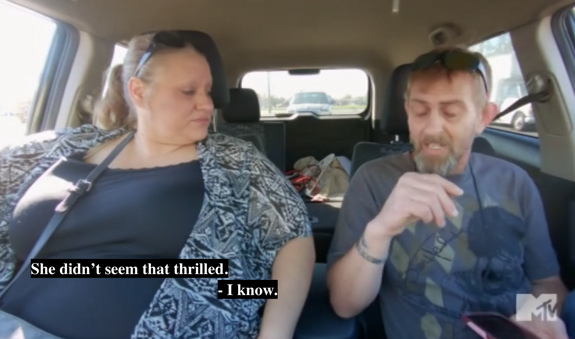 Less than two years after her fiancé Sean Austin found success through an inpatient rehabilitation center, Jade Cline is hoping her parents can do the same.
The Teen Mom: The Next Chapter star took to TikTok this week with a lengthy video in which she revealed her mom, Christy Smith, and stepdad, Corey, have checked into two different treatment facilities and are "starting their rehabilitation journey."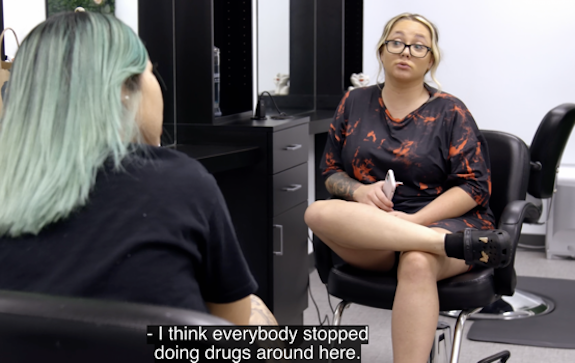 In the video, shared by @teenmomfanz on Instagram, Jade explained that she hadn't been "really close" to her parents–- both of whom have a history of addiction–- for about six months, "due to their own choices."
(Christy appeared on Teen Mom Family Reunion Season 2, which was filmed in September 2022, so her estrangement from Jade happened right around this time.)
"I felt like they weren't really doing well in their current life," she said. "I've learned a lot about loving an addict and I've learned a lot about boundaries and it's important to do what you need to do for your own mental health and happiness … ."
Jade said after having little communication with her parents, she decided a few weeks ago to invite them over for dinner to discuss the possibility of rehabilitation and "what that looks like for them and if that's a possibility for them."
Fortunately, she said Christy and Corey were open to the idea and believed it was "something they really needed to get their lives back on track."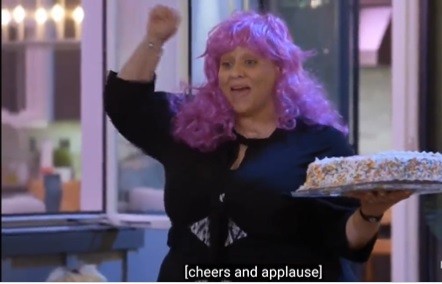 As fans of Teen Mom 2 may remember, Christy and Corey were arrested in May 2019 on charges that included meth and marijuana possession. According to Starcasm, the pair's arrest occurred after police were dispatched for a possible overdose, as both Christy and Corey were sleeping in their vehicle at the time. Christy's jailhouse phone call to Jade was captured by cameras and aired during an episode of 'Teen Mom 2.'
On Tuesday's new #TeenMom2, @jade_desere gets an unexpected call from her mother to bail her out of jail. 😳 pic.twitter.com/aRHPBy7oc7

— Teen Mom (@TeenMom) November 3, 2019
Christy–- who has a lengthy rap sheet featuring multiple arrests (not all of which are drug/alcohol related)–- assured everyone on the 'Teen Mom: The Next Chapter' Season 1 Reunion that she was doing fine and doesn't "use drugs constantly," despite what viewers assume.
Some of those assumptions were likely rooted in the pharmacy/pain pill debacle that occurred during a 2021 episode of 'Teen Mom 2.' The incident had many viewers accusing Christy of withholding Jade's pain medication, though Jade came to her mom's defense on social media after the episode aired, insisting her mom had "never used pain pills nor been addicted to them."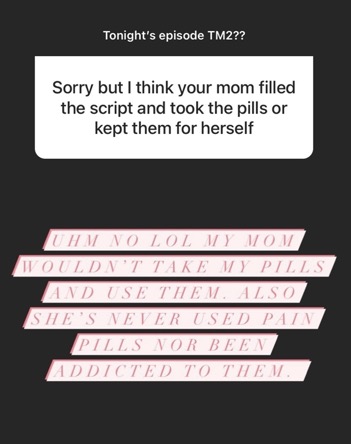 More recently, 'Teen Mom Family Reunion' viewers watched Christy take part in a healing exercise with Coach B and a couple of the other 'Teen Mom' grandmas, in which participants were asked to describe what they see when they look into the mirror. During Christy's turn, she described herself as a good mom who "fell off for a while." Despite this, Christy said her setbacks only made it possible for her to make a comeback. Those "setbacks," she revealed, included "partying" and doing drugs.
In her TikTok video, Jade touched on the impact her parents' addiction had on her, admitting she had "a lot of animosity growing up" and resentment towards addiction, though she's learned through therapy that "anger doesn't help, it just festers."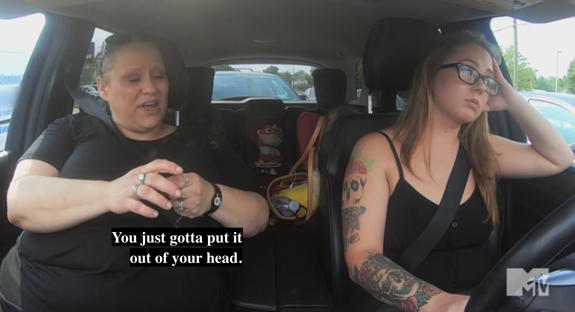 "What helps is understanding, love and support, and being aware of what's enabling and what's helpful," she added. "I basically told my parents, 'You know, I think this is what you guys need and I'd be here to support you and I'll help you guys figure something out or get something lined up if it's something you guys really want to do and are really gonna follow through, I'll be there. Just like I was there for Sean.'"
As The Ashley previously told you, Jade's fiancé Sean checked into a three-month inpatient rehab facility in 2021, and has managed to maintain his sobriety. Jade said this week that Sean is "proof that the program works."
Jade did not reveal how long Christy and Corey will be in rehab, though she confirmed their treatment centers are located in two different states.
" … I'm just asking for positive vibes and support, she concluded her video. "You know this is hard. Anyone that has gone through this knows it's hard but it's awesome to have other people that understand and that support you so hopefully this is what my parents need to kind of push forward."
After sharing the news about her parents on TikTok, Jade took to her Instagram Story to thank everyone for their support, as well as those who have reached out to share their own stories of addiction with her.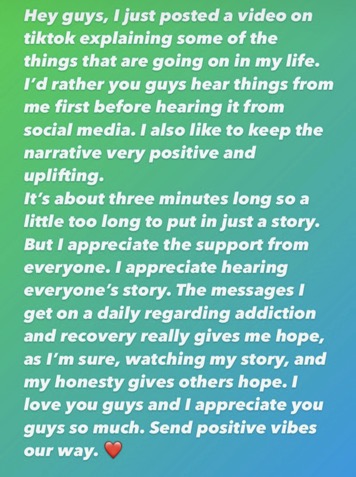 "The messages I get on a daily regarding addiction and recovery really gives me hope, as I'm sure, watching my story, and my honesty gives others hope," she wrote. "I love you guys and I appreciate you guys so much. Send positive vibes our way."
RELATED STORY: EXCLUSIVE! 'Teen Mom Family Reunion' Star Dr. Cheyenne Bryant Talks About Ryan Edwards' Alleged Relapse & How Ryan's Son Bentley Is Handling It
(Photos: MTV; Instagram; Twitter)