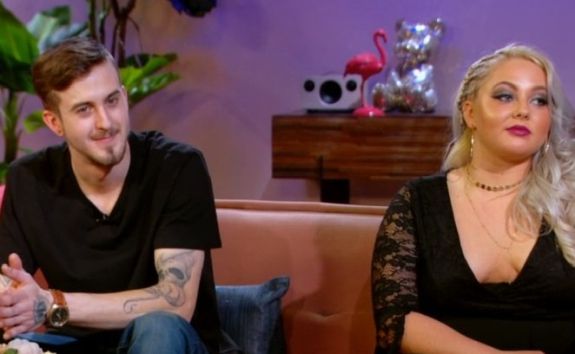 On Tuesday's much-anticipated premiere of the Teen Mom spinoff, Teen Mom Family Reunion, Jade Cline emotionally revealed to her co-stars that her baby daddy, Sean Austin, had once again checked himself into a rehabilitation facility for substance abuse issues.
During the episode, the Teen Mom 2 star said Sean–- who is the father of Jade's four-year-old daughter Kloie– had been in rehab for about a month-and-a-half at the time, and his departure to the facility left their daughter "hysterically crying." (The spin-off was filmed in late September 2021, by the way.)
After the episode aired, Jade took to Instagram for a Q&A with fans, most of which consisted of questions regarding Sean's "intense rehab" stint and how Jade dealt– and is continuing to deal– with his sobriety journey.
Viewers were then reminded through 'Teen Mom 2' clips of Sean's past addiction struggles, some of which have been documented on the show.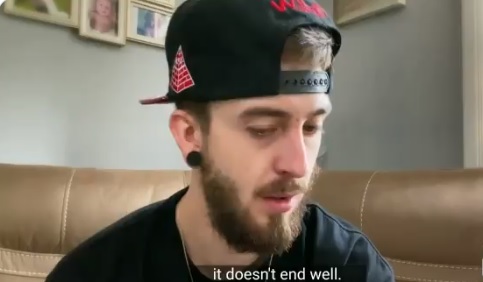 Jade revealed to followers that Sean was in a facility across the country for 120 days seeking help for both substance abuse and mental health issues. She said that, while it was difficult handling things while he was away, Jade knew she had to "step up and take care of everything so he could better himself."
Jade also revealed that they'd kept Sean's recent rehab stay a secret up until this point.
"This is the first time anyone has known about Sean going to rehab," she wrote, adding, "Sobriety is hard but he's made it. He not only wanted substance abuse help but mental help. He had a lot of stuff repressed and he was hurting.
"He got so much counseling and therapy which got to the root of his substance abuse issues. He's doing amazing and is proof people can change."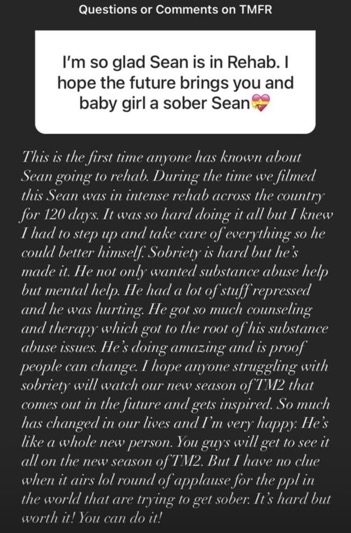 Jade said she hopes anyone struggling with their own sobriety will be inspired by Sean's story as it plays out on the upcoming season of 'Teen Mom 2,' as Sean's decision to get help not only changed his life, but hers as well.
"So much has changed in our lives and I'm very happy," she said. "He's like a whole new person. You guys will get to see it all on the new season of TM2.'"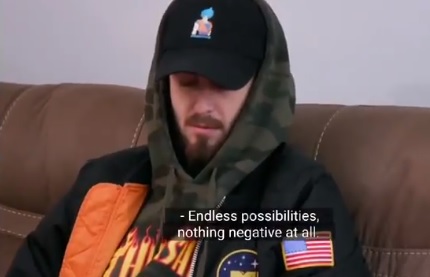 While responded to another question, Jade said Sean made the decision to go to rehab on his own, calling it the "best decision he ever made."
"It was a huge step for him, the first step towards the rest of his life," Jade wrote.
"Now Kloie has two healthy parents that practice [patience], good mental health and health communications," she continued. "So happy we are where we are at now."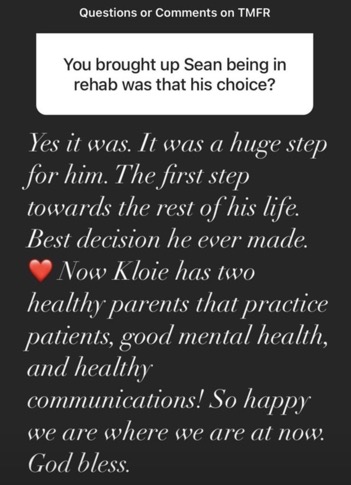 Jade went on to thank those who reached to share their stories with her, claiming it was the reason she chose to share her own story. She also shared a message to anyone getting sober, along with their friends and family, noting she has been told by many people "to forget about Sean or move on."
" … If I wouldn't have stuck by and helped him with sobriety idk where he would be now," she added. "Giving up on someone just isn't who I am. At least all the hell I've been through has finally paid off and life is good."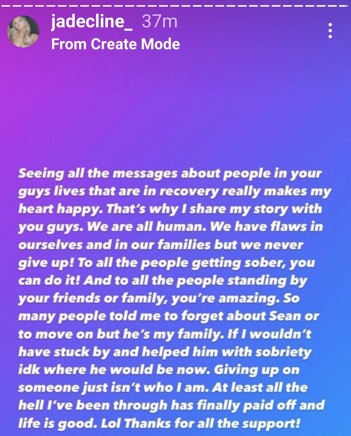 This is not the first time Sean has tried to get sober. Back in February 2020, Jade announced that she and Sean were giving their relationship another try, due to Sean getting sober.
Jade applauded her baby daddy on social media for living "a clean and sober life," and even posed for some awkward, sexy-time Valentine's Day photos with Sean. Unfortunately, it appears that their relationship— and Sean's sobriety— didn't last that time and the couple went on to split a few months later.
RELATED STORY: Leah Messer's Sister Victoria Celebrates After Her Fiance Royer Rodriguez Is Allowed to Move to West Virginia, With Leah's Help
(Photos: Instagram; MTV)