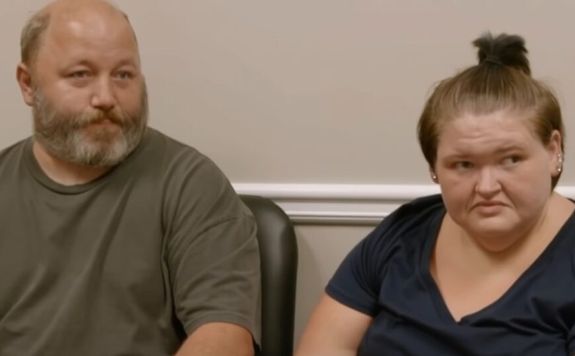 There's about to be a single Slaton sister!
The Sun broke the news on Monday that 1000-Lb. Sisters star Amy Slaton Halterman has reportedly split with her husband, Michael Halterman, with whom she shares two young sons.
The site reports that the couple has been having trouble in their relationship since last year. That "trouble" is apparently serious enough that Amy has reportedly already taken two-year-old Gage and seven-month old Glenn and moved out of the Kentucky home she and Michael once shared. They are currently staying at the home of Amy's sister, Tammy Slaton, who recently got out of rehab.
While Amy has yet to file for divorce, The Sun claims that it's just a matter of time before she does.
"Amy says Michael is lazy, and has been jealous of her attention toward the kids," the site's source stated.
Fans saw Amy's frustration with her husband on the most-recent episode of the show, in which Amy returned home from the hospital after Glenn's birth. Amy— who is recovering from a C-section during the scene— is upset when Michael doesn't help her with the kids at a barbecue, leaving Amy to care for both Gage and Glenn as Michael enjoys his food.
Later, Amy tells the cameras that Michael doesn't help out around the house and instead just plays video games.
Amy is learning to juggle two kids on #1000lbSisters, Tuesdays at 9/8c. pic.twitter.com/6IRBWgYhTy

— TLC Network (@TLC) February 21, 2023
"Daddy ain't doin' s**t. Sometimes I feel like I got three kids," Amy said during the episode.
Michael and Amy have yet to publicly comment on The Sun's report of their split.
RELATED STORY: "1000-Lb. Sisters" Star Tammy Slaton Leaves Rehab After More Than A Year; Husband Caleb Willingham Planning to Relocate to Kentucky
(Photos: TLC; Instagram)