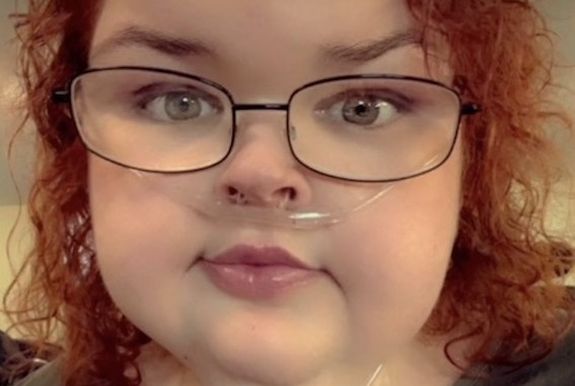 After more than 14 months, Tammy Slaton has said goodbye to her Ohio rehab facility and is back home in Kentucky.
According to The Sun, Tammy left the facility nearly 300 pounds lighter after abstaining from alcohol, smoking and vaping for the last nine months. The 36-year-old star of 1000-Lb. Sisters is now settling back into her life at home, which now includes walking longer distances, driving without certain seat adjustments, and standing for short periods of time.
As The Ashley previously reported, Tammy checked into the rehab facility at the end of 2021 after displaying "reckless" behavior. In the "1000-Lb. Sisters" Season 4 teaser, Tammy's family–- including her sister and co-star Amy Slaton–- revealed that prior to checking into the treatment center, Tammy's body was "shutting down."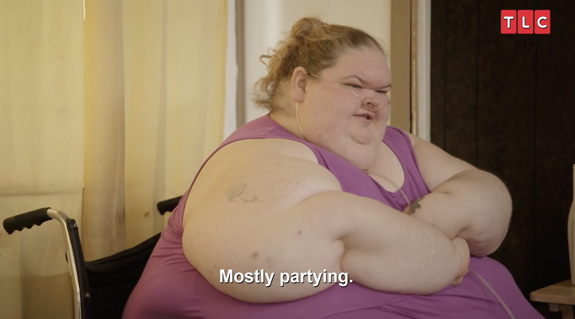 Tammy reportedly entered the center weighing 700 pounds and now weighs just over 400 pounds. She recently gave fans on social media a glimpse at her new appearance, posting a series of selfies.
Back in November, Tammy was reportedly still recovering from the bariatric surgery she had at the end of the summer. After her surgery was complete, she returned to the treatment facility in Ohio, where medical staff continued to monitor her health and ensure that she was staying on her diet post-surgery. Nurses also continued to monitor Tammy's trach. (She previously underwent surgery to shrink the size of her tracheostomy tube.)
Though Tammy was still recovering in November, she didn't let it stop her from getting hitched that same month to husband Caleb Willingham, who was in the rehab facility with her.
Tammy and Caleb tied the knot inside the rehabilitation center, with their wedding being attended by about 30 people, including Amy.
"You all knew me as Tammy Slaton, but now you'll all know me as Mrs. Tammy Willingham," she told People after making things official with Caleb. "I'm married now!"
Though it was initially stated that Caleb would be leaving the facility before Tammy, he reportedly still has some more weight to lose before reaching his goal. However, once Caleb sorts out some insurance details, he's expected to transfer from the Ohio facility to a facility located in Henderson, Kentucky, in order to be close to his wife.
RELATED STORY: Medical Scares, A Baby On The Way & A "B*tchorcist": TLC Releases "1000-Lb. Sisters" Season 4 Teaser
(Photos: Instagram; TLC)