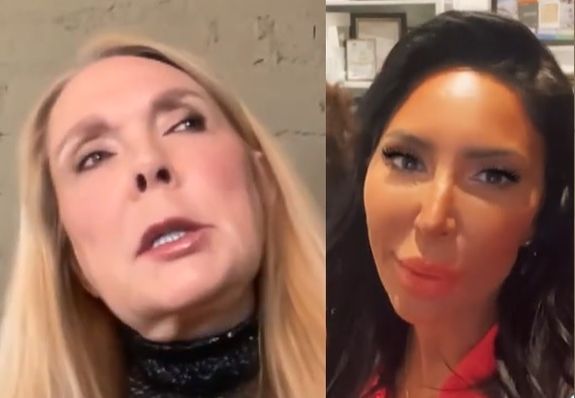 Farrah Abraham's mother Debra "Debz OG" Danielsen— as well as her former best friend Tyler Cooksey— took to YouTube on Friday to set the record straight on a variety of topics regarding the former Teen Mom OG star.
In the new podcast episode, Deb and Tyler (who was featured on Farrah's 2009 16 and Pregnant episode) addressed Farrah's claims that she's been abused. They also talked about Farrah's current mental health and "career" situation and what was happening behind the scenes with Farrah's dad Michael Abraham when they were filming Farrah's "16 and Pregnant" episode.
"Now is the time, I think," Debra said on the episode. "Let's get the record straight about [the claims of] child abuse, sexually molestation, bullying…and all kinds of other things that have been going around that are absolutely not true."
Here, The Ashley has pulled out some of the most-interesting parts of the podcast episode.
On past claims Farrah has made about having an abusive childhood: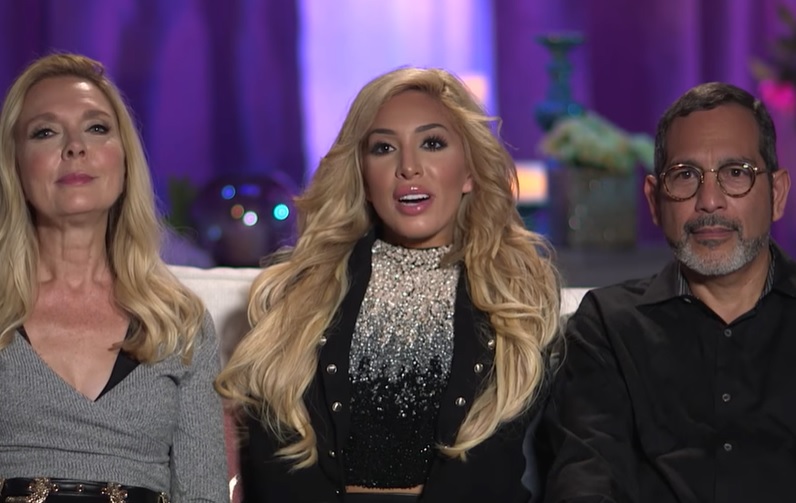 Over the years, Farrah has claimed at various times that she was physically, sexually and emotionally abused during her childhood. During one 2014 interview, Farrah told In Touch Weekly that Deb and Michael beat her with a belt when she acted out.
"I had cuts, bruises, welts, swelling and scars," she told the magazine. (A source close to Farrah told The Ashley shortly after that Farrah's claims were false and that she suffered no abuse as a child.)
Debra and Tyler addressed Farrah's claims.
"We often hear Farrah talk about how she was sexually molested and she had a really rough childhood," Debra stated. "I don't even know what all she's been saying. I want to go on the record and say: Farrah comes from a very privileged background…"
Debra then stated that she never left Farrah and her sister alone with Michael; however, she didn't specify why.
"There is no way in this world— because I had been taking Michael to several PhDs, to get him mental help, no way in this world that the girls were ever left alone with him," she said. "Ever. Just to be very clear, my dad [Farrah's grandpa] never molested anybody. My ex-husband, Michael, was a known situation and we kept him an arms'-length away from everything because that's what the doctors told us to do."
Tyler— who is no longer friends with Farrah— said Farrah begins suggesting she was abused whenever she wants attention.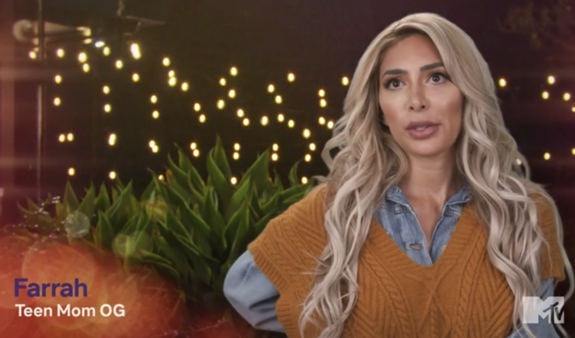 "I think anybody with half a brain cell could put together a background here. When does Farrah talk about trauma? When does she talk about these 'horrible things' that happened to her? When she is losing her spotlight," he said. "This is a soundbite that you get maybe a decimal of to remain relevant, but there's no context. There's no proof. There's nothing. It's just a little soundbite that [she] can drop and people wonder and then the rumor mill starts selling things to the tabloids and it reignites things. It's really a sick process."
."When she needs a boost or something, or wants to drive empathy or she needs people to care about her, she wants to drive sympathy she'll come up with some far-flung, fantastic thing," Debra agreed.
On how they feel the spotlight has made Farrah's narcissistic behavior worse:
Debra said she first recognized the effect filming had on Farrah when they were filming for "16 and Pregnant."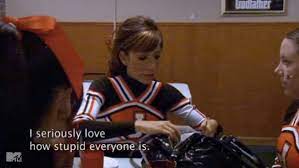 "It just seemed like when the cameras came on, Farrah's idiosyncrasies got worse," she said. "She started recognizing that she was getting a reward, in a narcissistic way, for that behavior, which caused it to go out of control."
Tyler stated that, in his opinion, Farrah doesn't have empathy for the people in her life.
"I think a lot of the issues that come to her– whether she believes that she creates them or she believes they are brought to her— is the inability to see people as having a soul. She views people as objects," he said before revealing why he is no longer friends with Farrah.
"Honestly, I don't have bandwidth for the drama that would come from having her as a friend. I'm good."
In regard to the Farrah continuously claiming that she's been the victim of abuse at the hands of numerous people/places/businesses, Deb said it's usually Farrah who sours the relationship.
"Very few people have really done Farrah wrong, it's really more how she doesn't accept people or actions, or is very unskilled at conflict resolution," she said.
On Farrah's p0rnography career & sex industry work: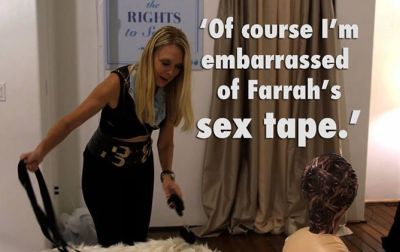 Farrah continues to work in the sex industry, using OnlyFans and other sites to post her, um, "unique" sexual offerings. (And, of course, she had a starring role in her infamous 2013 "Backdoor Teen Mom" sexy time movie series.)
"Here's the sad part: if she would have pulled it together, she could have been super, super commercially profitable in her career," Deb said. "Versus going and doing stuff like backdoor p0rnography, that's not the way we roll. I don't go for that. That, to me, is an abomination."
On what was happening with Michael during the period they filmed "16 and Pregnant":
Things in the Abraham home seemed chaotic during the episode, but Deb said it was actually even more of a mess than what viewers saw.
"What people don't realize is that Michael was just excessively arguing with all of us, constantly," Debra said. "Only when the camera came on did he seem to come down to a meek, mild narrative, like he is a likable guy. And in the back side of this thing, we were starting the initial process of getting a divorce because he had multiple affairs."
Deb revealed that, on the night Farrah gave birth to Sophia, Michael was allegedly two hours away at the home of a "love interest" he was seeing at the time.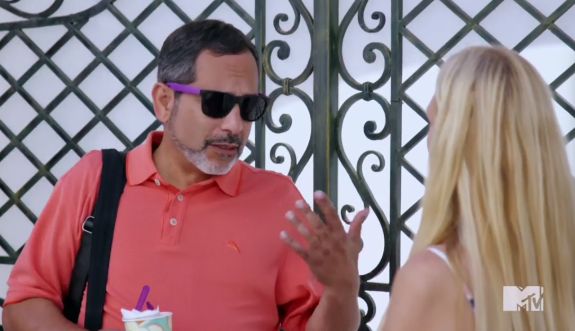 "So in '16 and Pregnant,' when we're in the hospital and Farrah's about to give birth and I'm crying because I'm calling him on the phone and he was obviously asleep and didn't look at his messages. He was asleep with this person," Deb said. "Nobody realized that Michael was actually off with some other women and it took him a day and a half to get to the hospital to see Sophia. And it was only a two-hour drive."
Watch the entire podcast episode video below!
RELATED STORY: Catelynn Lowell & Tyler Baltierra Call Farrah Abraham a "Mean Girl" & Criticize Her Altered Appearance: "Farrah Looks Unrecognizable"
(Photos: YouTube; MTV; WEtv; TikTok)