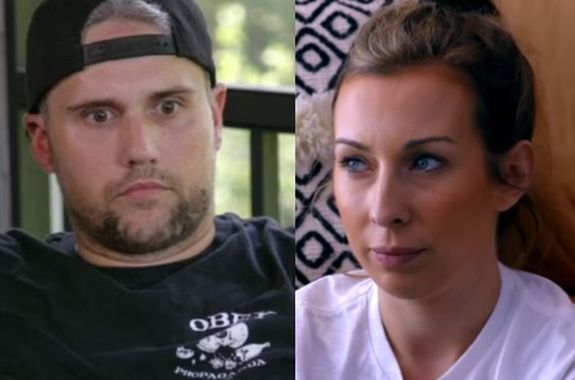 Trigger Warning: This story contains mentions of domestic violence.
Before 'Teen Mom' dad Ryan Edwards was arrested last week, his wife Mackenzie Edwards — as well as her father and co-worker—called 911 multiple times in the last two months, with Mackenzie revealing at one point that she did not "feel safe" from Ryan.
As The Ashley told you, Ryan was arrested for violating a protective order filed by Mackenzie, as well as for harassment, possession of a controlled substance, and possession of drug paraphernalia. In the petition she filed on February 8 for the order of protection against Ryan, Mackenzie mentioned several times that Ryan allegedly got violent with her or made threats against her, sometimes in front of their children.
On Friday, The Sun revealed that Mackenzie– as well as her father and her co-worker– made calls to 911 over the past few months trying to get Mackenzie help getting away from Ryan during his alleged violent episodes.
The most-recent 911 call on record was made by Mackenzie on February 8 (the same day she filed for the protective order). According to the call transcript obtained by The Sun, Mackenzie sought help from emergency personnel and indicated that she plans to divorce Ryan.
"County has been to my house several times in the past month for a domestic I've had going on with my soon-to-be ex-husband," Mackenzie told the 911 operator, before asking how to make a report with the county about the situation with Ryan.
Mackenzie allegedly asked if an officer could meet her to hear a recording of a threatening phone call she received from Ryan that same day. (Click here to read the chilling details of that particular call.) When the operator suggested the officer come to Mackenzie and Ryan's house, Mackenzie insisted they meet elsewhere.
"I am not safe at home," she said. "Is there any way they can meet me in [the city of] Harrison?"
Before this, two other 911 calls had been made on Mackenzie's behalf in response to Ryan's alleged abusive or threatening behavior. One call– made by Mack's co-worker– coincided with an alleged violent incident on January 15 that Mackenzie wrote about in her order of protection petition.
Mackenzie claimed that, on that day, Ryan allegedly began punching holes in the doors and windows during an argument and then grabbed Mackenzie by the neck and held her against a wall in their home. She says he then threw her down in the hallway, before opening his pocket knife and putting it to her back.
"This was in front of children. I tried to leave, he smashed my phone, took my car keys," Mackenzie wrote.
View this post on Instagram
For that incident, Mackenzie's co-worker called 911 and told the operator that Mackenzie had texted and asked for help. (The co-worker stated that, although Ryan had allegedly smashed Mackenzie's work phone, Mack still had use of her personal phone.)
"A co-worker texted me to get some help on some stuff,' Mack's co-worker told the 911 operator. "In the message, she said her husband smashed her phone and put a knife to her back. I was calling to see if I could get a welfare check on her? When I was on the phone with her, I could hear him shouting at her in the background and then she hung up really quickly and said she had to go.
"I spoke to her physically on the phone at 4:58. That was a 15-second phone call. She said at 4:52, 'I need help.' She said Ryan just smashed her phone and put a knife to her back."
Police were dispatched to the home to help Mackenzie on that date.
The next related 911 call was made by Mackenzie's father on January 24, which, according to Mackenzie's order of protection petition, was the date that Ryan allegedly got violent with her again while their kids were allegedly present.
"[Ryan] came into [my] bedroom where I was laying down. Pretending like he's going to punch my face," Mackenzie wrote. "Breaks bed with me in it. Getting in my face yelling. I went to get kids and leave. He wouldn't let me leave. Threw me down in living room. Threw menthol nicotine in my eyes."
Mackenzie said her father called the police after that incident. When the cops came to the house, they reportedly found a loaded assault rifle in the home. (Mackenzie claimed that Ryan owns at least three guns.)
According to the transcript of that 911 call– obtained by The Sun— Mackenzie's father Bob Standifer told the operator that he was worried about his daughter as well as his grandkids, Stella and Jagger.
"My daughter called me. They're separating. I could tell she's upset. She said, 'Dad, will you come get me?' We got two kids there, a three- and a four-year-old," he stated. "I don't know what's going on. If he's not letting her get out of the house or what."
Bob then told the operator that he was alerting authorities about what was happening so they could assist him with helping Mack and the kids.
"I thought I might walk into something I don't need to walk into as far as where he's not letting her get out, and me and him get into an altercation," Bob said. "I don't want to be on the wrong side of the law so I figured I would let you all know… I think this is escalating."
He also confirmed that Mackenzie claimed she got nicotine in her eyes, and that Ryan had a "fair amount" of weapons in the house.
"He's got assault rifles, two 45 pistols, army-issued pistols," Bob told the operator.
View this post on Instagram
When asked whether or not this was the first time Ryan has allegedly been violent with Mack, Bob stated that, to his knowledge, Ryan hadn't behaved this way toward Mackenzie before.
"I don't think he's ever gotten physical in the past. I know he's put a hole in the wall once. But I don't think he's gotten physical towards her," he said, adding that Ryan has a history of drug use.
After Ryan violated the protective order one day after it was issued (by calling Bob), cops went to Ryan's home to arrest him on February 10 but he was not there. (The house had "substantial damage" done to it, though.) Cops found Ryan at his job and arrested him. During the arrest, it was discovered that Ryan had a glass pipe on him, as well as a bag of what appeared to be heroin and one that appeared to be cocaine.
He was charged with possession of a controlled substance as well as possession of drug paraphernalia.
Ryan is now out of jail and back to posting memes to Instagram about being in an unhappy marriage, etc.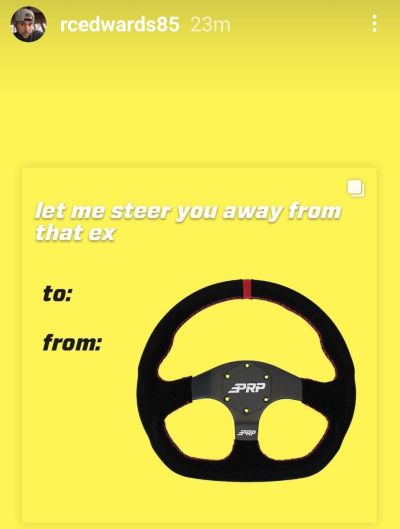 As The Ashley previously reported, Ryan made a series of Instagram posts last week about Mackenzie, whom he has accused of cheating on him. The posts included one in which Ryan posted a revealing photo of Mackenzie (along with a caption calling her a "spineless sl*t," among other things.)
Mackenzie also returned to Instagram for the first time since news of Ryan's arrest and alleged threats went public. She posted a religious quote, along with the line, "Just because I carry it well doesn't mean it's not heavy."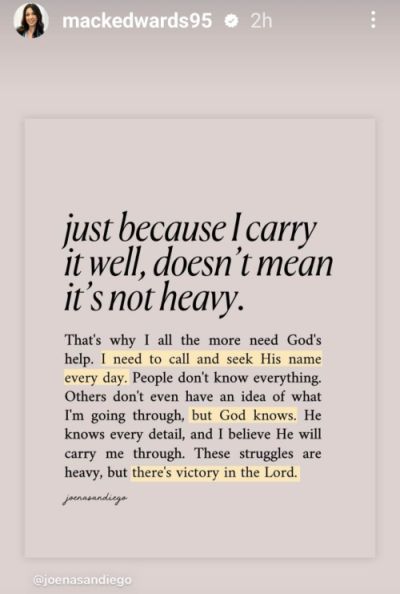 (Photos: Instagram; MTV)