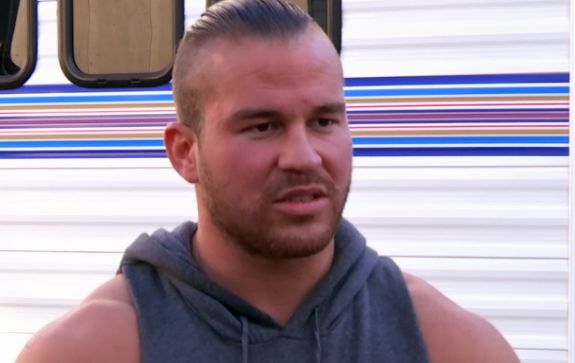 Trigger Warning: This story contains mention of domestic violence.
As more details about Nathan Griffith's arrest for domestic battery emerge, it has been confirmed that the victim in the incident was not Nathan's wife, Mayra "May" Oyola, despite what some initially assumed.
As The Ashley told you last week, the baby daddy of Jenelle Evans was arrested early Friday morning and charged with "Committing Domestic Battery by Strangulation."
While some speculated that the victim of Nathan's alleged attack was May, whom Nathan married in April 2022, the victim was actually a woman reported to be Nathan's new girlfriend, Starcasm reports.
(The girlfriend– whom The Ashley is choosing not to name– will be referred to as "V" only.)
It appears that Nathan and "V" had been living together at the time of his arrest. (It's unknown if they had any other roommates, though.)
According to the Probable Cause Affidavit, which was obtained by The Ashley, Nathan was unarmed at the time of his arrest. The officer who filled out the affidavit checked "Yes" for there being an indication that Nathan was under the influence of both drugs and alcohol when cops arrived. (Of course, this is only the officer's impression upon arrival.)
As for "V," the officer stated in his observations of her that she was "scared" and that she had "watery red eyes and was visibly upset." Photos were taken of her alleged injuries, as well as of the house. The officer indicated that there were no minors present during the alleged attack.
View this post on Instagram
As The Ashley previously reported, the cops were called by Nathan's brother-in-law William, who lives in Las Vegas and is married to Nate's sister Heather. William told police he was concerned after Nathan video-called him and told him he had "lost it," choked "V" and dragged her up the stairs.
After speaking to Nathan, William texted "V" to check on her. When "V" informed William that she was not OK, William called police.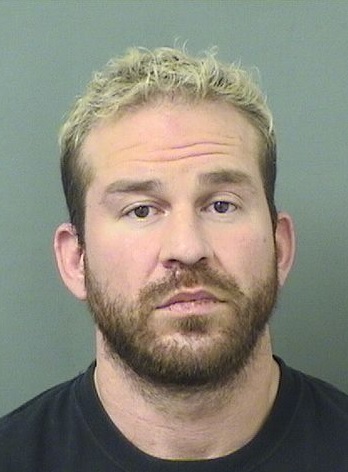 When cops arrived, Nathan was "uncooperative" and had noticeable scratches on him, which he claimed he received while having sex with "V." Cops reported that "V" appeared to have been crying, though she was being "uncooperative" with the police at first.
Eventually, "V" informed cops that Nathan had gotten "physically aggressive" with her, claiming that she had "blacked out" at some point during the alleged incident and was unsure what happened.
An officer on the scene reportedly observed "approximately inch-thick bruising starting to appear on [V's] neck (all the way around)," as well as "bruising under her jawline consistent with being strangled and someone pressing their thumbs inward to add pressure."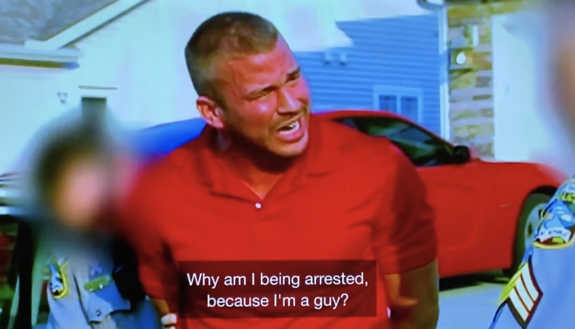 The Probable Cause Affidavit notes that officers were called to the same address (where both Nathan and "V" reportedly reside) hours earlier for a "domestic disturbance," though it doesn't include any information about that incident, other than noting that "V" "did not have any bruising around the neck area" at that time.
In addition to acknowledging Nathan's past history of domestic abuse, the affidavit listed Nathan's marital status as "S," presumably for "single," though a divorce filing for Nathan and May was not located.
Nathan was released from Palm Beach County's Main Detention Center on Saturday after posting a $2,500 bond. There is currently a no-contact order in place that prevents Nathan from contacting "V" until the case is closed, or until there is another court ruling that permits contact. He is allowed to return to their shared home only one time— with a uniformed police officer present— to collect his personal belongings.
Nathan will head to court–- hopefully wearing a shirt with sleeves-– on March 27 to deal with the no-contact order and his first court conference in relation to his domestic violence charge is scheduled for April 20.
RELATED STORY: EXCLUSIVE! Barbara Evans Files To Give Jenelle Evans Full Custody of Her Son Jace After Years-Long Battle; Get the Court Case Details!
(Photos: MTV; Palm Beach Florida Sheriff's Department)