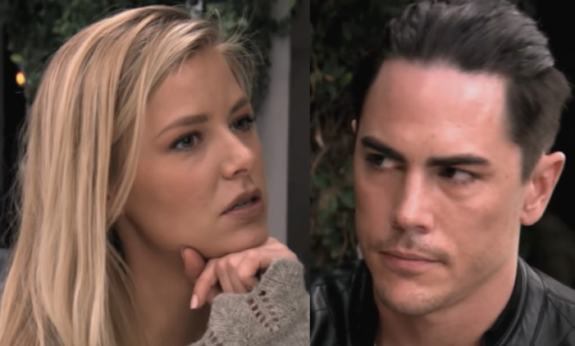 As predicted by quite a few Vanderpump Rules fans over the weekend, Tom Sandoval is SURving up multiple excuses as to why he cheated on longtime girlfriend Ariana Madix and engaged in a months-long affair with the couple's mutual friend and co-star, Rachel Raquel Leviss.
As The Ashley told you last week, once the news of Sandoval and Ariana's split went public, producers began filming with the cast to capture the drama as it continues to unfold, despite filming for Season 10 wrapping months ago.
The Twitter account @sur_rules confirmed Friday that production was already outside of Sandoval and Ariana's Valley Village home and that the exes were inside filming. Days later, fans are learning the details of what went down while cameras were rolling, including what Sandoval had to say about the affair.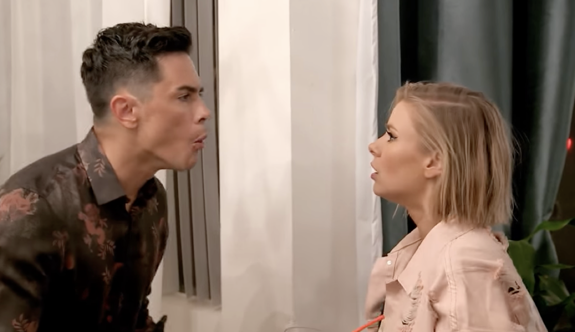 Insiders close to production told Page Six that the conversation between the exes on Friday left Ariana feeling "gaslit" by Sandoval, as he proceeded to make excuses as to why he didn't confess to the affair sooner.
"Ariana walked away from the conversation feeling like she was gaslit by Tom," the source said of the on-camera conversation. "He gave her several excuses as to why he never copped to the cheating. Tom said he didn't tell her about the affair with Raquel because he was worried about how it would impact her mental health, even claiming that he was especially concerned after her grandma died last year."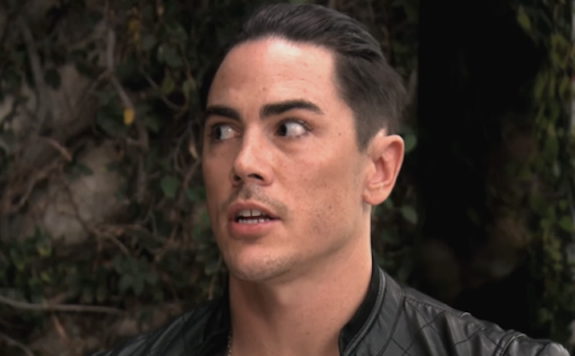 After her grandmother passed away in September, Ariana traveled home to Florida to spend time with family, while Sandoval remained in California. In the wake of the infidelity/breakup news, this detail has begun raising eyebrows, as 'VPR' cast member (and Raquel's former fiancé) James Kennedy all but confirmed that Sandoval and Raquel used opportunities such as this to engage in their affair.
After it was reported that Raquel "has slept over at Tom and Ariana's house when Ariana's been out of town," James went on to reveal in a DM to @deuxmoi that Sandoval and Raquel have even hooked up in the former couple's home while "Ariana [was] sleeping."
Another excuse Sandoval had for not coming clean sooner–– or, like, at all–– was the home he and Ariana share, which the couple purchased in 2019 for $2.075 million.
"The fact that they own a home together was also brought up and how he thought that would make their breakup even more complicated," another source told Page Six.
Needless to say, Sandoval's list of excuses didn't sit well with Ariana or her 'VPR' support system, which includes Katie Maloney, Scheana Shay, Lala Kent and former 'VPR' star (and fellow ex of Sandoval's) Kristen Doute.
"[Ariana] has recapped what happened with her friends and castmates, the majority of whom are disappointed [Sandoval] seems unable to take accountability for his actions or express substantial remorse," a source told the outlet. "Of course they've been rallying behind her in the passing days."
Sandoval's accountability was also called into question over the weekend after he broke his silence to defend his BFF and business partner Tom Schwartz's role in the cheating scandal, while also urging fans not to take out their anger on his Schwartz & Sandy's business partners and employees. Sandoval was called out on social media by James, Katie and Lala for failing to issue an apology to Ariana in his statement.
While Sandoval and Raquel had reportedly planned "for weeks" to confess their affair to Ariana and allegedly want to be together, Raquel may end up telling a different story when she ultimately breaks her silence.
Over the weekend, @deuxmoi shared a post detailing how Raquel's PR team would be "crafting a narrative that Raquel is also a victim in all of this." In response to the post, Lala took to her Instagram Story, encouraging Raquel to save her image by leaning "back into the fact that you're dumb."
Lala on Raquel's PR strategy 😆 #VanderpumpRules pic.twitter.com/psnZjCmEdn

— OnThisDayENT (@OnThisDayENT) March 6, 2023
"You're the victim– lean in on that now that it's convenient," Lala said on Instagram.
Lala, who has long maintained that Raquel "ain't got a lot upstairs," took issue with Raquel playing "dumb" after insisting just the opposite for so long.
"But now that all hell has broken loose and [Raquel] lit herself on fire, she wants to lean in on, 'I'm dumb. Everyone else filled my head. I'm the victim.' It's not going to work," Lala said. "It is not going to work."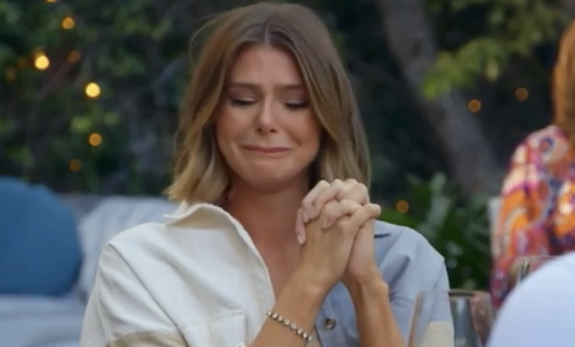 Lala went on to joke that if Raquel does, in fact, use this strategy, she owes Lala for being the one who created "that image for her" in the first place.
"I want a cut of whatever she's paying her PR team," Lala said. "I created that image for her. The EXACT IMAGE her crisis PR team is trying to get her back to is the image I created for her!
"Where's my cut?" Lala added. "I'm sending you an invoice, Raquel."
If Tom and Raquel are indeed planning to cut ties with one another to save their "reputations," you wouldn't know it by their post-scandal actions.
On Monday, TMZ posted photos of Sandoval arriving at Raquel's apartment late Saturday night. While Raquel and Sandoval had been together earlier that day filming for 'VP,' TMZ reports that Sandoval's late-night visit to Raquel's "wasn't for cameras," and that Sandoval wore all black and attempted to keep a "low profile" outside the apartment complex.
View this post on Instagram
RELATED STORY: 'Vanderpump Rules' Star Tom Sandoval Seemingly Addresses His Affair with Raquel Leviss & Begs Fans to Stop Trashing His Business Online
(Photos: Bravo; Instagram; Twitter)