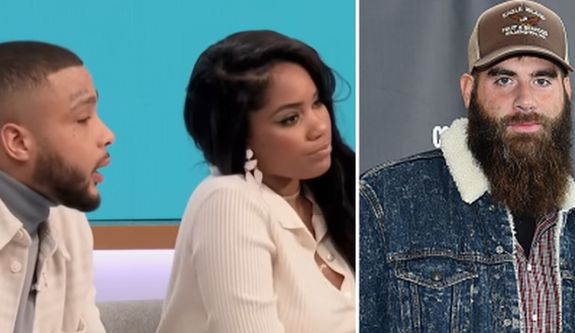 David Eason kicked off his week by randomly taking to his brand-new Twitter account to attack the daughter of Teen Mom stars Bar Smith and Ashley Jones. His comments about Bar and Ashley's daughter Holly prompted her parents to lash out at Mr. Jenelle Evans, eventually causing him to delete his Twitter account entirely.
The Ashley is going to attempt to recap the swamp-nanigans, as well as the brutal Twitter back-and-forth between Bar and Ashley and David that included an invitation for an "off Land" brawl, comments from Holly's grandma Shen Williams, and the posting of some Microsoft-Paint-made rainbow additions to some of David's terrifying OnlyFans photos.
(And, before anyone asks The Ashley, "Don't you have anything better to do than write about this garbage?' allow The Ashley to answer: No. No, I do not.)
This online clown fiesta started over the weekend, when Jenelle gleefully announced that David had started a new Twitter account.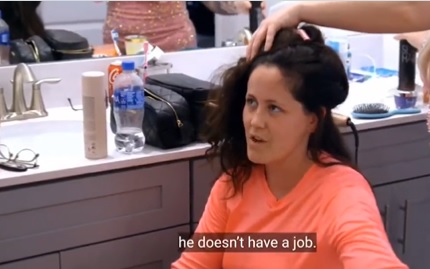 As fans may remember, David got himself– and Jenelle– into big trouble after he used his Twitter account to go on a homophobic rant in 2018.
Although Jenelle attempted to save face after the 2018 rant, David was still fired from 'Teen Mom 2' for it. Jenelle later told TMZ that the rant happened because David didn't know how to use Twitter…or something.
"David didn't understand how offensive people would get or how Twitter even works," Jenelle told TMZ in 2018. "Now that he realizes his voice is very strong within media/tabloids he has deactivated his account. He agrees he will keep his comments to himself from now on."
Anyway, David did not "keep his comments to himself" when he got his new Twitter account this weekend.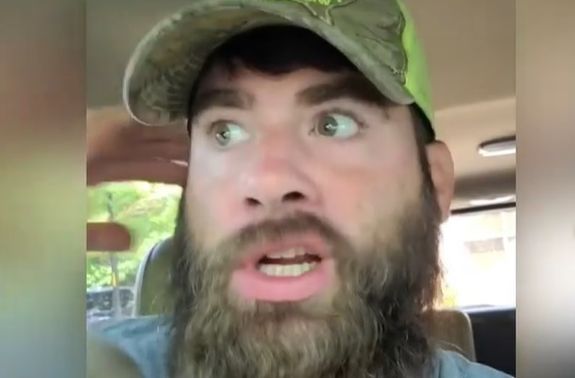 Just days after starting it, David lashed out at Jenelle's nemesis, Kail Lowry, making a crack about her litter of kids/baby daddies. Kail didn't respond, so David then moved on to Ashley, who had recently tweeted about how she hopes her daughter Holly will be better, smarter and more beautiful than she is. (The tweet did not include any mention of David, Jenelle or anyone related to their family.)
David replied to Ashley's tweet about her daughter by posting a photo of the character Rocky from the 1985 movie "Mask." (Rocky had craniodiaphyseal dysplasia, which caused facial deformities.) He implied that Holly looked like the character from the movie.
View this post on Instagram
Obviously, that didn't go over well with Holly's father, Bar, who unleashed a cornucopia of rage at David and Jenelle.
"You dusty dirty ass STD chewing bitch, yo wife nasty tub of goo ass need to suck yo d**k and maybe you would be happy," Bar wrote to David. "You prostitute loving p**sy. I can't wait for the day I catch you outside of "the land" David. You only tough on yo property. I called yo bitch ass out for I been asking to fight off camera 1 on 1 for years and you always say s**t back to the women.
"Jenelle must be getting ready to leave yo dirty ass again, you ain't got yo kids and yo wife hate you, I would be mad to[o], all you got is one internet and that f**ked up ass farm."
Bar continued to challenge David to leave "The Land" so they could have a proper brawl.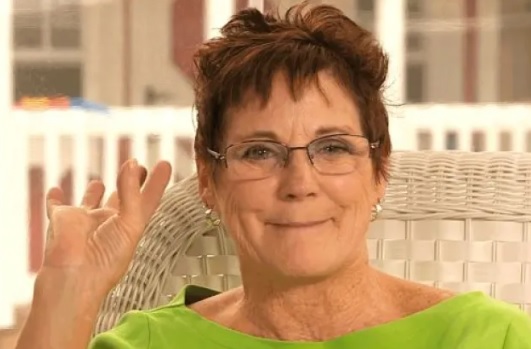 "The fact you think you could say something to my wife, about my kid I will literally meet you wherever David…. Any day…. Any time…. Off of your land so you can't tell the police I came on your property…… you ain't cut like that tho p**sy."
Bar then brought up David's 2019 slaughtering of the family dog, Nugget, as well as the incident from 2020 when David was arrested for pistol-whipping one of Jenelle's friends who came to help her move her stuff off The Land during a period where she and David were separated.
"You kill dogs but won't fight a mf who really cut like that," Bar wrote. "You wanna pick on yo wife friends that come to help her leave you…"
After Bar accused David of "stealing Black culture" for having his weird, Pippi Long-Swamping braids, Bar went on to warn David and others not to insult Ashley or Holly again.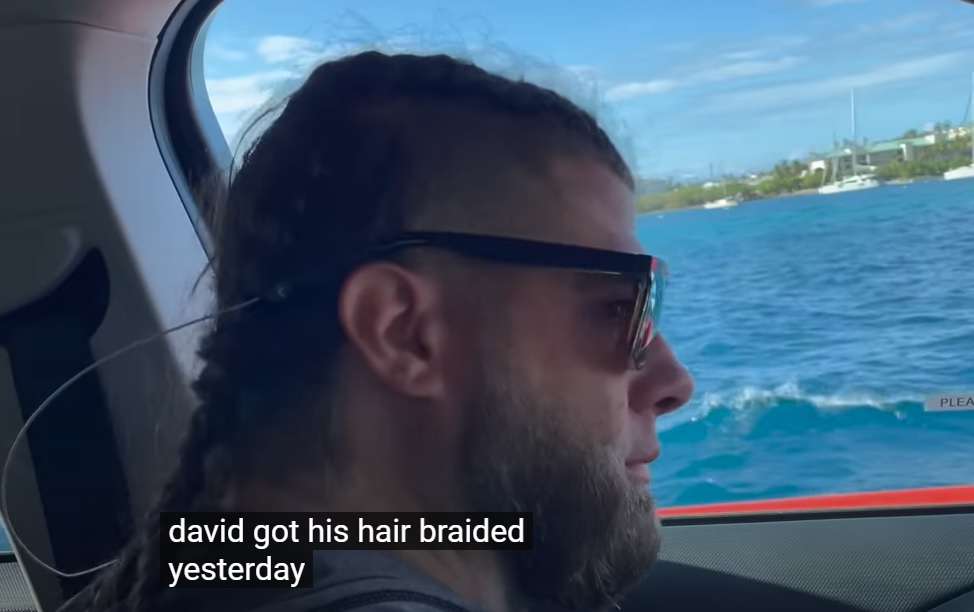 Ashley also jumped into the act, insinuating that one of David's kids looks like the character from "Mask." (She didn't specify which kid, though.)
"I would tell you @ravindavidd about to kids but I don't talk about children understand tho the level of inbreeding there seems high," Bar added.
Bar continued to unleash on David, accusing him of domestic violence against Jenelle. (This is likely a hat tip to the 911 call Jenelle made in October 2018, in which she accused David of physically assaulting her. She later downplayed the events.)
"That n**ga beat Jenelle up like it's a weekend sport bruh, ain't got no right to say s**t about nothing," he wrote, before taking a swipe at David for not having custody of his son, Kayden.
"I'm going to finish getting MY DAUGHTER READY FOR SCHOOL, and feed her breakfast then drop her off….. something this bum ass n**ga @ravindavidd can't do CAUSE HE DONT GOT HIS KIDS."
Bar then challenged David to an off-Land fight again.
"David again, when would you like to meet up and handle it like men? I live in Vegas wya? Or you to much of a bitch to do that?" he wrote. "Lol watch you and your wife fight in the next 36 hours once y'all high wear off and she realize she hates you again."
In response, David accused Bar of having gay sex and insinuated that he was just joking.
"I just talked about everything you love and told you I would beat your ass and this yo response? Can't take a joke? Don't bitch up now," Bar responded. "And you go straight to the gay jokes just like a man who is uncomfortable with his sexuality, talking about taking d**k."
Ashley and Bar both changed their profile pictures to unflattering photos of David, with Ashley adding, "Swamp Patrol" to her Instagram bio.
View this post on Instagram
Bar's mother, Shen Williams, also hopped onto The Interwebs to give David a piece of her mind for insulting her granddaughter. Shen left her thoughts in the comment section of a post on the @TeenMomFanz Instagram account about Bar and David's feud.
View this post on Instagram
"He need to get checked lil dusty b#&_+ how dare u speak on a child like that none of y'all could touch my suga on her worst day," Shen wrote. "Bet u don't say it to her daddy face! I double dare u. Get off the internet and have a grown man convo with my son. I can speak for my son he not about to play when it comes to his child. These people r all time lows and I'm surprised his wife didn't say something any real mother would no matter who child it is."
Ashley then reposted a fan-made edited photo of David cooking. The original photo— which was posted on David's Instagram account a while back to promote his OnlyFans account— features David wearing a chef's hat and tighty whitey underwear.
Feeling sexy today ❤️❤️❤️ pic.twitter.com/lh2D5qfsMz

— ASHLEY SIREN (@_mermaidbarbie) March 6, 2023
The Ashley will give you a moment to upchuck your last meal after seeing that photo…
After that, David deleted his Twitter account.
Jenelle tweeted a response to someone who told her that Bar's daughter Holly is beautiful. Jenelle tweeted that she didn't know who Holly was.
"Uhm…who's Holly? I'm not in the same drama you are," Jenelle wrote.
Soon after, Jenelle informed her social media followers that she was deleting all of her social media apps for awhile.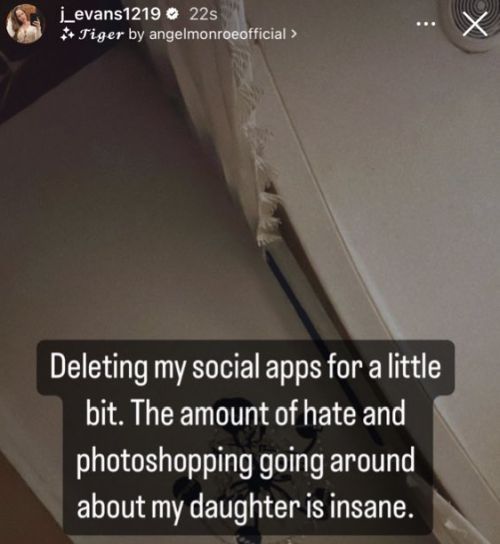 RELATED STORY: EXCLUSIVE! Barbara Evans Files To Give Jenelle Evans Full Custody of Her Son Jace After Years-Long Battle: Get the Court Case Details!
(Photos: MTV; Jamie McCarthy/Getty Images; Instagram; Twitter)