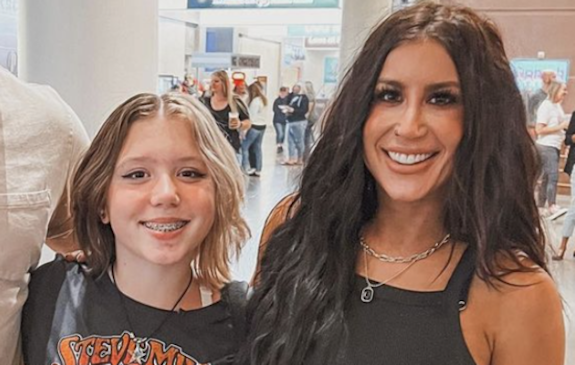 Former Teen Mom 2 star Chelsea Houska fully supports her 13-year-old daughter Aubree expressing herself, but the teen will have to wait a few more years before she's allowed to express herself through facial piercings.
Chelsea– who hosts the HGTV series Down Home Fab with her husband, Cole DeBoer– recently told In Touch that if she would allow it, Aubree would get her septum pierced. While Chelsea's "not against" septum piercings, she is against the idea of her daughter having facial piercings of any kind at her age.
"Like, I have piercings, and I had piercings, but I feel like 13 is a little young," Chelsea explained.
Just last month, former Teen Mom OG star Farrah Abraham came under fire for allowing her 14-year-old daughter Sophia to get six new piercings– including snake bite lower lip piercings– for her birthday. Farrah previously allowed Sophia to get her septum pierced when she was 13.
As for Aubree, she'll have to wait a few more years before getting the green light from her mom.
"I'm like, 'Wait until you're 16 and then we can evaluate,'" Chelsea said. "So, facial piercings– I'm like, 'That needs to wait.' But she can do her ears and stuff. [Septum piercing is] the one thing that I think she wanted, and I was like, 'You have to wait.'"
Chelsea also enforces a strict no-social media policy for Aubree.
"We're definitely the least-cool parents because she's the only kid in her grade that doesn't have Instagram," Chelsea reently told E! News. "But I think it's just so different for us because there are so many people that have followed our story."
Chelsea and Aubree made their debut on 16 and Pregnant and they went on to appear on 'Teen Mom 2' until November 2020, gaining a large following along the way–– a following that Chelsea said isn't always positive.
"I've seen the negative comments firsthand and it's such a fear of mine that she would get any of that or see any of that, even on my pages," Chelsea explained. "It's just so hard because we really don't know."
Chelsea said the decision to keep Aubree off of Instagram is "really just out of protection for her," and though Aubree is on TikTok, she "doesn't have a personal account."
As fans of 'Teen Mom 2′ may remember, when Chelsea announced in 2020 that she was leaving the MTV series, she claimed it was because she no longer wanted her kids' personal lives to be the focus of a reality show. While all four of her children have appeared on 'Down Home Fab,' the show does not delve into the kids' lives.
However, Chelsea said Aubree is interested in taking a bigger role in the show than she had in Season 1.
"I think we're gonna be filming for Season 2 [of 'Down Home Fab'] a lot in the summer and [Aubree] wants to be a part of it," Chelsea said. "She's said that multiple times. She's so creative and artistic. I could definitely see her really getting into this. And so it will be fun to incorporate her as she gets older into our projects and more of [our home décor line] Aubree Says."
Chelsea described Aubree's style as "cool," admitting that she often turns to the teen for her approval on certain things.
"If Aubree says it's cool, then it's cool," she said. "That's how Aubree Says came about just because we want cool things, but I'm still kind of cool to her, I think. She does love to do things with me still, so I'm gonna call that a win."
As The Ashley reported last month, HGTV renewed 'Down Home Fab' for a second season, and the show's production company, RTR Media, has begun casting homeowners to participate in the upcoming season.
RELATED STORY: Chelsea Houska & Cole DeBoer's HGTV Show 'Down Home Fab' Is Casting Houses For Season 2: What It Takes To Have Your Home Chosen
(Photos: Instagram)