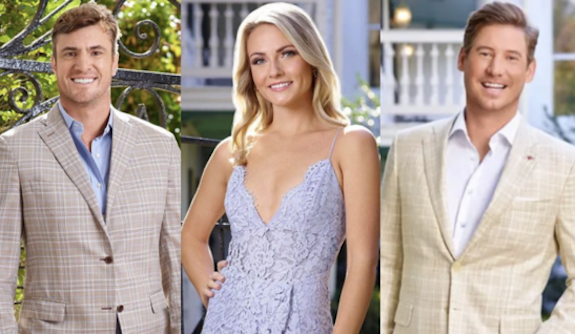 Southern Charm is never complete without drama between the cast members. Page Six reported that longtime star Austen Kroll hooked up with Taylor Ann Green at the beginning of Season 9.
Both parties are currently single but things get messy because Taylor was in a longtime relationship with Austen's pal and fellow 'Southern Charm' star, Shep Rose. The two broke up in July 2022 after two years together, and their breakup was covered during the Season 8 Reunion. To make things more complicated, Taylor is also close friends with Austen's ex-girlfriend, Olivia Flowers.
According to Page Six's sources, Austen and Taylor are going to play it off like they just "made out" but an insider shared, "[It] gets revealed to be more than that."
The unnamed source added that Season 9 will show Taylor losing it during a cast get-together, and "screaming and crying and yelling in front of all the guests."
Shep is apparently "fine" with Austen and Taylor's fling, while Olivia is focusing her attention on mourning her brother Conner Flowers, who died on January 30. Connor was only 32 years old at the time and the cause of his death has remained private.
Cracks in Taylor and Shep's relationship started to show in 'Southern Charm' Season 7 when she contracted COVID-19 and he made her quarantine with Craig Conover and his then-girlfriend Natalie Hegnauer.
Taylor wasn't thrilled about being dumped at Shep's friend's house, without so much as a care package. However, he apologized and claimed he was trying to be a better boyfriend.
Season 8 showed Taylor increasingly frustrated with Shep's antics. When she was faced with a pregnancy scare, he seemed unconcerned with her feelings and she wondered how devoted he was to their relationship, especially after a previous cheating scandal.
Shep really took the cake, though, when they went on a group trip with the cast and played an egg-toss game together. After he missed his throw, Taylor stepped on the egg, causing Shep to curse and call her a "f**king idiot."
That season, Taylor and Austen were seen having a heart-to-heart talk about Shep. Austen lent his ear to Taylor and expressed concern to her about how Shep was treating her. During their conversation, Austen told Taylor, "I love you," adding "Shep's a very lucky man. Like, you are a catch of catches."
At the time, Austen seemed like he was looking after Taylor like a big brother.
"I definitely feel, like, a protectiveness over Taylor. I don't want to see Taylor walked all over," he stated during a Season 8 confessional. "I'm not saying that Shep doesn't treat her with respect, but I've definitely been there when he hasn't."
Three months after Season 8 ended, Taylor and Austen were seen together at a Charleston bar.
RELATED STORY: Kathryn Dennis Confirms 'Southern Charm' Exit: "What A Wild Ride It's Been!"; Another Cast Member Reportedly Not Returning For Season 9
(Photos: Bravo; Instagram)