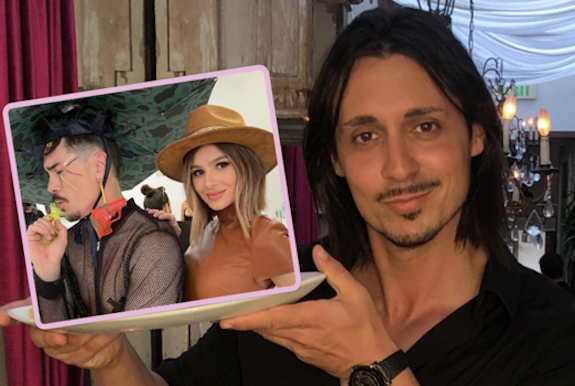 As the Vanderpump Rules "Scandoval" continues to unfold, those close to Tom Sandoval and Raquel Leviss are–- like many viewers–- replaying events and interactions from the last seven (or more) months and looking for signs as to when Sandoval and Raquel begun their affair.
As The Ashley previously told you, the Scandoval led to the demise of Sandoval and girlfriend Ariana Madix's nearly 10-year relationship, as Ariana was the one who discovered inappropriate texts and a recording of an explicit FaceTime conversation between Sandoval and Raquel on Sandoval's phone.
Despite 'VPR' matriarch Lisa Vanderpump telling Andy Cohen last week that "nobody saw [the Scandoval] coming," Peter Madrigal, the General Manager of SUR, may have had a hunch.
According to Page Six, Peter recently admitted that he overlooked some early signs that Sandoval and Raquel had something going on behind Ariana's back.
"I kind of dismissed it," he said on Monday's episode of Behind the Velvet Rope with David Yontef podcast.
While Peter said he "saw some things" that were suspicious, he assured himself at the time that "Sandoval is loyal to Ariana. He would never do something like that." (Peter did not go into details about what exactly he witnessed between the two.)
As fans of the show saw earlier this season, Peter and Raquel even went on a few dates together, allegedly around the time Raquel and Sandoval began hooking up.
"I don't know if going on a date with Peter is going to help me get over James [Kennedy], but they say your tastebuds change every five years maybe your taste in men do, too," Raquel said of one of her "dates" with Peter.
That same outing ended with Raquel crying to Peter, claiming that the end of her pageant career and split from her ex-fiancé James had put her into a "deep depression."
Looking back on the few dates they shared, Peter said he now wonders if Raquel agreed to go out with him as part of a "ploy" between her and Sandoval. He also said that he began to have feelings for Raquel during that time, but recalls noticing "a separation."
" … [things] got weird," he said. "I think in the back of my mind, there was something else going on, which is now confirmed. She was already picking her next target."
Peter said it was still "a shocker" to ultimately learn that Sandoval and Raquel were having a months-long affair, admitting he was especially "disappointed" in the former SUR bartender, as he "thought [he] knew Sandoval."
"I thought [Raquel] was a good person," he added. "But then again, I hardly knew her."
RELATED STORY: 'Vanderpump Rules' Star Tom Schwartz Silence On His BFF Tom Sandoval's Affair with Raquel Leviss; Calls Sandoval a "Piece of S**t"
(Photos: Instagram)