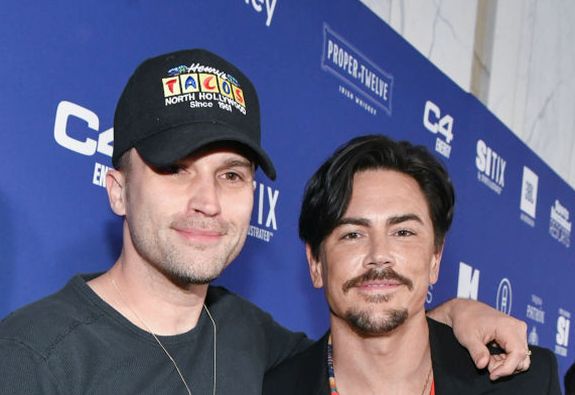 Nearly everyone associated with Vanderpump Rules has spoken out about Tom Sandoval and Raquel Leviss' "Scandoval" affair— except Tom's pal and business and partner, Tom Schwartz. However, on Saturday, Schwartz had a TMZ camera shoved in his face while at the airport, forcing him to comment on the "Scandoval" situation for the first time publicly.
As 'VP' fans know, it was discovered earlier this month that Sandoval and Raquel were having an affair behind the back of Sandoval's longtime girlfriend, Ariana Madix, who was also a close friend of Raquel's. The scandal has caused a lot of issues for Schwartz & Sandy's, the Los Angeles bar that Sandoval and Schwartz partially own together.
Schwartz didn't hold back while discussing his buddy's bad decisions.
"He's OK, I think, relatively speaking," Schwartz said of Sandoval. "He has a sense of profound sadness, and rightfully so. I think he feels like a piece of s**t, and to some extent maybe he is.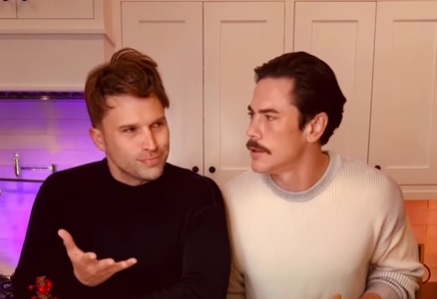 "He knows he f**ked up, and the whole thing is just really sad," he added.
Schwartz went on to talk about how Ariana is dealing with the breakup and resulting scandal.
"Luckily Ariana has a really good support system with her friends," he said. "I'm not sure where she is, but I hope she's living the good life, just indulging. I hope she goes on a living spree."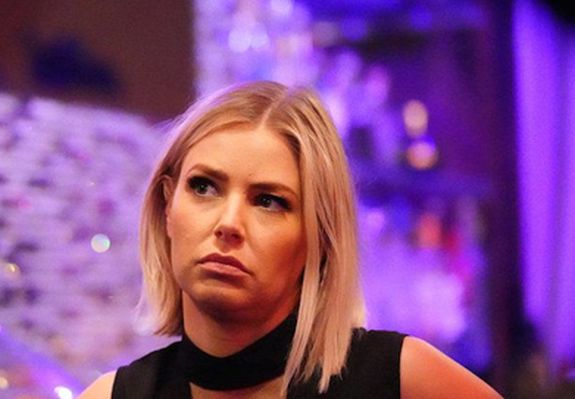 "I just hope this whole thing blows over, ya know?" Schwartz said, adding that he hasn't spoken to Raquel since the Scandoval broke.
Many 'Vanderpump Rules' cast members have accused Schwartz of knowing that Raquel and Sandoval were banging and covering for them when necessary. When the reporter asked Schwartz if there is any truth to these rumors, he pleaded the Fifth.
View this post on Instagram
"I'd prefer not to talk about that," he said. "I mean, you'll see it play out on the show. I know that's such a cliché thing to say."
(He did, however, deny that he kissed Raquel to shift the spotlight away from her and Sandoval's affair.)
Schwartz refused to give any more details on what he did— or did not— know about the affair, simply saying, "It's f**king complicated."
One thing he would confirm, however, is that the Toms' businesses are suffering due to Sandoval and Raquel being unable to keep it in their pants.
(As The Ashley previously told you, Schwartz & Sandy's has been getting trashed on Yelp by reviewers who are unhappy about the affair, with some even doing some creative photoshopping to make it look like the place is overrun with cockroaches…who happen to have Raquel's face. Sandoval later begged fans to stop taking out their anger on the businesses, reminding them that innocent people support their families by working there.)
View this post on Instagram
"I'm just sad, you know, about the negative impact [the scandal] is having on our business," he said. "But I think cooler heads will prevail."
When asked how he thinks the affair will affect 'Vanderpump Rules' ratings, he insisted he's not concerned about that.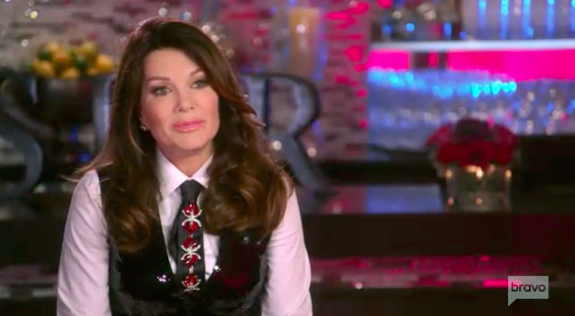 Days before Schwartz spoke to TMZ, his 'VP' co-star Kristen Doute stated on her Sex, Love and What Else Matters podcast that Schwartz told her he only found out about Sandoval and Raquel's affair last month, and that he's not happy about all the trouble it's caused everyone in 'Vanderpump' Land.
"Right now the only person Sandoval has is Schwartz," Kristen said on Wednesday's podcast episode. "Schwartz isn't happy about this either. It's pouring down on their businesses."
"…I was texting with [Schwartz] yesterday and he told him he needed to tell Ariana before it blew up in his face and humiliated the hell out of her."
RELATED STORY: Lisa Vanderpump Weighs In On Tom Sandoval & Raquel Leviss "Scandoval"; Says Raquel "Acted Like A Wolf In Sheep's Clothing"
(Photos: Rodin Eckenroth/Getty Images; Instagram; Bravo)