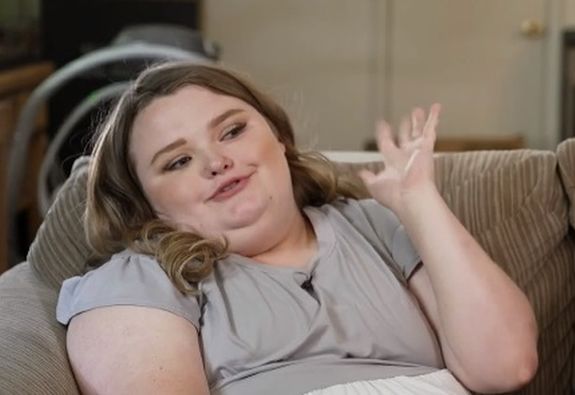 Alana "Honey Boo Boo" Thompson is responding to some harsh criticism she received regarding the way she looks— and speaks.
The 17-year-old Mama June: Family Crisis star took to TikTok Live over the weekend to address the rumor that she's pregnant, which began to heavily circulate after photos of her in her prom dress were posted online. Alana also responded to fans who criticized the way she speaks, denying that she has a "Blaccent."
"Like, no I'm not pregnant! I haven't even graduated high school yet, okay?" Alana said. "I want to graduate, I want to go to college before I even think about having kids. So no, I'm not pregnant…"
The pregnancy rumors seemed to intensify after several news outlets— including TMZ — shared photos of Alana wearing a tight pink prom dress. In the photos, Alana was shown with her 22-year-old boyfriend, Dralin Carswell. (While Alana was dressed up for prom, Dralin was sporting a T-shirt and hat because he was not attending prom with Alana.)
View this post on Instagram
Commenters were not kind to the teen, with many making references to her weight.
"Yeah not a flattering dress…I thought she was pregnant for a min! Plenty of other dresses that would be more flattering, just have to dress for your shape," one Instagram user wrote.
"I thought it was a gender reveal," another commented.
EXCLUSIVE: Honey Boo Boo goes to prom! Alana Thompson, 17, is all grown up https://t.co/yYHiFQieQF pic.twitter.com/lBxROSXbrI

— Daily Mail Online (@MailOnline) April 24, 2023
Alana also blasted fans who have been accusing her of having a "Blaccent" and trying to "be Black."
"No I don't speak ghetto, no I don't think I'm Black," the former Here Comes Honey Boo Boo star declared.
"Y'all are literally on my Live every f**king day so pressed about the way I talk," Alana said. "It really pisses you off that bad the way I talk, how I speak? How I speak. Not how you speak, not how your son speak, or how your husband speak.
"Y'all really that miserable to come out here every day and say something about how I speak?" she ranted.
This is not the first time Alana has responded to people who claim her manner of speaking has changed since she began dating Dralin last year. In March, Alana apologized after she went live on TikTok and used a very exaggerated accent and declared herself to be "f**king ghetto." (You can watch that horrorfest of a video below.)
"No, I wasn't attempting to offend anyone!" she wrote on Instagram in her apology. "I did this because people frequently comment on how 'ghetto' my speech is. Which I feel in no way I do. I feel I am my own true self."
Alana was 16 when she started dating Dralin, who was 21 at the time. Since then, the couple has received a lot of backlash (particularly after Dralin's recent arrest and legal hijinks).
Last year, Alana defended her relationship with Dralin.
"In our relationship, the two most things that everybody is always talking about is our age gap and definitely because he's Black and I'm white and we're an interracial couple," she told Entertainment Tonight. "I don't care because, like, at the end of the day, my sister approves, his mom approves, and we're happy, so what fans got to say or what haters got to say I don't really care," she continued.
View this post on Instagram
Alana's sister, Lauryn "Pumpkin" Shannon has also defended the relationship.
"She's not getting married, she's not having a kid, she's doing very good in school," Pumpkin said last year, noting that being a child reality television star has made Alana grow up faster.
Mama June echoed Pumpkin's sentiment in an interview with Too Fab last May.
"[Alana] is getting a lot of hate because she's in an interracial relationship, he is older, but at the end of the day, Alana's not that 6-7 year old child y'all fell in love with 11 years ago. Alana has grown up, she's graduating high school next year, guys!"
RELATED STORY: Mama June Shannon & Daughters Attend Emotional Therapy Retreat in Trailer for Upcoming Season of 'Mama June: Family Crisis'
(Photos: WEtv; Twitter; Facebook; Instagram)