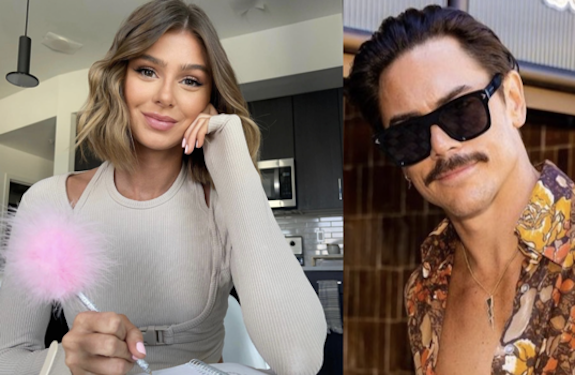 Another day, another 'Scandoval' revelation– this one (potentially) involving arts and crafts.
Scheana Shay and husband Brock Davies were on former Vanderpump Rules stars Jax Taylor and Brittany Cartwright's When Reality Hits podcast this week, doing what seemingly everyone else in the world has been doing for the last three months: discussing Ariana Madix, Tom Sandoval, Raquel Leviss and all things Scandoval.
During the discussion, it was revealed that Raquel has been putting pen to postcard recently, seemingly in an attempt to make Ariana aware that she is still in contact with Sandoval.
During the podcast episode, Scheana and Brock discussed the letters Raquel has allegedly been sending to Sandoval's Valley Village home–- the very home Sandoval still shares with Ariana.
As fellow Scandoval junkies may recall, Ariana acknowledged the existence of these letters to both Andy Cohen on Watch What Happens Live and to Alex Cooper on the Call Her Daddy podcast, though Ariana confirmed to both hosts that she has not opened any mail sent to Sandoval, as it's illegal to do so.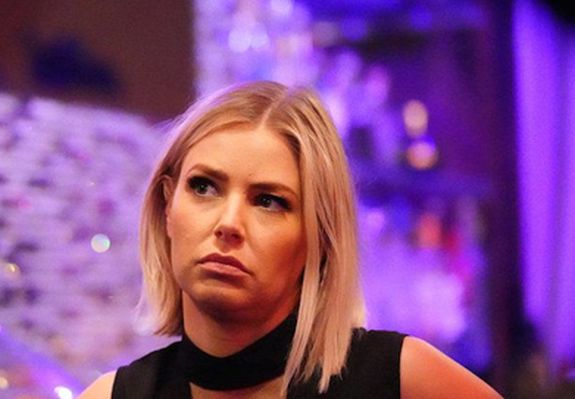 On Jax and Brittany's podcast, Scheana and Brock revealed that Raquel has allegedly started sending postcards to Sandoval's home instead of her usual letters. According to the couple, it's a "calculated" move on Raquel's part.
" … it was a postcard, it wasn't a f**king closed envelope, it was because she wanted you guys to read it, are you kidding me?" Brock said of Raquel's mailed love notes.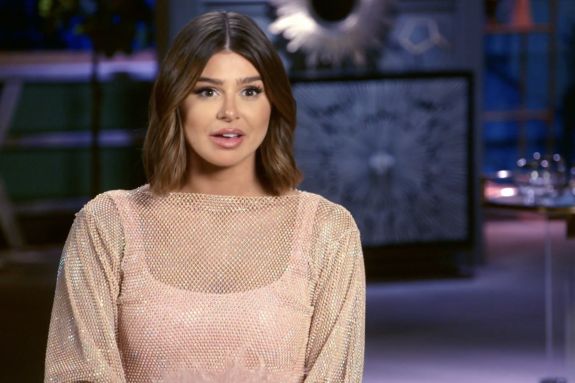 "She sent a postcard to Tom and Ariana's house and she's been like, sending letters and stuff," Scheana explained.
"She sent a letter and Ariana sees the letter [addressed to Sandoval] but she can't open it because it's illegal," Brock adds. "But then the motherf**ker [Raquel] has the audacity to go, 'I'll go one step further of being an absolute t**t,' and writes a postcard with … a lightning bolt and Sedona [on it]."
As you might remember, shortly after news of the Scandoval broke, fans online picked up on the fact that both Sandoval and Raquel had been sporting similar lightning bolt necklaces at the time of their affair.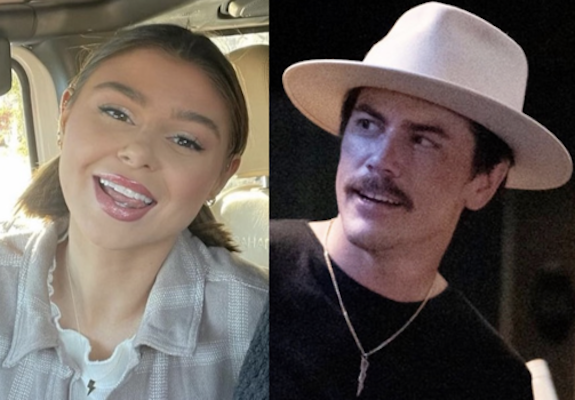 While a lightning bolt is featured on some of the TomTom merchandise, Sandoval has also incorporated the lightning bolt into some of his Tom Sandoval & the Most Extras getups. As for Raquel, fans watched her throw down nearly $800 for her gold lightning bolt necklace during a shopping trip with Charli Burnett in Episode 14 of Season 10.
According to Brock and Scheana, Raquel's lightning bolt postcard to Sandoval was very deliberate.
" … she sends a postcard, so it's there for [Ariana] to read," Brock said. "That is calculated."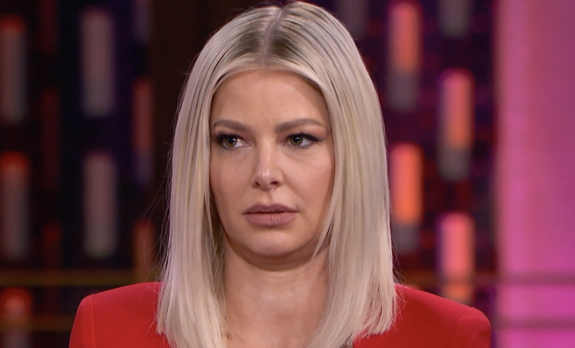 Brittany then confirmed with Scheana and Brock that the lightning bolt postcard was sent to Sandoval after Ariana had commented publicly (more than once) about not being able to read the letters addressed to Sandoval.
"Maybe she is that calculated!" Brittany replied.
You can listen to the full podcast episode below!
RELATED STORY: Lala Kent Responds After Tom Sandoval is Spotted Talking on Phone to Raquel Leviss: "He's Got to Keep Her Where He Needs Her"
(Photos: Instagram; Bravo)