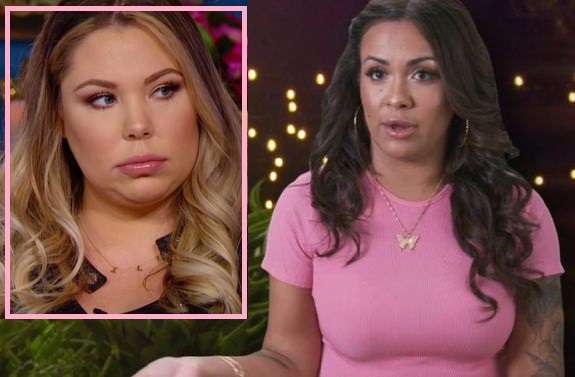 The most infamous feud in Teen Mom franchise history is back on.
On Friday, Briana DeJesus issued a nasty statement to her nemesis Kail Lowry— calling Kail out for lying about a ridiculous T-shirt (more on that later), as well as poking fun of Kail's ever-expanding collection of kids and baby daddies. She also struck out at Kail for being "hurt" and "sour" over Bri's past entanglements with some of Kail's baby daddies.
"Please, for the love of God, move on and get over talking about me," Briana said in a statement to CeleBuzz on Friday. "I don't want Javi [Marroquin], I don't want Chris [Lopez] and I certainly don't want any of your future baby daddies– which, knowing you, there likely will be some. So take a seat and for once and for all please stop talking about me."
Bri's statement came after a few days of online chatter about a shirt that Kail supposedly made for her third baby daddy, Chris, for Father's Day in 2021. This was during the time that Briana was talking to (and meeting up with) Chris, so the shirt said "I Love Briana."
View this post on Instagram
After Kail went on the Dumb Blonde podcast this week and talked about some of the petty "gifts" Briana has sent her—a treadmill, a clown suit, etc.— one of Kail's former friends came forward with screenshots showing Kail's own petty gift: the shirt. The friend also released screenshots of a text conversation she supposedly had with Kail in which the friend tries to talk Kail out of giving Chris the shirt.
Kail's friend didn't state that the texts were from 2021; however, once word got around that the shirt even existed, Briana took to Twitter to comment on it. Kail initially denied that she had anything to do with the making of the shirt and stated that she didn't even know what it was.
"Briana, don't do this. That s**t is not from me," Kail replied to Briana on Twitter.
Briana, don't do this. That shit is not from me.

— Kailyn Lowry (@KailLowry) May 31, 2023
However, once eagle-eyed fans realized that pajama pants that Kail is known to own are visible in one of the screenshots of the text convo, it was obvious that Kail did know about the shirt. She then went on her Barely Famous podcast on Friday to talk about it and admitted she does, indeed, remember the shirt after all.
"At first I [told my PR rep], 'I don't know what that is,'" Kail said on her podcast. "I didn't send that…my girlfriend sees it and was like, 'Kail, I made that shirt.' … She reminds me that she made the shirt but it never made it to Chris because I never ended up giving it to him. It was just like a joke. But I prematurely commented on the picture and was like, 'That s**t is not from me.'
"..I didn't remember it initially," Kail said, adding that the shirt was made at the time she was battling Briana in the lawsuit she filed against her.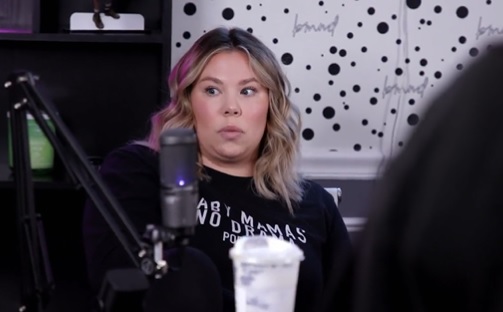 Briana, however, was less-than-satisfied with Kail's explanation.
"After last year when I WON the lawsuit Kail ridiculously brought against me, I thought I would finally once and for all be done with her drama," Briana told CeleBuzz. "But alas, no, here we are again. As you all are likely aware, this week a photo of a T-shirt surfaced that said 'I Love Briana' and had my social media handle…When I talked about it Kail immediately was denying it was [from] her and telling me not to do this.
"Then, 11 hours ago, I find out that she went on her podcast and admits she knew about the shirt, claiming she 'forgot about it' as it was a joke during the lawsuit that her friend had made for her to give to Chris but she claims she never did."
Briana then accused Kail of still being mad at her for dating Kail's ex-husband Javi for a few months back in 2017.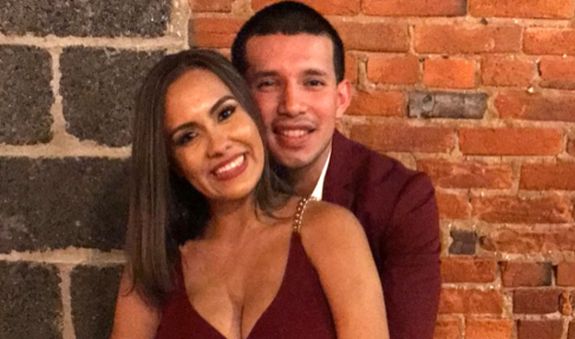 "Kail, I gotta ask- aren't you sick of talking about me? Or do I occupy that much rent-free space in your head?" Briana said. "Is me dating Javi so many years ago still worth all this mess?
"You're clearly still hurt, still sour, and still need to discuss me to some degree…Girl, seriously- get a life."
Briana then celebrated the fact that she no longer has to work with Kail, who quit 'Teen Mom 2' in 2022.
"I am happy, living my life to the fullest and best, and the best part is— you're no longer on my show or in my life in any capacity."
Briana then somehow managed to work a Kesha quote and a reference to Kesha fan (and other Kail nemesis) Jenelle Evans into her scathing statement.
"As Kesha– who, as we all know, was Jenelle's favorite singer once upon a time (yes, that Jenelle, who you had so much drama with for YEARS yet somehow were willing to forgive)– you've got to learn to let go," Briana said.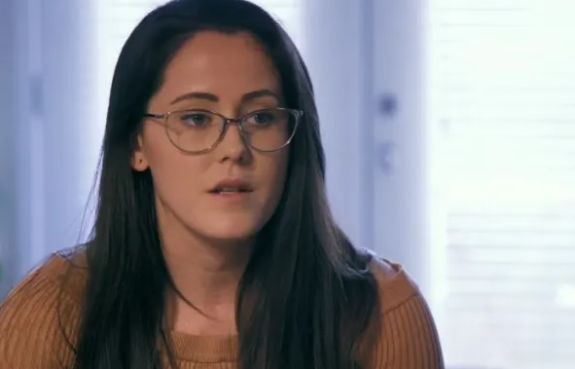 Briana finished off her statement with a final jab at Kail's ever-active uterus.
"Peace, love and happiness and God bless any and all of your future babies."
Kail has yet to respond publicly to Briana's statement.
RELATED STORY: Kail Lowry Talks About Her "Revolving Door of Men," Why She Really Quit 'Teen Mom 2' & What Plastic Surgery She Regrets Getting
(Photos: MTV; Instagram)