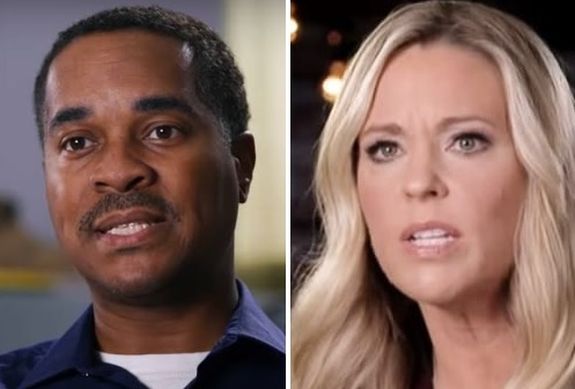 Kate Gosselin has another TLC star in her corner as controversy over her relationship with son Collin continues to boil on social media.
Deon Derrico, father of four sets of multiples and star of Doubling Down with the Derricos, came to the mother of eight's defense on Instagram, responding to Kate's post where she addressed her son's allegations that he was abused by his mother and placed in a psychiatric facility by her to cover it up.
"Kate, no one truly understands of know the magnitude of mental illness!" Deon posted. "If they've never been directly affected with it! It's a very tuff thing to deal with! Please don't allow anyone make you feel a way by their lack of knowledge into your personal experience! So many have opinions when they've never ever been in your shoes!
"I hate it for all of you're family that's involved and I'm not in anyway taking anyone's side but I'm wise and cognizant enough to know that there's sooooooo much that we from the outside will never fully know or understand and honestly it's none of our business!" Deon's post continued. "I pray that GOD, brings light and love to your family and allow you all to work through this very esoteric issue privately!"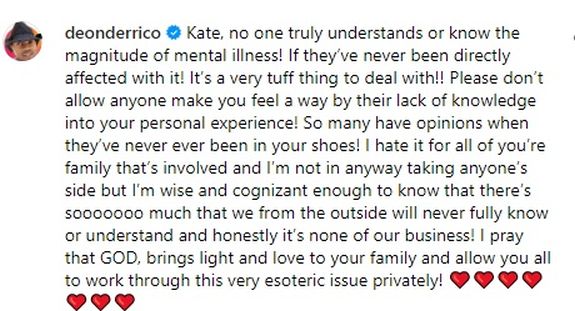 While Kate did not respond to Deon's comment, it did garner more than a dozen replies, some supportive and some critical.
"hey big papa, my mom was a mother of 7 kids…… 2 have mental illnesses, my mother was a CNA [certified nursing assistant] she did it all, never not once was one of my siblings thrown into a mental facility, even if she didn't have choice and they were placed in a facility if she had to do it, she would in a heartbeat have all of us including herself visit my siblings," one person wrote in response to Deon.
"Her other kids are just filled with the same hate as Kate because that's all she teaches them," the comment continued. "What a sad and lonely life she is trying to play off, I pray GOD brings light into your family as well and that you don't blindly follow people who clearly lie, because social media finds out the truth about people sooner than later."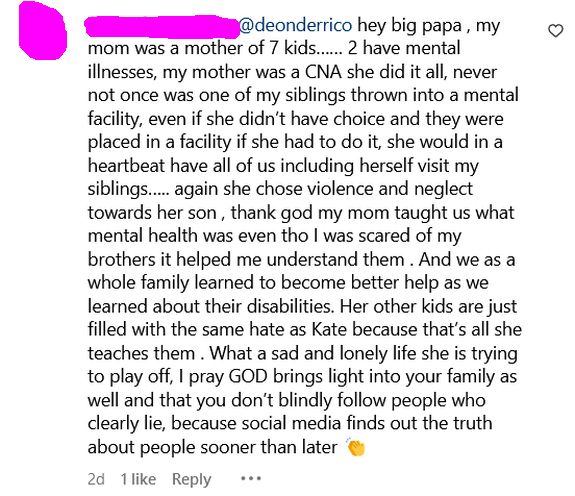 This was the only comment Deon replied to.
"If you read my post I clearly stated taking any sides because unlike many people I'm willing to admit I don't know what went on inside that family!" the father of 14 wrote. "And I'm cognizant enough to understand that! There so many sides and perspectives here! I've watched the show a couple of times and I never witnessed any abuse!
"That doesn't say there was or wasn't abuse!" Deon continued. "But I'm also aware how we live in a day and time where someone ANYONE can make up a story and the mass majority runs with it! If there was abuse please I'll be glad to read the police report or substantiated CPS [child protective services] case! But until then it wrong for anyone to state things as fact! I hate it for all of them because I'm pro family!
:To be honest I just want them to resolve their differences privately and my prayer is that WE ALL CONTINUE to pray for love, peace, and Harmony amongst them as No Wins when family fight"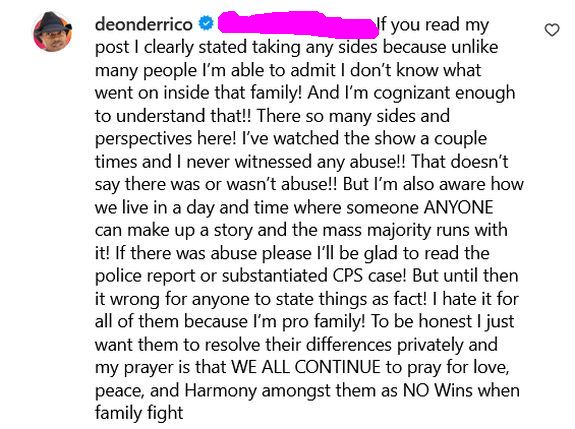 Since their show debuted on TLC in 2020, the Derricos have faced their own controversies as details of multiple bankruptcies filed by both Deon and his wife Karen were reported in the press, as well as information on lawsuits and court cases. One court case states that Deon was charged with "13 counts, including theft, false representation concerning title, multiple transactions involving fraud or deceit, and more crimes on June 24, 2014," according to The U.S. Sun. A mistrial was declared in the case.
As The Ashley reported earlier this week, Kate took time to respond to a few Instagram comments herself.
(Photos: TLC; Instagram)