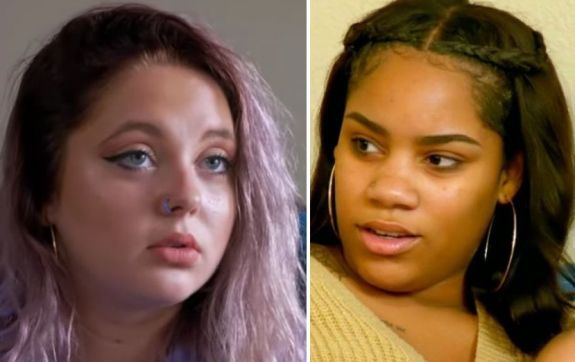 Teen Mom: The Next Chapter fans may be enjoying the back-and-forth banter happening on social media between Jade Cline and Ashley Jones, but the producers and network execs behind the show are not.
On Wednesday, Ashley and Jade threw zingers at each other on Twitter and Instagram, with Jade taking jabs at Ashley's husband Bar Smith for allegedly not completing the rehab program that MTV sent him to, and for having "two sets of eyebrows."
Ashley also jumped into the mix, striking out at Jade's fiancé Sean Austin for the "meth head on skid row" teeth he had before getting sober (and getting his chompers fixed).
While there were plenty of funny insults flying back-and-forth, producers were not laughing over a few tweets made by the girls.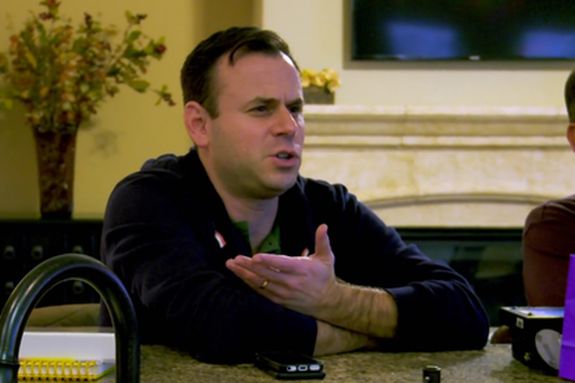 In one tweet, Ashley reminds Jade that they will be meeting face-to-face at the upcoming Reunion (which is being filmed in Los Angeles later this month). Jade, in turn, responded by telling Ashley to "run up or shut up"— basically inviting Ashley to fight her or stop talking about it.
"Girl pleaseee," Jade tweeted. "You talk s**t online then stay distant in person. You had MTV last year doing your whole segment alone. You been trying to be a mean girl since ['Young & Pregnant']. It's old. Run up or shut up in LA."

That tweet— and several others sent during Jade and Ashley's back-and-forth spat— caught the attention of the network higher-ups, The Ashley's sources tell her.
"Online fighting like this is a nightmare for the producers," one behind-the-scenes source tells The Ashley. "Even if there is a threat of physical violence [the producers] have to take action. Even if the girls claim they aren't planning on doing anything."
Shut up bitch . https://t.co/XZS0NFolik

— ASHLEY SIREN (@_mermaidbarbie) August 2, 2023
In fact, The Ashley's sources tell her that the behind-the-scenes folks already had to deal with the fallout from the fight between Kayla Sessler and her boyfriend's new gal, Dez Rodriguez, which was filmed for 'Next Chapter.'
"When punches are thrown— and they connect before security stops them— it is a huge legal issue. The footage captured [of Kayla and Dez's fight] may not even be aired because of the legal issues," one source said.
"Make no mistake: the fighting is always good for ratings. But stuff like this– stuff that can be taken as threats of physical violence— gets everyone at the network freaking out because they will be liable if something major happens," a second source said.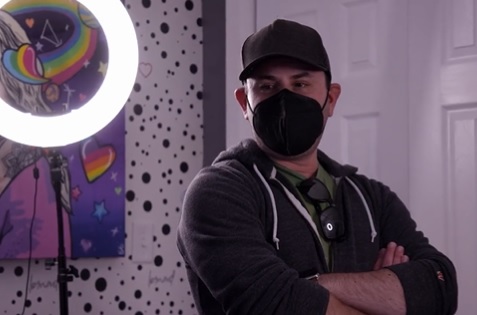 Later on Wednesday, Jade removed her tweet that told Ashley to "run up or shut up."
In a comment left on the @TeenMomFanz Instagram account, Ashley stated that production had already called her about the online squabble with Jade.
"I stay distant cause y'all cry. Kinda like how you tweeting now but production is calling me telling me that you are feeling 'threatened,'" Ashley wrote. "I won't be running up, I'll be calling the police you thug."
View this post on Instagram
The online spat started when Ashley expressed how angry she was about Wednesday's episode of 'Next Chapter,' which features a call between her and co-star Cheyenne Floyd. Ashley claimed that the first phone call between the parties didn't make the air.
"Some very important things were left out of tonight's episode imma fill y'all in in just a second," Ashley tweeted. "Firstly, this storyline with Cheyenne was non-existent until she decided to call Bar with Zach and talk a bunch of s**t while they were down in Florida in front of all the other girls. This upset me because if Zach had an issue he should have called in the privacy of his home, not for an audience in Florida … this is my reason for being so upset in tonight's episode.
"And lastly, if yall ni**as was real they would have told you that ganging up on one person is lame . So anytime all y'all come for me, expect my man to be standing right beside, behind and in front. Period," Ashley continued.
"So when you see tonight's episode and think damn Ashley's energy is off, it's because that first phone call didn't make it into the cut and that first phone call was what pissed me off.
It is unknown at this time if they will separate Ashley from the other girls (like they did during the last 'Teen Mom' Reunion.
The Ashley will update this story when more info is available. Stay tuned…
RELATED STORY: Ranking the Storylines for 'Teen Mom: The Next Chapter' Season 1B: From Most-Interesting to Snooze-Inducing
(Photos: MTV)