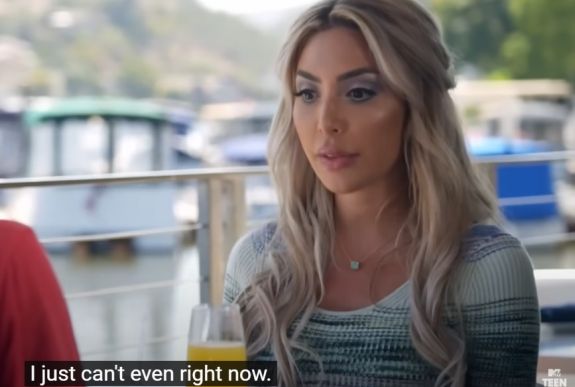 Well…that's a headline The Ashley never thought she'd be writing…
Farrah Abraham is known for saying and writing some very off-the-wall things, but a comment she wrote on social media after her court date on Wednesday is causing a lot of controversy— and a few laughs.
The Ashley has been recognizing Farrah's signature "Farrah Speak" for years. ("Farrah Speak" is what The Ashley calls it when the fired Teen Mom stars mixes up words— or makes words up altogether— to attempt to sound smarter and/or make herself into a victim.)
On Wednesday, Farrah managed to offend plenty of people with a "Farrah Speak"-filled analogy in which she compared her court hearing this week to the October 7 attack on Israel by the Palestinian militant group Hamas.
No. Seriously…
As The Ashley previously told you, Farrah had to go to court in Los Angeles on Tuesday to deal with two charges of Battery she had stemming from a January 2022 incident in which she was arrested and accused of getting physically violent with nightclub security guards. Farrah has always maintained her innocence, while also claiming that she was the victim of "batterment" and a "hate crime," among other things, that night.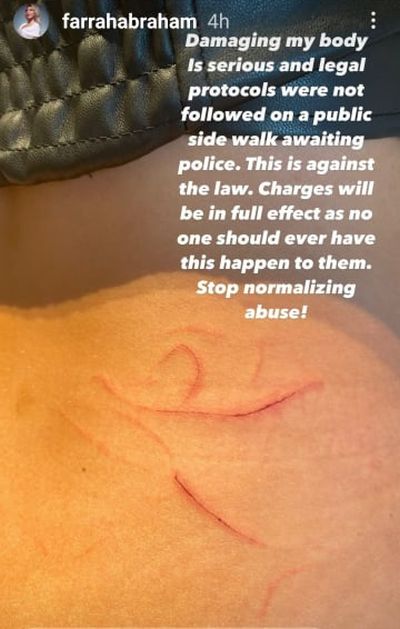 On Tuesday, a judge placed the former 'Teen Mom' star in a diversion program and sentenced her to community service. If she abides by the judge's terms, she will have the charge dropped and expunged off her record.
In Touch Weekly reported the results of the hearing, causing Farrah to jump into the comment section of the magazine's Instagram post about it and declare that she is the true victim in all of this. She then compared herself to "Jerusalem" and the security at the nightclub to Hamas.
However, because she's Farrah, she mistakenly referred to the militant group as hummus instead of Hamas. (Hummus is a tasty Mediterranean dip, by the way.)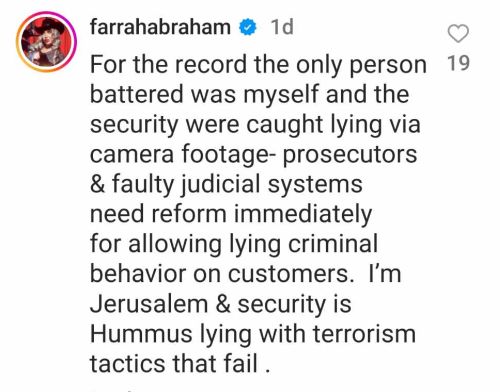 "For the record the only person battered was myself," Farrah's cringey comment began. "And the security were caught lying via camera footage. Prosecutors and faulty judicial systems need reform immediately for allowing lying criminal behavior on customers.
"I'm Jerusalem & security is Hummus lying with terrorism tactics that fail," she added.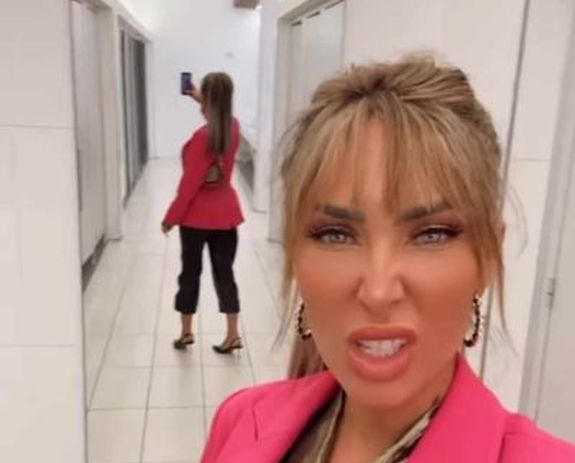 Later, Farrah posted her post-court interview with In Touch Weekly to Instagram and added a Farrah-Speak-filled caption to boot!
"Thankful I'm alive, Grateful I don't live in California- Love some Austin Texas ( where security doesn't set up attacks on public figures) & look forward to changing our legal systems surrounding prosecutors and allowing criminal attacks in uniform," Farrah wrote. "As we all should never be assaulted, cuffed, or excessive force while eating dinner or checking out a rooftop.
"I've learned that it's better to just stay away from those who have no self control – our system should act on criminal defamation and lies that hurt innocent people every day. Criminal Vs. CIVIL – Justice Always prevails even in a corrupt Judicial systems."
Farrah comparing her situation to Hummus Hamas' attack on Israel did not go over well in the comment section of the post.
"Girl you are not comparing your first world problems to actual terrorism?" one person wrote in response to Farrah's comment.
"This comment is the most disgusting vile thing I have heard in a long time!" another person responded. "Don't you DARE f**king compare this s**t with the tragedy that is going on in the Middle East!"
Others clowned on Farrah's attempt to sound smart and hip to current events.
"This comment should be printed out and hung on the wall of the Louvre. It is art in its highest form #hummus," one person wrote.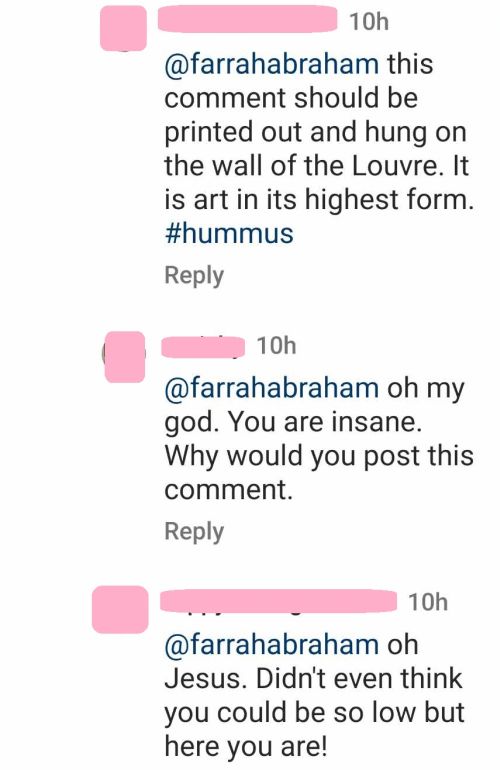 "What type of Hummus lies," another person wrote. "Just curious so I don't buy that kind."
As of press time, Farrah's comment— and her hummus/Hamas confusion— remains on the magazine's Instagram post.
On Tuesday, Farrah spoke to In Touch Weekly outside the courthouse and implied that she still plans to pursue charges for the "injuries" she claimed to have suffered during the January 2022 incident.
RELATED STORY: Former 'Teen Mom' Star Farrah Abraham Sentenced to Community Service & 18-Month Diversion Program For 2022 Security Guard Battery Case
(Photos: MTV; Instagram)