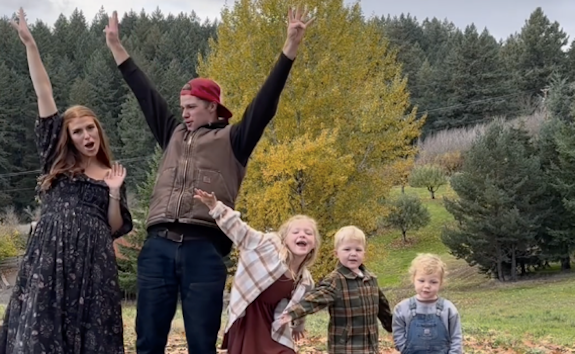 The Roloff family is growing– again!
Former Little People Big World stars Jeremy and Audrey Roloff announced Monday that they are expecting their fourth child.
The couple revealed the news on social media with a video that included their three children, Ember, Bode and Radley.
"Secrets out… Baby #4 is on the way!!!" Audrey and Jeremy wrote in their joint Instagram post. "We are so excited to be growing our family again and adding another little grommet to our crew!"
While the couple did not reveal any details about Baby No. 4, Audrey did share with fans that she is "showing so much sooner and more" with her fourth pregnancy.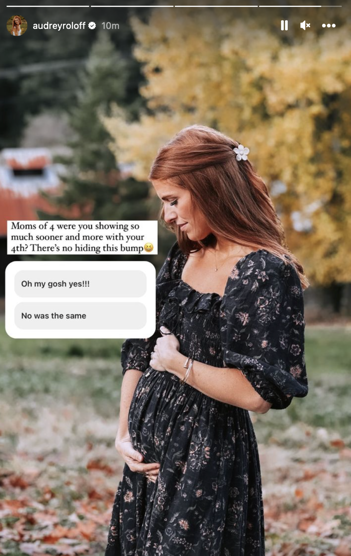 "There's no hiding this bump," she posted to her Instagram Story.
As fans of 'Little People Big World' may remember, Jeremy and Audrey made their final appearance on the TLC series in 2019, more than a decade after the show's 2006 premiere. Audrey joined the series as Jeremy's girlfriend in 2013 and the couple went on to marry the following year.
Audrey and Jeremy's announcement that they were leaving 'Little People Big World' came shortly after Jeremy's siblings Jacob and Molly Roloff announced their respective exits from the show. It was reported in September that Jeremy's twin-brother Zach and Zach's wife Tori Roloff are also leaving the show.
Despite their 'Little People Big World' exit, Jeremy and Audrey–- who revealed last year that they had purchased their own farm in Oregon–- have continued to share family content with the public on social media, with Audrey defending their decision to do so this summer during an Instagram Q&A.
"TV and social media are very different even though they have lots of similarities," she explained. "I have so much freedom here to post and say what I want and share how I want about what I want (even if IG tries to censor certain things). We also have freedom to pursue different work opportunities that we were not able to do with our TV contracts."
Audrey went on to rule out the possibility of her and Jeremy returning to the TLC series.
"It was just the right time for us to part," she wrote. "And we are so thankful for what the show gave us, but also very thankful we made that decision 6 years ago."
According to The Sun, Audrey also shared with fans at the time that she and Jeremy were planning to have more children.
RELATED STORY: Zach & Tori Roloff Are Reportedly Not Returning For Another Season of 'Little People Big World'
(Photos: Instagram)