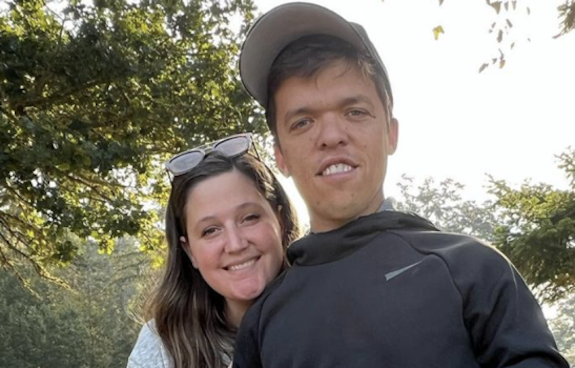 That's a wrap on Zach and Tori Roloff.
According to The Sun, the Little People Big World couple is not planning to return for another season of the TLC series, following the recent family feud over Roloff Farms.
Zach and wife Tori's exit from 'Little People Big World' was confirmed by Connor Chandler–– the son of Matt Roloff's fiancée, Caryn Chandler– who revealed the couple only visit Roloff Farms "maybe twice a year."
"You know, they moved, obviously they moved away and just with all the indifferences, they're kind of doing their own thing," Conner said, referring to Zach and Tori's move from Oregon to Washington in October 2021.
"I did hear through the grapevine that they do not want to be on another season if the show were to continue and they just want to do their own thing."
As The Ashley previously told you, the Roloff family rift began around May 2022 when Matt announced he was selling a portion of Roloff Farms, despite claiming that he wanted the farm to stay in the family. Matt insinuated at the time that his twin sons, Zach and Jeremy, were to blame, igniting an ongoing feud among the twins and their father.
Zach and Tori have yet to confirm their 'Little People Big World' exit; however, Tori told fans on Instagram back in March that there were "big changes on the horizon for Zach and I and our family."
"I'm really looking forward to all the new things that we get to do together while also saying goodbye to the things we've done forever!" Tori added.
While Tori and Zach are allegedly done with the family's TLC series, Connor said his mom has already begun filming for the upcoming season, less than a year after it was reported that Caryn was quitting the show due to the ongoing family feud.
Earlier this year, Jeremy's wife, Audrey Roloff, revealed on Instagram that she and Jeremy left the series in 2018 because Jeremy was "ready to move on from this chapter of his life." Audrey also blamed the show's "crazy" and "very controlling" contracts, as well as the allegedly untrue storylines, difficult filming schedules and more.
Jeremy and Audrey's departure from 'Little People Big World' was announced shortly after Matt and ex-wife Amy Roloff's two other children, Jacob and Molly, announced their respective exits from the show.
RELATED STORY: 'Little People Big World' Star Matt Roloff Puts Family Home Back Up For Sale; Slashes Asking Price
(Photos: Instagram)