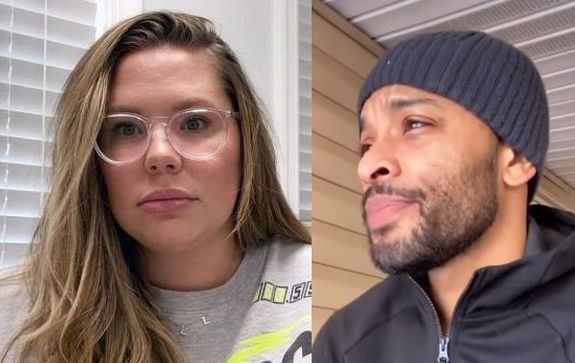 Kail Lowry and Chris Lopez have been battling on social media for years, and Chris started Round No. 2,337 on Monday when he came out swinging at Kail for allegedly not letting him see the two sons they share… and for having so many kids.
Chris— who shares sons Creed and Lux with the former Teen Mom 2 star— took to Instagram Stories to air his grievances with Kail.
"My first baby mama, Kail Lowry, ain't nobody more miserable than that chick! How you got mother f**king seven kids?! You just got three f**king kids under the age of one! And yet you want to keep holding my motherf**king kids, and yet you want to keep passing them off to nannies and s**t like that," Chris said.
(As The Ashley told you, Kail recently gave birth to twins— a boy and a girl— whose father is her live-in lover Elijah Scott. She also shares one-year-old son Rio with Elijah.)
Chris went on to slam Kail for allegedly trying to keep their sons away from him, while also taking a dig at her tendency to shoot out kids on the regular.
"You miserable as hell, Bro, and you just wanna make everybody else f**king miserable," Chris said to Kail. "'Cause I be on your ass, the f**k is you talkin' about? You lame as s**t. [Your] kids are on Thanksgiving break and you don't even let them kids be with their dad? But it's technically Dad's week?
"You need to grow the f**k up, seriously, and stay the f**k off your back!" Chris said.
View this post on Instagram
In another story posted later on Monday, Chris assured fans that he has no reason to be bitter, as some fans were stating online.
"I'm bitter and jealous, why? Because I want to spend time with my kids? You know there's n**ggas out here that is not spending time with their kids? You got this girl telling you I'm this, I'm that, yet she's out here legit lying and manipulating this whole story?"
Chris went on to say that Kail has been "making it a problem" for him to see Lux and Creed, and that he has no reason to lie. Speaking of lying, he brought up the fact that Kail denied that she had her fifth baby, Rio, for almost a year after his birth.
"This motherf**ker was lying about having kids!" Chris said of Kail. "This n**ga swore on her kid's life [that she didn't have a baby]."
View this post on Instagram
A few weeks ago, Chris took to Instagram to slam Kail for having so many men in their sons' live, stating that their son Lux doesn't respect him and feels he is "replaceable" because of this.
"I feel like he feels like I'm replaceable [because] of all the men in and out of his life and that's a fact," Chris stated. "…People have noticed that, I've noticed that and you say that s**t.
Kail has yet to respond to Chris' statements.
RELATED STORY: Chris Lopez Slams Baby Mama Kail Lowry For Bringing "All the Men In & Out Of" His Son's Life; Claims Their Son Doesn't Respect Him Because of It
(Photos: MTV; Instagram; Facebook)