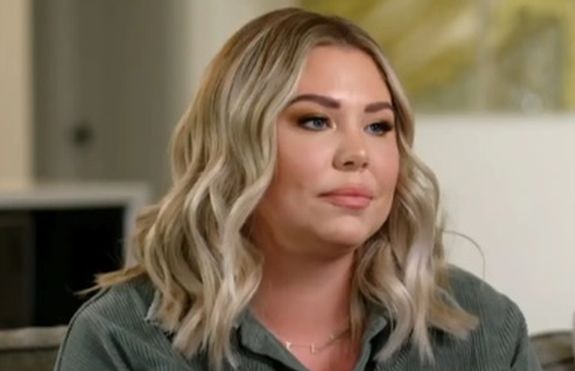 Kail Lowry is letting her fans in on what's possibly her worst-kept secret ever.
The former Teen Mom 2 star revealed on her Barely Famous podcast that she did, indeed, give birth to her fifth child in late 2022, just as fans have been speculating for nearly a year. During the pregnancy, Kail– who was already the mother of four boys—never confirmed that she was "with child" and did not comment on reports of her giving birth to her fifth son last November. (She did state once that she didn't give birth to a baby in December 2022, which technically was true, as her fifth son was born in November.)
On her podcast— and later in an interview with People— Kail confirmed that the baby's name is Rio, and that Rio's father is her live-in boyfriend, Elijah Scott. She also revealed why she kept the pregnancy and birth hidden for so long.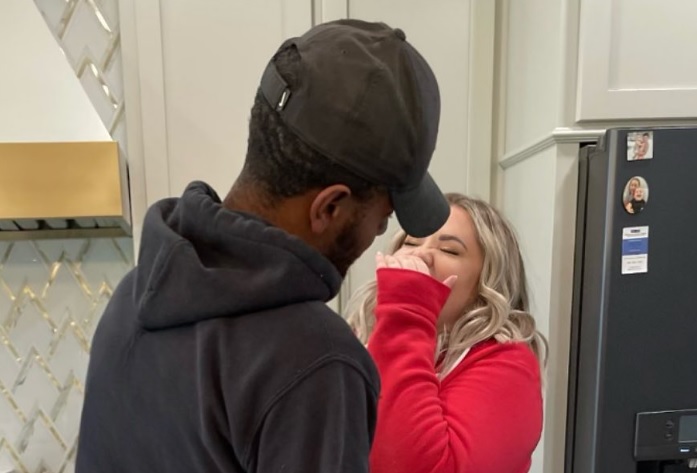 "I have not addressed the rumors about, you know, my fifth son," Kail said on Friday's episode of Barely Famous. "So I can do that now, but this is not where I was supposed to bring it up…"
Kail pointed out that she is upset that her fans and haters wouldn't allow her to announce it on her own.
"Every single time…I have pushed back or paused or postponed my own story telling, my own f**king announcement..it was just not fair," she said.
She stated that Rio's birth was "traumatizing."
"We didn't have time with him after he came out of [me]. He had to go right to the NICU," Kail said. "I literally got to hold him for maybe three seconds before they took him to the NICU. And I was so upset…I was beside myself. It was so scary."
Later, Kail stated that Elijah never signed up to be on reality TV and wanted to keep things about their son private.
"It's never been true though that he wasn't allowing me to post anything [about Rio]," Kail said. "After my experience with [third baby daddy] Chris [Lopez], knowing that Chris didn't want to be public about anything and then I got mad at him and outed who the dad [of my kid] was, that made him a public situation."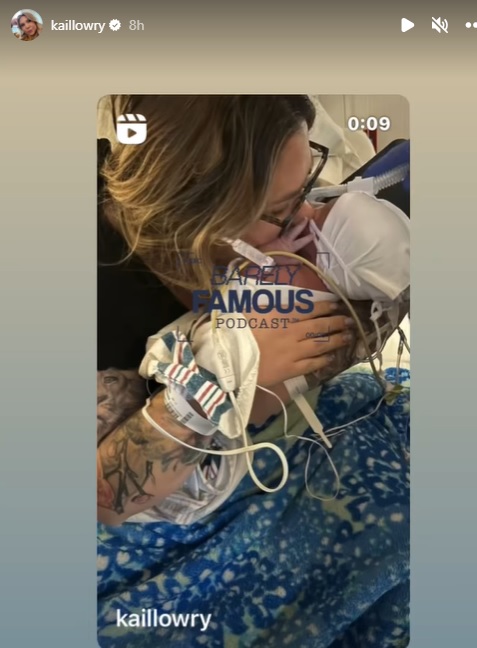 Kail went on to say that she never intended to "betray" her supporters by not revealing the pregnancy and baby, and that she wanted to announce it.
"Every single time I have almost announced on my own, literally in the last year, I have not been able to because it's been taken away from me," she said. "So when you guys are commenting, and speculating and you think that you're one-upping me by commenting [online about Rio]— this is to the haters, the trolls—you're not [telling] me something that I don't know.
"You think you're doing something and you're not; you're just irritating me because every single time I've wanted to announce this by myself, on my own terms, that has been taken away from me."
Kail mentioned a few photos of Rio that had been leaked online, as well as the times her ex Chris has leaked info about the pregnancy and baby.
View this post on Instagram
She did acknowledge that her exposing the fact that Chris was expecting his third baby (with another woman) in September 2021 was wrong, but stated she feels she has already "paid" for that.
"I already got my karma ten-fold for what I did to Chris when he was about to have his third son. "I already got that [karma back to me]."
"I wanted to be able to tell my own story on my own terms and kind of share what information I wanted to share instead of being within a contractual obligation or storyline," Kail told People.
As The Ashley has previously reported, Kail's pregnancy was a frequent topic of discussion online for 'Teen Mom' fans. In the 11 months since Rio's birth, fans have pointed out obvious clues from Kail's social media that indicated she had a new baby. Earlier this year, Kail herself exposed that she had given birth in November during an episode of her Barely Famous podcast. However, she never actually confirmed the rumor.
Still, Kail told People that she was upset that fans didn't allow her to keep the pregnancy and fifth baby private.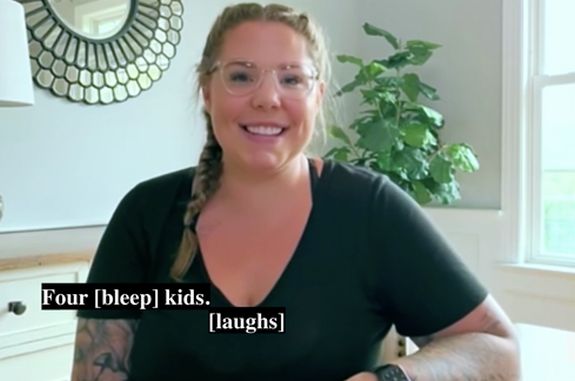 "I feel like it was ripped out from under me time and time again," she said. "I kind of feel like my hands are tied. People are announcing it for me and so, at this point, I might as well just talk about it. At this point, I can at least try to do it my way."
Kail confirmed that her friends and family held a baby shower for her before Rio's birth. (The Ashley can confirm that a few people tied to 'Teen Mom' were invited.)
She also admitted that her pregnancy with Rio was a "surprise." (Rio is the first baby for Elijah, who is Kail's fourth baby daddy. She also shares Isaac with Jo Rivera; Lincoln with her ex-husband Javi Marroquin; and sons Creed and Lux with Chris Lopez.)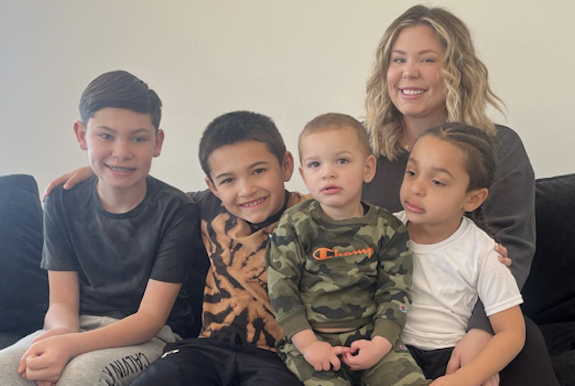 "As chaotic as it was finding out about being pregnant again, he's been such an incredible baby that it really was a true light at the end of a really dark year for me," she explains. "It was rough [last year] with the lawsuit [with Briana DeJesus], the depression that I dealt with and everything else. So, he has been really a joy for all of us."
It's been widely speculated that Kail is currently pregnant again, but she did not mention the additional pregnancy on the podcast or in her interview with People.
(Since 2016, it has been The Ashley's policy not to post pregnancy speculation, "possible bump photos" or any other type of pregnancy announcements for reality TV stars, which is why The Ashley never addressed Kail's pregnancy with Rio or the speculation around her current situation.)
UPDATE! Chris has seemingly responded to Kail's statements about how it was unfair that her pregnancy and baby info was leaked before she wanted to announce it.
"How tf you going cry about your pregnancy news but [you] went and ran to the Internet when you found out I was having my third son," he wrote on Instagram on Friday. "Man if y'all don't cut the hypocrisy."
In another post to Instagram Stories, Chris stated that Kail "straight out lied multiple times" to her fans about the pregnancy/fifth baby situation.
"I'm not angry about anything, I'm tired," he wrote. "I'm aware [Kail] acknowledged the lame s**t they did but 2 years later??? Does that really sound genuine…it seems to me this was done to overlook the fact they just straight up lied to the fans about this specific situation MULTIPLE times.
"And again if they willing to lie about something like that then you better believe they'll lie about something more serious," he added.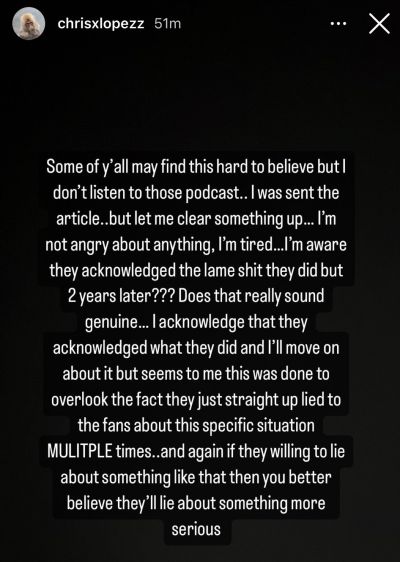 RELATED STORY: Kail Lowry Says She Doesn't Want to Marry Boyfriend Elijah Scott, Despite Elijah Wanting to Tie the Knot "Like, Yesterday"
(Photos: MTV)