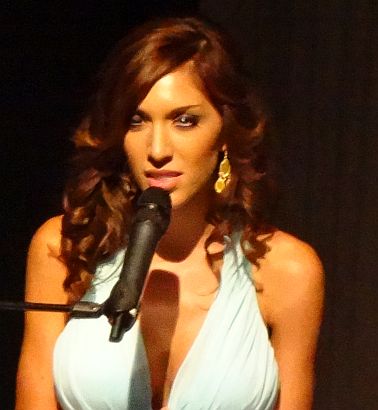 Just when you thought Farrah Abraham's quest for fame couldn't sink any lower…
Today VH-1 announced that our favorite Teen Mom-turned p0rn star would be appearing on the upcoming season of Couples Therapy.
According to Radar Online, "she still can't find anyone to go on the show with her so they are allowing her to appear solo! Basically they are going to bring people from her past — family, friends, ex-boyfriends — to help her understand why she can't make any of her relationships work and they fail."
The Ashley can confirm that Farrah, along with her mother Debra Danielson, father Mike Abraham and daughter Sophia were all in Los Angeles last weekend filming segments for the show. Other people from Farrah's past were also flown in to tape, including one who has spilled some exclusive details to The Ashley.
According to The Ashley's source on-set, Farrah was extremely hostile to both Dr. Jenn Berman and the people that producers brought in to "help" Farrah work on her interpersonal relationships!
"She was pretty defensive," the source, who has worked on many other reality show sets, tells The Ashley. "She is going to look like an even bigger ass. She was kind of bitchy with the doctor."
When Dr. Jenn tried to talk to Farrah about what she was doing wrong, the source said Farrah wasn't having any of it.
The show, which features Dr. Jenn Berman trying to counsel couples through their relationship problems, featured Farrah's 'Teen Mom' co-stars Catelynn Lowell and Tyler Baltierra last season, and it was reported that Farrah was desperate to appear on the show but couldn't find a partner, even going so far as to try to get Carson Underwood, a guy she met only a few times, to pretend to be her boyfriend so that they would be eligible for the show.
The Ashley can confirm that Carson will not be appearing on the show, nor will Farrah's supposed "boyfriend" of five months, DJ Brian Dawe, who is currently on the east coast and has been tweeting how he does not trust people in Hollywood or those associated with reality TV. (The Ashley firmly believes their relationship was just a publicity stunt anyway.) Also not interested in this hot mess? Farrah's sister Ashley Danielson, who has not spoken to her sister since Farrah blamed Ashley for "making her get" a DUI last spring.
Farrah has been at the Los Angeles-based house shooting the series for the past two weeks, and is just about done with production, according to another one of The Ashley's sources. Afterwards, Farrah will head off to whatever gentleman's club she can promote her sexy-time backdoor movie at. Or–who knows–maybe she'll even decide to spend some time with that kid that allowed her to get on her very first reality show, 16 and Pregnant. I think her name was Sophia?